Back to the list
SEC Chair Gensler's Calendar: Insights into Meetings with IEX CEO
coinedition.com
25 January 2023 14:22, UTC
Reading time: ~2 m
---
Eleanor Terrett, a journalist and producer for Charlie Gasparino at Fox Business Network, took to Twitter to break down the August edition of Gary Gensler's calendar. Terrett highlighted that Gensler, the Chairperson of the US Securities and Exchange Commission(SEC) met with the IEX Group CEO, Bradley Katsuyama for the fifth time in 2022.
🚨NEW: The August edition of @GaryGensler's public calendar has been added to the @SECGov website. Gensler met for a fifth time with @IEX CEO Brad Katsuyama on August 16th. Five meetings (that we know of so far) in 2022 with a chairman who, so say, is famously

— Eleanor Terrett (@EleanorTerrett) January 24, 2023
Addressing the Twitter community, Terrett claimed that FTX had initiated a partnership with IEX to further establish the crypto market structure, concurrently, held a joint meeting with Gensler in March 2022.
Moreover, Terrett added that Gensler also met with some Chinese regulators, the US Ambassador to China, New York Stock Exchange executives, and many other officials mentioned in the official calendar released by SEC.
The crypto community believes SEC's claws in the market are one of the factors that dragged the crypto winter even further, causing devastation. In contrast, there are some others who believe that the SEC is taking the necessary actions in protecting investors from becoming victims of future scams.
Ripple Labs' battle is still ongoing with the SEC. XRP is currently priced at $0.4064 with a surge of 4.19% in just seven days. However, XRP also witnessed a 3.72% fall in 24 hours.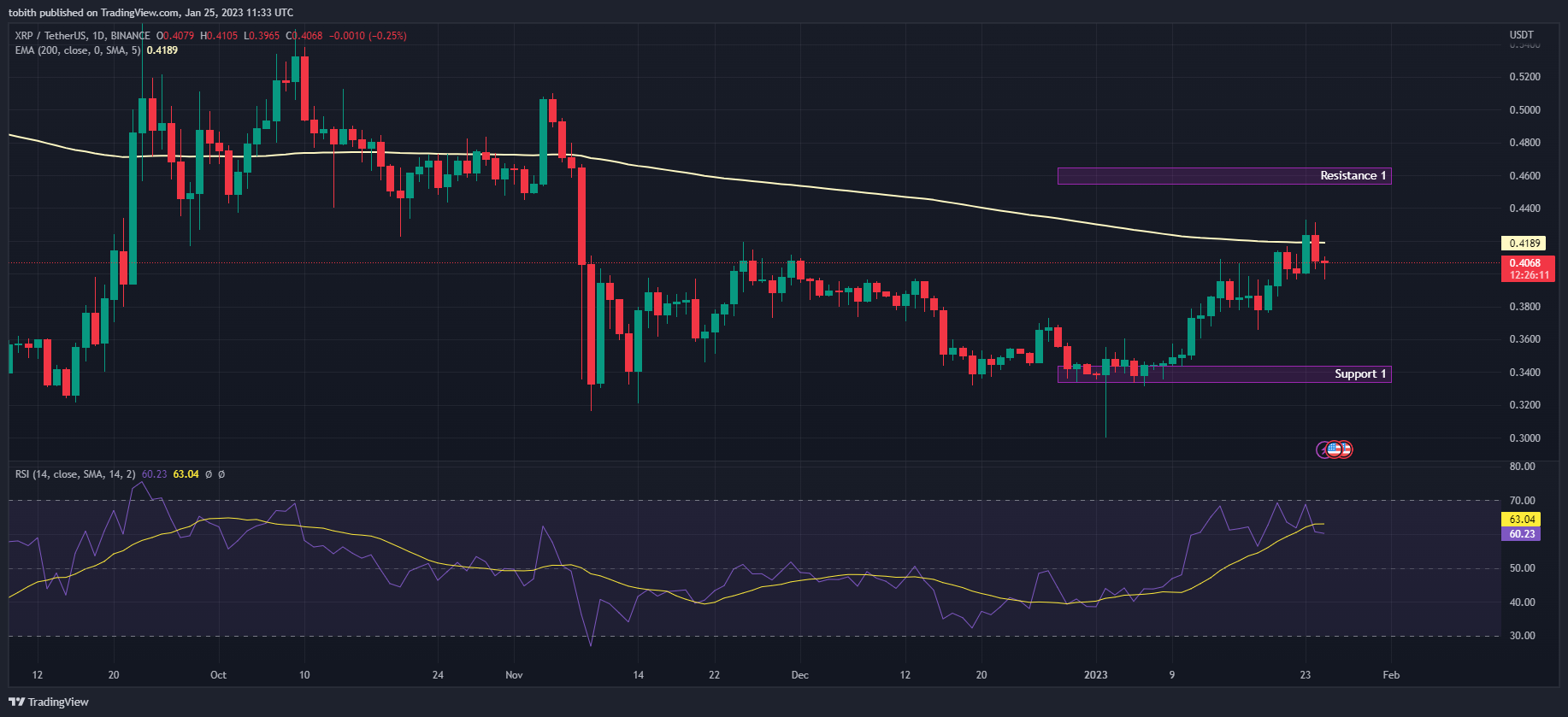 XRP/USDT 1-Day Chart (Source: TradingView)
Looking at the daily chart of XRP, the price has just recently gone below the 200 EMA line, which is giving an indication that there might bear run. Moreover, the RSI is valued at 60.23, which could mean that XRP could either run towards the overbought region or the oversold region.
RSI also recently crossed paths with SMA and went downwards, giving signs that XRP might face a price correction. However, the downtrend happened recently and could be a small market hiccup, which could then lead to a bull run.
Disclaimer: The views and opinions, as well as all the information shared in this price analysis, are published in good faith. Readers must do their own research and due diligence. Any action taken by the reader is strictly at their own risk, Coin Edition and its affiliates will not be held liable for any direct or indirect damage or loss.
---
Source
---
Back to the list