Back to the list
Will the Courts Allow BlockFi to Give Bonuses to its Executives to Retain Them?
coinnounce.com
24 January 2023 14:57, UTC
Reading time: ~3 m
---
BlockFi wants the court to sanction employee bonuses to compete with other businesses for skilled workers.
The financially troubled bitcoin lender BlockFi has filed a petition with the District of New Jersey bankruptcy court, asking for permission to pay incentives to experienced personnel to keep them on staff.
According to the documents (1) that BlockFi has filed with the court, the company wants to retain its skilled workers even though those workers are frequently offered higher-paying employment prospects with other corporations, such as Google and Walmart.
It is important to note that BlockFi has applied for protection under chapter 11 of the bankruptcy code after it revealed that it had significant exposure to the failed crypto currency exchanges FTX and Alameda late last year.
Despite this, the firm approached the Bankruptcy Court with several standard motions requesting permission to keep operating its business despite the bankruptcy.
In addition, BlockFi reported having a cash balance of roughly $256.9 million, which will assist during the restructuring process. The firm stated that it aimed to keep specific staff on board to help it through restructuring and to operate the day-to-day operations.
According to a document that Chief People Officer Megan Crowell made on January 23 with the Bankruptcy Court, she stated that the talent competition is still fierce and that participants have numerous possibilities both within and outside of the bitcoin industry.
However, the court has taken issue with the proposal made by BlockFi, pointing out that every penny spent on paying personnel undermines the creditors' ability to be paid for their losses.
According to what was said in the report,
"The Committee does not disagree, in principle, to the Retention Programs. The Committee is aware of the necessity of providing select essential workers with incentives to remain with the company to participate in the restructuring process and maintain value. But every dollar paid out of these programs that aren't essential reduces the amount distributed to creditors.
Troubles of BlockFi
Before seeking protection under bankruptcy laws, BlockFi was at odds with regulatory authorities in the United States because it provided unregulated services. BlockFi agreed with the SEC the previous year to pay a penalty of one hundred million dollars for giving unregistered offers and loan products.
After the lender disclosed substantial losses caused by the crypto market crisis, FTX agreed to buy BlockFi for the staggering price of $250 million around the middle of the previous year.
The firm began operations in 2017 and first positioned its solutions as a bridge between traditional financial & wealth management products and digital assets.
Nevertheless, the failure of BlockFi in recent months has resulted in decreased capital inflows into the crypto currency market from retail and institutional investors.
Despite this, the values of Bitcoin and Ethereum have considerably rebounded, whereas FTX has suffered losses over the previous three weeks. On Tuesday, the price of Bitcoin is trading around $22,900, according to data from tradingview.com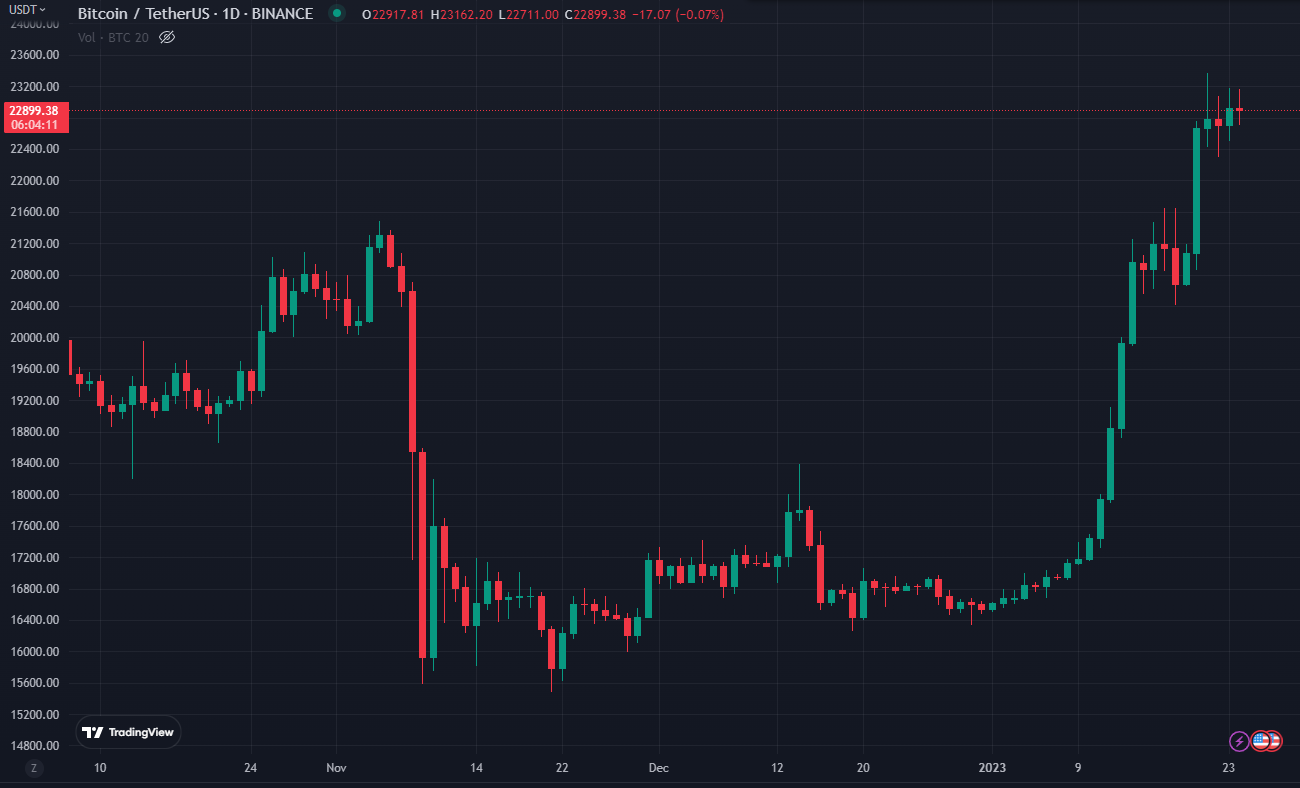 Bitcoin Chart. Source: tradingview.com (2.1)
---
Source
---
Back to the list