Back to the list
New SEC Regulations Add Cryptocurrency Under Security-Based Swap Rules
www.newsbtc.com
06 August 2021 16:58, UTC
Reading time: ~3 m
---
The cryptocurrency industry might soon be flooded with different kinds of rules to checkmate its operations. The recent developments in the sector point towards a new SEC rule that will guide the security swaps occurring in many financial assets, including crypto.
This information came from the SEC Chairman during a speech he gave to the American Bar Association Derivative & Future Law Committee.
While speaking, Gary Gensler outlined the changes that will take place on security-based swaps in 2022. According to Gary, these changes will ensure that transparency exists in such transactions and reduce the risks associated with the market.
Related Reading | Vitalik Buterin Urges Ethereum To Grow Beyond DApps
The new requirements will take off in November and include internal risk management, new counterparty protections, new capital & margin requirements, trade acknowledgment & confirmation, record keeping & reporting procedures, and supervision & Chief compliance officers. In addition, from February 2022, the SEC will mandate swap data repositories to publicize data about individual transactions.
Due to these rules, Gary mentioned that he had asked staff to embrace ways that can increase transparency & reduce risk using authorities, especially for security-based SEFs & Position reporting.
Before closing the speech, the SEC Chairman mentioned that the cryptocurrency sector would be a part of the trade reporting rules for security-based swaps. He stated that operators must register every offer or sale under the "Securities Act of 1933."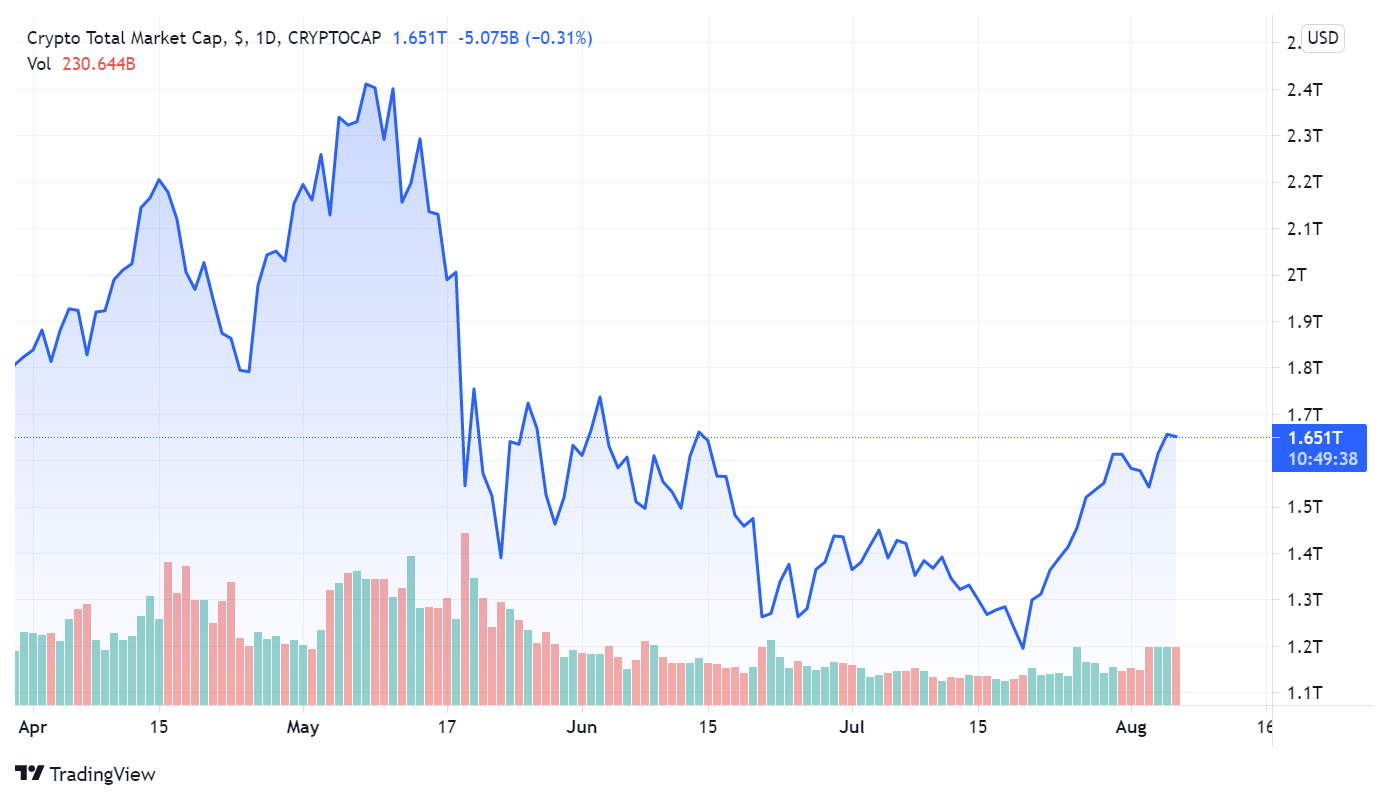 The crypto market is trading sideways as the bulls and bears fight | Source: Crypto Total Market Cap on TradingView.com
Moreover, Gary stated that the Commission is ready to utilize every tool at its disposal in protecting investors.
Cryptocurrency Regulations Are Gaining Momentum
There has been a lot of talks around crypto regulation. Many of the agencies in the United States has been pushing for the regulation of the sector.
On one occasion, the Federal Reserve Chairman declared earnestly that there should be a stringent regulation for assets like stablecoins.
Related Reading | American Banks Encouraged To Partner with Cryptocurrency Firms
He also went to Congress last week to discuss the need for creating a digital US dollar. In addition, a new bill on Congress aimed to provide a legal definition for digital assets and reduce the unfounded fears of regulating blockchain-based tokens.
There was also a meeting about a possible regulation for stablecoin. This meeting was held by the Working Group of Financial Markets, who revealed that they want to release recommendations in a few months to come on how Stablecoins will be regulated.
So, the issue of cryptocurrency regulation continues to rise, and many government agencies seem to support the idea.
Featured image from Pixabay, chart from TradingView.com
---
Source
---
Back to the list