Back to the list
Leakers Accuse Ava Labs (AVAX) of Deploying "Gangster Style" Legal Strategies
cryptonews.net
02 September 2022 08:00, UTC
Reading time: ~6 m
---
 Avalanche blockchain project creator, Ava Laboratories, is being discredited on accusations that they and their attorney colluded to sue crypto companies in a gangster-style manner to harm market rivals. In response, the attorney calls it a hit job by a rival of Ava, notably Dfinity.
https://d33wubrfki0l68.cloudfront.net/b660cb79f51a071ece800cda7fc3521e5e21a59d/0467e/videos/c3-16-0-dfinity-is-a-competitor-to-avalanche.mp4
The claims made to FTX and the crypto analysis company Arkham Intelligence with The New York Times were published the previous Friday on several websites. The self-described "whistleblowers" asserted that the company and firm collaborated to use the American legal system against rivals and "pursue [Ava Labs CEO] Emin Gün Sirer's personal vendettas based on what they claimed to be hidden video evidence of an interview with Ava Labs' lead attorney Kyle Roche. The article does not specify where or how it succeeded in filming the dialogue, and the recordings have not been given credit.
According to the article, Kyle Roche, the co-founder of the Miami-based firm Roche Freedman, had a more intimate connection with Ava Labs than the typical attorney-client one.
The study claims that Roche Freedman and Ava Labs have utilized class-action lawsuits to lawfully attack other businesses while avoiding the wrath of regulatory authorities on their initiatives. Roche was compensated with an ownership investment in Ava Labs and a single percent of the total supply of AVAX tokens, the primary cryptocurrency for the Avalanche blockchain.
"We established a deal where I committed to deliver legal services in exchange for a specified percentage of the token supply," Roche said on the spy camera. Crunchbase data shows that Initialized Capital, Polychain, and Andreeson Horowitz's investment firm a16z have all previously sponsored Ava Labs.
https://d33wubrfki0l68.cloudfront.net/ba470e47132c5cb938f344be9ffd8261adc0eca2/6c3ea/videos/c3-01-office-deal-for-perc-token-supply.mp4
Nevertheless, the paper claims that Roche was "the first" individual to acquire any equity in the business.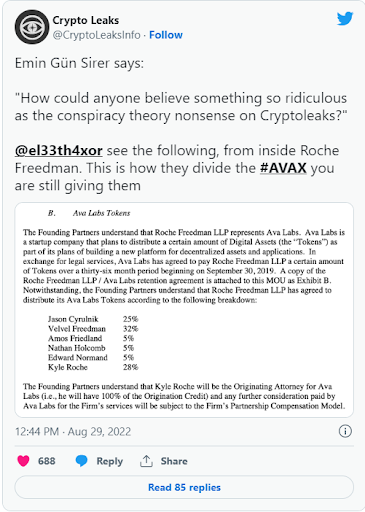 According to the whistleblowers, each of these lawsuits provided their attorney with access to corporate information through discovery, a pre-trial procedure that lets plaintiffs and defendants in a court case understand what evidence the opposing side will use during a trial. This included competitor "investors, contractual negotiations with partners, customer lists," internal communications, and more. More covert video footage of Roche where she is heard saying: "I sue half the firms in this sector, I know where this industry is heading... I have viewed every single cryptocurrency company's interior.
https://d33wubrfki0l68.cloudfront.net/68e1d6812f6e7b039402f74be62f625271142a20/73af8/videos/c3-07-office-i-sue-crypto-companies-to-see-inside.mp4
When operations aren't going well, class-action lawsuits are common in cryptocurrency, just like in any other financial institution. In the last month alone, there have been four different class action attempts against the struggling exchange Coinbase. Roche, though, has been at the vanguard of other significant class actions, such as the one launched this past June against Binance that garnered a lot of online press attention. The law company claims that it plans to bring legal action against many exchanges, including Kraken, Gemini, and coinbase. In a video, Roche asserts that his contract with Ava Labs enables him to file cases "for the joy of it" and that he never mentions the defendant in any of his legal actions.
Otherwise, by establishing "other magnets" for their focus through these cases against rivals, regulatory bodies like the Securities & Exchange Board have been distracted from Avalanche. "There's no such thing as a restriction for what they wish to accomplish" due to his job.
https://d33wubrfki0l68.cloudfront.net/91987bc2f582f24ecb688ab4c137a485d139dfe1/b4646/videos/c3-10-office-theres-no-such-thing-as-regulation.mp4
The lawyer asserts that everything is a hit job by a crypto competitor
Roche pointed Gizmodo to a blog post he wrote Monday morning in reaction to the anonymous report in reply to a request for comment. He claims these films were taken during personal conversations with Norwegian VC Christen Ager-Hanssen. In reality, he was there "to mislead and entrap me... using a planned plot to intoxicate and then manipulate me through leading questions," the man said, adding that Ager-Hanssen had approached him to discuss investing in a technological business.
Ava Labs and Roche's relationship is "centered on defense side situations typical of any major organization," according to Roche, who also stated there is no agreement between the two companies. We have never brought a class action on behalf of or at the request of Ava Labs, and they have had no involvement, control, or knowledge in any of our firm's plaintiff-side class action actions. He adds that Ava has expressed dissatisfaction with their plaintiff-side practice, which he claims has "remained a cause of dispute."
Roche claims that Ager-Hanssen worked for Dominic Williams, an Ava rival and the brains of the ICP token and the non-profit Dfinity Foundation, which makes this even more ludicrous. 
When the news was initially published, Williams tweeted about it, criticizing a prior case Roche Freedman had brought against his foundation. A few weeks before Dfinity sued the newspaper and Arkham for defamation, CryptoLeaks issued an earlier article labeling Akham and The New York Times' ICP story as "false" and "corrupt."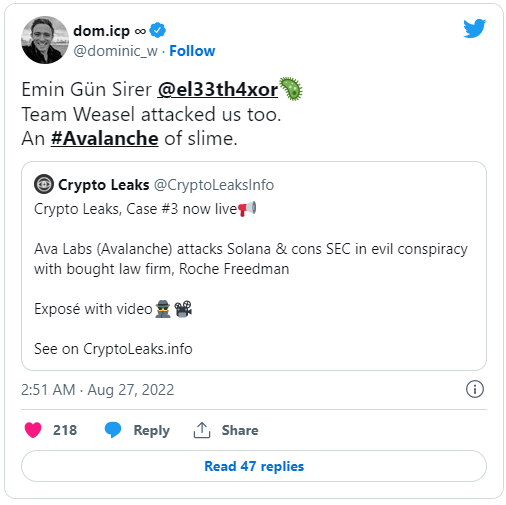 Ava CEO Sirer referred to everything as "conspiracy theory garbage" in a tweet.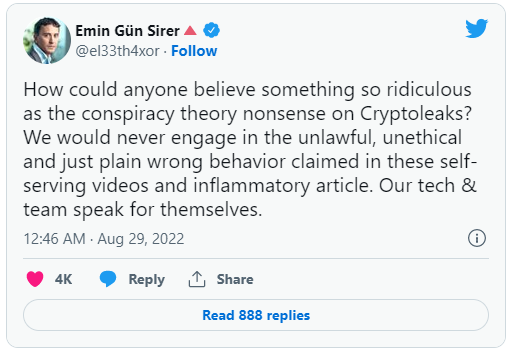 The report draws several conclusions and assumptions to disparage Roche and the Avalanche engineers, in addition to the factual assertions Roche made in the covert camera footage. The whistleblowers attack Roche because after moving to Miami allegedly "for tax considerations," he continues to put the New York City area as his location on LinkedIn. While the report notes evidence that Roche Freedman tries to hide their affiliation with the Avalanche developers while harming rivals, neglecting to edit one's LinkedIn profile is not a criminal offense or some proof of a cover-up, even though his site does not explicitly list his affiliation with Ava Labs.
https://d33wubrfki0l68.cloudfront.net/789531f0f9b4b55626c52801967703b1968bca18/b171a/videos/c3-06-office-i-live-with-kevin-in-miami.mp4
Established, centralized crypto firms have a well-documented tendency to self-destruct. Due to the demise of Three Arrows Capital, a former bitcoin hedge fund, several projects are currently facing severe financial challenges. Despite whistleblowers' appeals for "an economy whereby not all is smoke and mirrors, and one in which they may rely on other folk's honesty," the research has garnered both skepticism and acclaim. According to CoinDesk, Changpeng Zhao, the CEO of Binance, allegedly tweeted, "This is wild," before taking it down. I don't know whether it's genuine, but if the videos aren't wholly fake... Binance was also a target. 
Everything here is only supposition based on speculation. Attorneys don't always prioritize serving their clients' best interests. Some cryptocurrency projects behave honorably and distinguishably. Nothing seems to be off-limits.
There will be additional information revealed as the tale progresses. Object to everything. And perhaps lament the fact that the concept is greater than the egos behind this one, who might triumph either way, even if Avalanche unethically employed attorneys to fight its rivals. 
---
Back to the list