Back to the list
Web3 Startup DaoLens Looks to Streamline DAO Structure After Gaining new Funding
beincrypto.com
15 July 2022 04:35, UTC
Reading time: ~3 m
---
Indian startup DaoLens is looking to streamline the decentralized autonomous organization (DAO) operational structure after it said Wednesday it raised an undisclosed amount in new funding.
It comes as the DAO model of corporate management has been questioned. A recent report from Messari showed that in June there was a dramatic increase in the percentage of failed proposals, which "demonstrate greater fear in how DAOs allocate funds."
Founded in January by longtime colleagues Vikram Aditya and Apoorv Nandan, DaoLens is a Web3 company that is aiming to "simplify" the DAO framework by "streamlining onboarding, contribution, and discovery."
DaoLens raised $5 million in pre-seed funding in June, with support from several investors, including Polygon's Sandeep Nailwal, Animoca Brands' Simon Doherty, and Solana's Raj Gokal.
The new funding is backed by Varun Khurana of Japanese multinational Softbank, CoinDCX co-founders Neeraj Khandelwal, Sumit Gupta, and 34 others.
DAO-first world
CEO Vikram Aditya told Be[In]Crypto that amid the current crypto bear market, DaoLens will help introduce new voting mechanisms that address issues of massive voter apathy within the DAO industry.
Only 0.5% of DAO members actively vote, according to some estimates.
"Voting mechanisms in the current DAO ecosystem have pronounced limitations," he stated, pointing to the inevitability of disagreements caused by multiple people working together to arrive at a decision.
As the problems become more elaborate, said Aditya, "the simple 'yes' or 'no' criteria will no longer be enough as it gets more complicated to get a cohesive division."
"Our role is to figure out which voting mechanism is the best fit for a DAO as its community grows. Some alternative emerging and trusted voting mechanisms are quadratic voting, conviction voting, knowledge-extractable voting, and holographic consensus," he explained, adding:
"The end goal is to help make the entire DAO landscape more efficient end-to-end from discovery and onboarding to contribution and operations."
Earlier, Aditya said in a statement that the outfit is aiming to create a DAO-first world by solving "fundamental bottlenecks in the system so that DAOs not only become mainstream but are a sustainable option for companies in the long run."
Failed proposals on the rise
He spoke as a new report from crypto research firm Messari revealed that about 20% of DAO voting proposals failed in June, up from 7% in Jan.
The increase resulted mainly from the asset whitelisting processes of decentralized finance (DeFi) protocols Balancer and Bancor, which revamped their tokenomics, it said.
"The rise in failed proposals came as markets suffered dramatic losses, demonstrating greater fear in how DAOs allocate funds," said the report.
"While an increase in failed governance proposals sounds negative, communities are actively weeding out risky asset listings and vetting spending proposals that don't meet community standards," it added.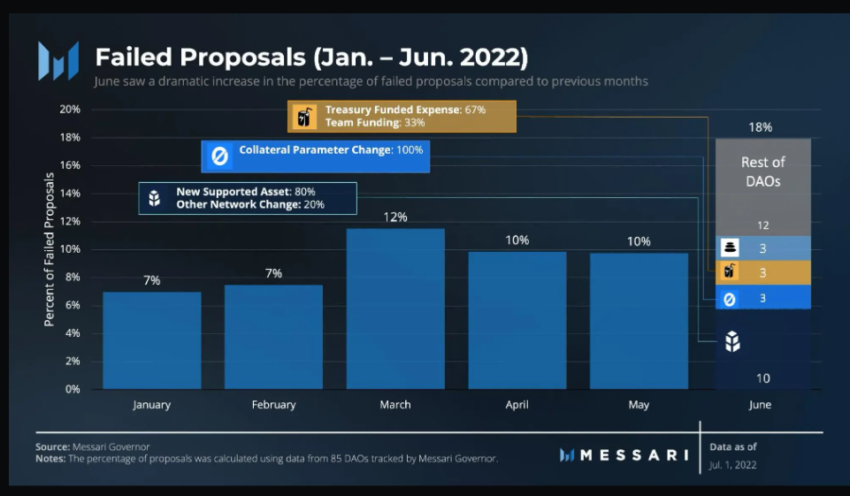 Vikram Aditya, the DaoLens co-founder and CEO, said the current market turmoil was not limited to the Web3 economy, but "the fact that there is a panic, signals that evolution is happening."
"The Web3 space has just gone through a 'boom' phase and the idea of decentralized communities empowering change has gained credibility. We believe this is the right time to establish new frameworks and infrastructure," he said.
Web3 is the idea of an Internet that is decentralized and powered by blockchain technologies and token-based economics
---
Source
---
Back to the list