Back to the list
Institutions Turn Cautious on Bitcoin As Short BTC Products See Record Inflows: CoinShares
dailyhodl.com
04 July 2022 15:41, UTC
Reading time: ~2 m
---
Leading digital asset manager CoinShares says that many institutional investors appear to be showing more caution towards Bitcoin and positioning themselves as short-sellers on BTC.
In the latest Digital Asset Fund Flows Weekly report, CoinShares finds digital asset investment products saw a positive week of inflows, mostly stemming from allocations to short-Bitcoin products.
"Digital asset investment products saw inflows totaling $64 million last week, although the headline figures obscure the fact that a significant majority were into short-Bitcoin investment products ($51 million)."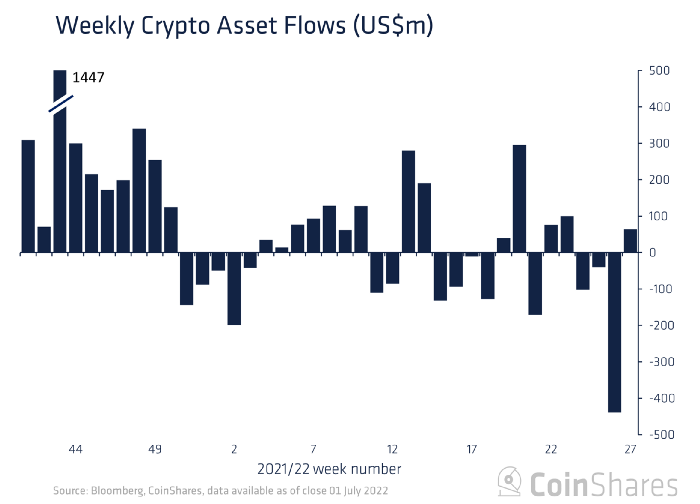 Source: CoinShares
As mentioned, 79% of the inflows derive from short-Bitcoin (BTC) investment products, or products seeking to borrow Bitcoin to sell on the market before repurchasing it at a lower price.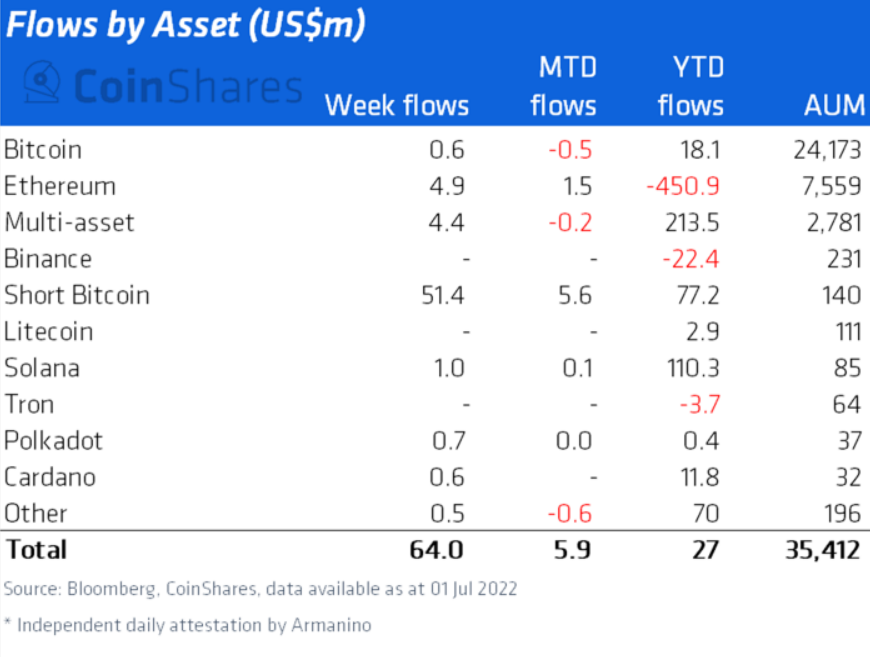 Source: CoinShares
Small inflows in long Bitcoin investment products perhaps support the bearish argument, according to the firm.
"Small inflows were seen into long investment products in regions other than the US such as Brazil, Canada, Germany and Switzerland totaling US $20 million.
This highlights investors are adding to long positions at current prices, with the inflows into short-Bitcoin possibly due to first-time accessibility in the US rather than renewed negative sentiment.
Bitcoin saw little inflows over the week, totaling just US $0.6 million. Short-Bitcoin saw record inflows totaling US $51 million after the product launch in the US."
CoinShares is referring to the ProShares launch of the Short Bitcoin Strategy ETF (BITI) on June 21.
Ethereum (ETH), Solana (SOL), Polkadot (DOT), Cardano (ADA) and multi-asset crypto investment products all enjoyed inflows on the week, bringing in $4.9 million, $1 million, $0.7 million, $0.6 million and $4.4 million, respectively.
---
Source
---
Back to the list