Following yet another day of high volatility in which the bears had initial control, bitcoin has recovered roughly $3,000 of value from the current 7-day low recorded on Saturday. The altcoins followed suit with similar dips as the market cap had lost about $200 billion at one point.
Just like the weekend before, this ongoing weekend is not disappointing in terms of volatility and price fluctuations.
Bitcoin Recovers From Yet Another Dip
It's safe to say that the primary cryptocurrency has seen better days. It was just a few days ago when it took a few swings at decisively overcoming $40,000, but to no avail so far.
Just the opposite, every attempt was met with a vigorous rejection. The latest one, which came on May 27th, took the cryptocurrency south hard, and BTC nosedived to $35,000 in the following hours.
Despite recovering a few thousand dollars somewhat rapidly, the situation worsened in the past 24 hours. Bitcoin was trading at $37,000 as reported, but the bears regained control and drove it south again.
As a result, BTC lost another sizeable chunk of value and bottomed at below $33,500, according to Bitstamp. Nevertheless, the bulls stepped up and rapidly pushed the cryptocurrency upwards at this point. As of now, bitcoin has recovered more than $2,000 and sits around $36,000.
It's worth noting that this enhanced volatility in the past 24 hours could have been expected to some extent. In fact, CryptoPotato reported that the BTC stored on derivatives exchanges had skyrocketed lately, to its highest level since the cruel May-19, which was a signal of upcoming fluctuations.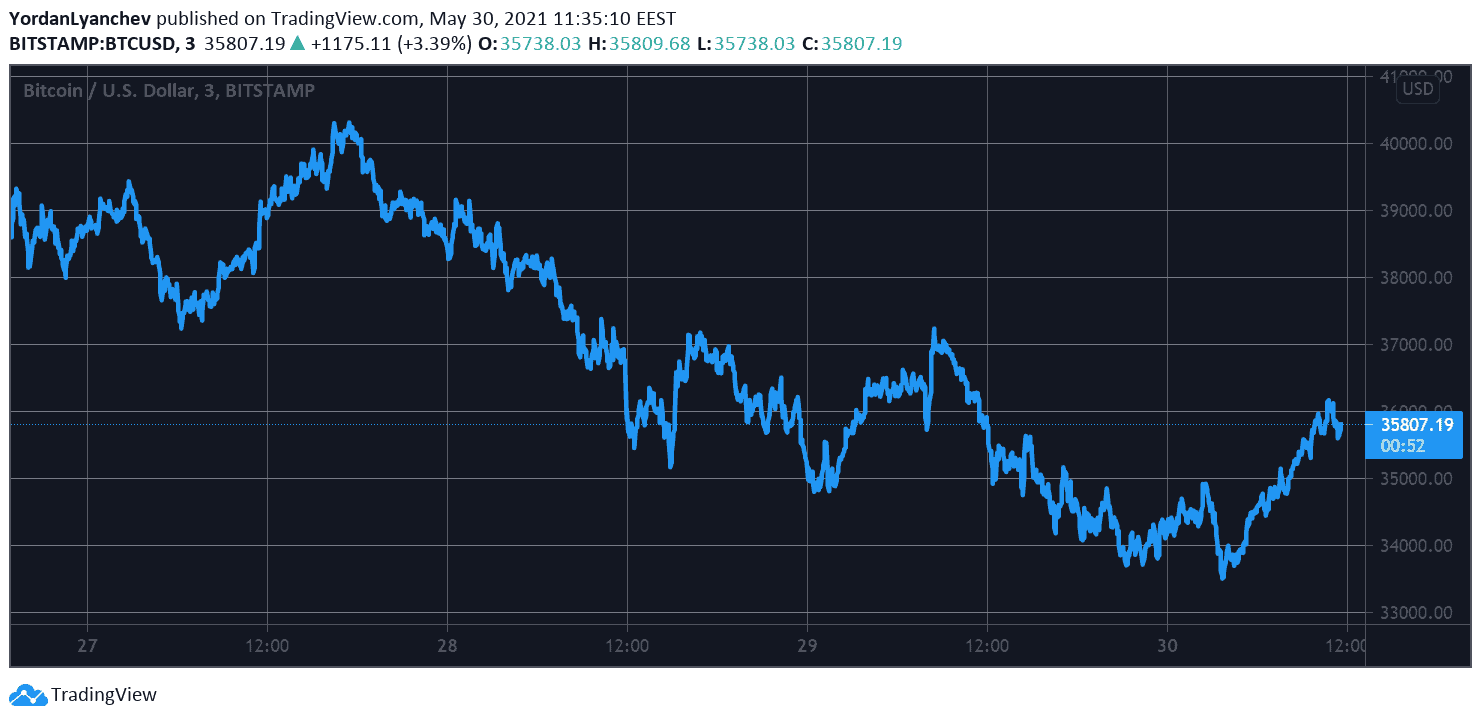 Altcoins Dipped Too: ETH Traded Below $2200
The alternative coins mimicked BTC's performance in the past 24 hours. Ethereum, for example, dumped by more than $300 in hours from over $2,500 to beneath $2,200 on some exchanges such as Binance. Nevertheless, ETH has also bounced off and currently trades above $2,400.
Binance Coin (BNB) dropped below the $300 mark but has recovered most losses to $330. On a 24-hour scale, though, most altcoins are still in red. This includes XRP (-2%), DOGE (-2%), DOT (-3.5%), ICP (-4.5%), UNI (-5%), and BCH (-1%).
Cardano (ADA) is the only evident exception with a significant price increase of 8%. As a result, ADA trades above $1.6.

Interestingly, the privacy coins which were gaining traction yesterday have retraced today. ZEC (-12%), XMR (-10%), Dash (-8%) lead the way, followed by Cosmos (-7%), Waves (-5%), Theta Fuel (-5%), and Klaytn (-5%).
During the most violent state of yesterday's crash, the crypto market cap had dipped to $1.4 trillion from $1.6 trillion.
---