Bitcoin's enhanced volatility resumed in the past 24 hours as the cryptocurrency fell to its lowest price level in five days beneath $35,000. Most alternative coins also experienced similar dips and increased BTC's market dominance to above 43%.
Bitcoin Dipped Below $35K
After recovering from its most violent losses to $30,000, the primary cryptocurrency was riding high for a few consecutive days. The asset challenged $40,000 on a few occasions and even briefly jumped above it.
However, the bears didn't allow any further increases and rejected every attempt. CryptoPotato reported yesterday the latest one, after which bitcoin fell by a few thousand dollars somewhat rapidly.
The situation worsened in the following hours as BTC continued to lose USD value. This resulted in a price slump to a five-day low beneath $35,000 (on Bitstamp).
Nevertheless, the bulls stepped up at that moment and pushed bitcoin upwards to its current position of around $37,000.
Although BTC's market capitalization remains below $700 billion, its dominance has increased to above 43%.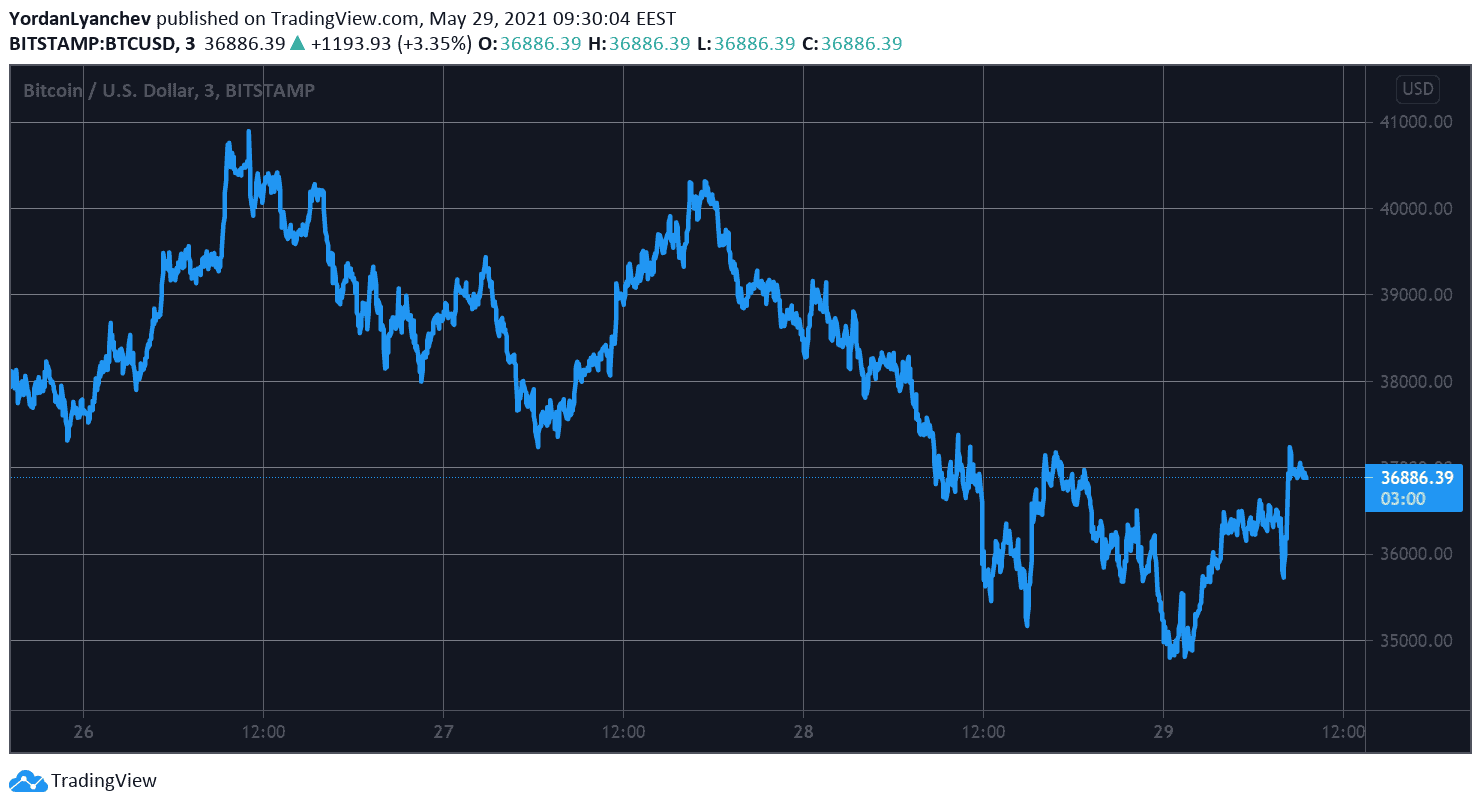 Privacy Coins Surging
Most of the alternative coins also struggled in the past 24 hours similarly to their leader. Ethereum dipped to around $2,300 but has added roughly $200 since then and currently stands above $2,500.
Binance Coin also fell to just over $310 but has increased to over $340. The rest of the larger-cap alts performed similarly, but on a 24-hour scale, most are slightly in green. This includes ADA (1%), XRP (2.7%), UNI (5%), BCH (4%), LINK (1.5%), and LTC (3.5%).

Interestingly, the so-called privacy coins have surged significantly more in the past 24 hours. Monero (XMR) is up by 25% and is nearing $300. Zcash (ZEC) has surged by roughly 30% to $180, DASH (13%) is well above $200, and Horizen (ZEN) has spiked by 21% to $115.
Despite the fluctuations in the past 24 hours, the cumulative market capitalization of all cryptocurrency assets has remained above $1.6 trillion.
---