Back to the list
Crypto Market Cap Loses $250B in a Day as Ethereum Slumps Below $3,000 (Market Watch)
cryptopotato.com
19 May 2021 08:47, UTC
Reading time: ~3 m
---
The bears' party continues to fully affect the cryptocurrency market as the total capitalization has lost another sizeable chunk of $250 billion in a day. This comes as BTC dumped beneath $40,000, ETH slumped below $3,000, and BNB came inches away from dropping under $400.
All Red Among the Altcoins
It was roughly a week ago when the altcoins were celebrating with frequent all-time highs. Ethereum was among the leaders as it breached $3,000 and $4,000 in less than seven days. The second-largest crypto continued further north and charted its latest record above $4,400 on May 12th.
However, the ever-volatile nature of the crypto market struck, and prices started to tumble. As a result, ETH lost roughly $1,500 of value to an intraday low of $2,850 reached earlier today. Despite recovering some ground since then, ETH is still 15% down and is below $3,000.
The situation with the other alts is somewhat similar. BNB, which neared $700 a week ago, went down to just over $400 today. Cardano (-16%), Dogecoin (-15%), Polkadot (-8%), Litecoin (-12%), Bitcoin Cash (-15%), Chainlink (-5%), and Uniswap (-15%) are also deep in red.

As the graph above demonstrates, Polygon (MATIC) is the only coin trading in green. The asset is up by another 10% in the past 24 hours and reached a new ATH at over $2.4 earlier.
In contrast, Nexo (-30%), Revain (-23%), SHIBA INU (-23%), Telcoin (-23%), BakeryToken (22%), PancakeSwap (-22%), OKB (-22%), Nano (-20%), Horizen (-20%), VeChain (-20%) are just a few of the double-digit losers.
Naturally, the cumulative market capitalization of all crypto assets went down to its lowest level since late April at $1.850 trillion. As such, the metric had lost roughly $700 billion from its peak a week ago.
Bitcoin Calms Around $40K?
The adverse developments didn't pass by bitcoin. The primary cryptocurrency was riding high above $58,000 a week ago before it dumped below $50,000 in a matter of days and kept heading south.
The first wave came from Elon Musk and Tesla, as the electric vehicle company stopped receiving BTC payments for its products. Yesterday, reports emerged reiterating China's negative stance on bitcoin, and the asset resumed its freefall.
Consequently, the cryptocurrency slumped to its lowest price tag since early February of $38,500. Despite bouncing off and currently hovering above $40,000, BTC is more than 10% down on a 24-hour scale.
On a slightly positive side, bitcoin's market capitalization has increased to over 40% as the altcoins have suffered the market crash even worse.
Nevertheless, the enhanced volatility in the entire market has resulted in over $2 billion worth of liquidations in the past 24 hours. Somewhat expectedly, over 80% of liquidated traders had long positions.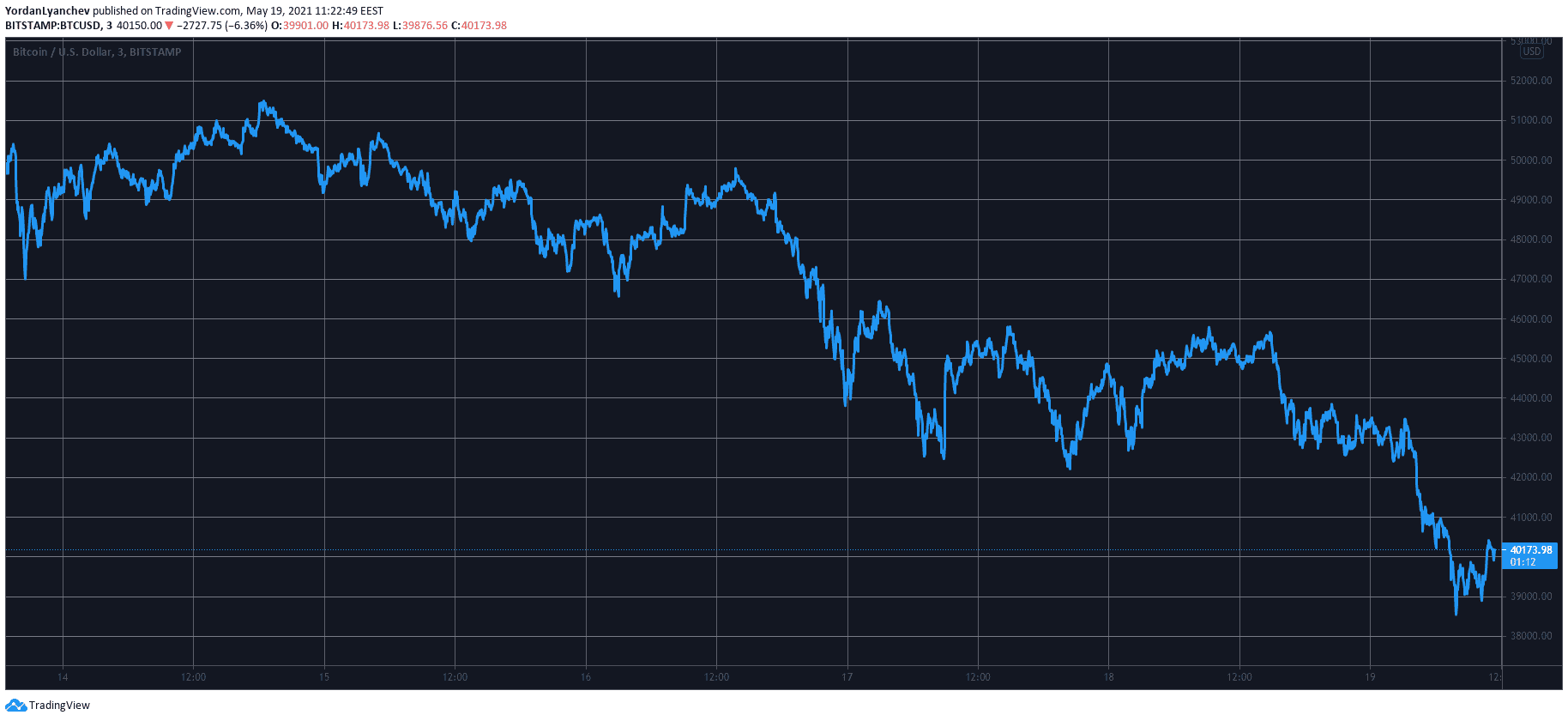 ---
---
Source
---
Back to the list