Back to the list
Bitcoin [BTC] could rally upto $333k by December 2021, after reaching $2,500 in January 2019: Bobby Lee
ambcrypto.com
07 December 2018 15:30, UTC
Reading time: ~2 m
---
Bobby Lee, the co-founder of BTC China and a prominent person in the crypto-community who has always been bullish on the cryptocurrency/blockchain aspects, tweeted on December 7, making a speculative prediction about the Bitcoin's price and where it could bottom.
Lee took into perspective the last three cycles of Bitcoin market and compared it to the current bear market that we are all in right now, where Bitcoin has lost 82% of its market cap since its all-time high in December 2017. The cryptocurrency market as a whole has lost ~$700 billion in market cap.
Lee added a poll at the end of his tweet. Although the vote will last for two more days, 40% of the people who voted [~750] were convinced that Bitcoin would go lower than $2,500.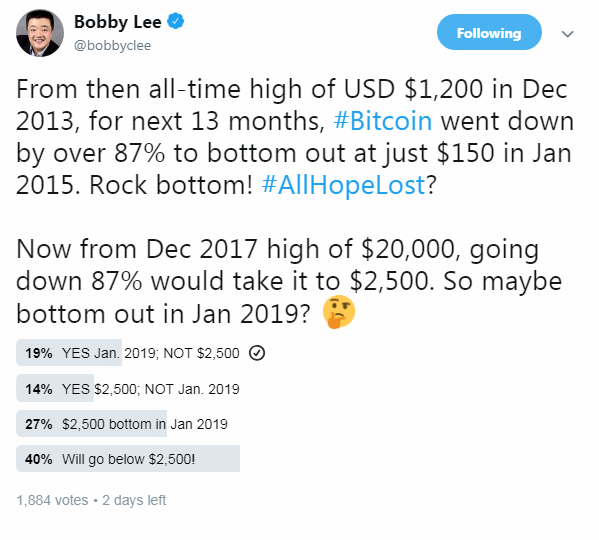 Lee compared today's bear market with the bear market that lasted between 2013 and 2015. Bitcoin, in December 2013 rallied to an all-time high of ~$1,200, and the prices from this point fell down to a low of ~$150, which is a percentage decrease of ~87%.
Although the Bitcoin and cryptocurrency markets, in general, are very volatile and unpredictable, Lee assumed the same percentage drop for the bear market of 2018. Assuming that this bear market also slashes 87% off of the Bitcoin's all-time high [i.e., $20,000], Bitcoin's price at the end of this bear market should be around ~$2,500 range and should happen in the month of January 2019.
According to Lee, if Bitcoin follows the same trend, Bitcoin's bottom could be somewhere in the first month of next year.
Lee follows up this tweet with another, predicting the next rally for Bitcoin, which according to him would go up to $333,000 in 2021 after starting the rally in late 2020.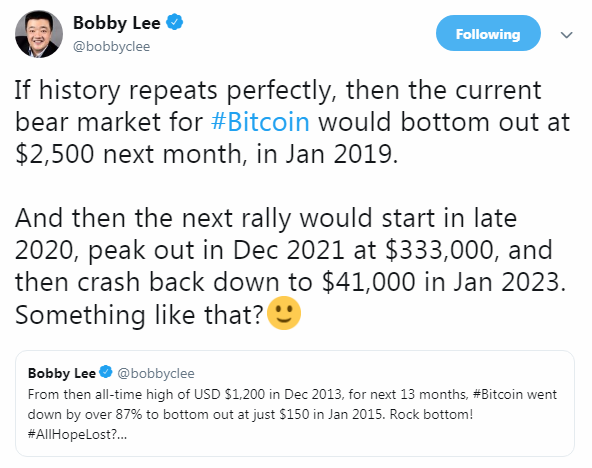 A Twitter user, Tommy Mustache replied with an infographic of major crashes of Bitcoin agreeing with Lee:
"Bitcoin has survived 4 major crashes over 80% now. It will survive a few more in our lifetime because Bitcoin has 9 lives. It is the new monetary system created by the people for the people and there are over 30 million of us that believes in this new system right now. $BTC"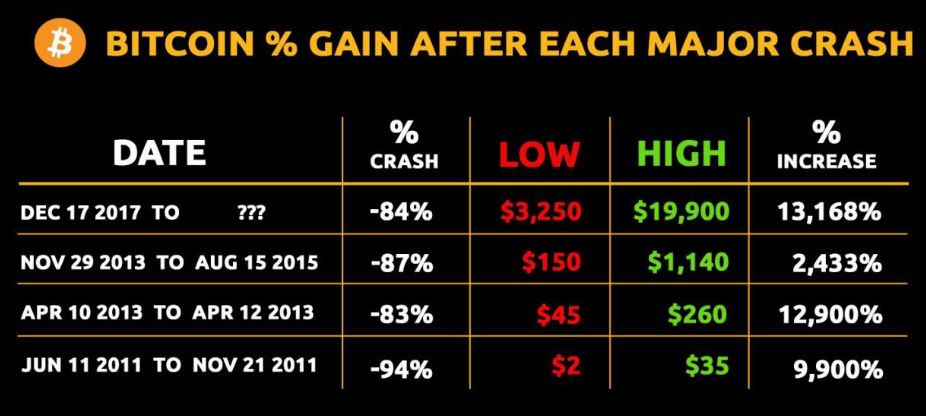 Source: Twitter, by Tommy Mustache
Another user, MatoshiSakamoto replied:
"With institutions coming in 2019, the narrative is different, so I don't see history repeating itself to the exact."
---
Source
---
Back to the list