Several Tesla (NASDAQ: TSLA) Cybertruck customers are reportedly canceling their preorders moments after the electric vehicle manufacturer suspended bitcoin payments over environmental concerns. 
Through Twitter, some users have shared alleged feedback from Tesla confirming the order cancellations. The users were seemingly rattled by Tesla's decision to cancel bitcoin as a form of payment. It is not clear of they had made their reservations in bitcoin or fiat.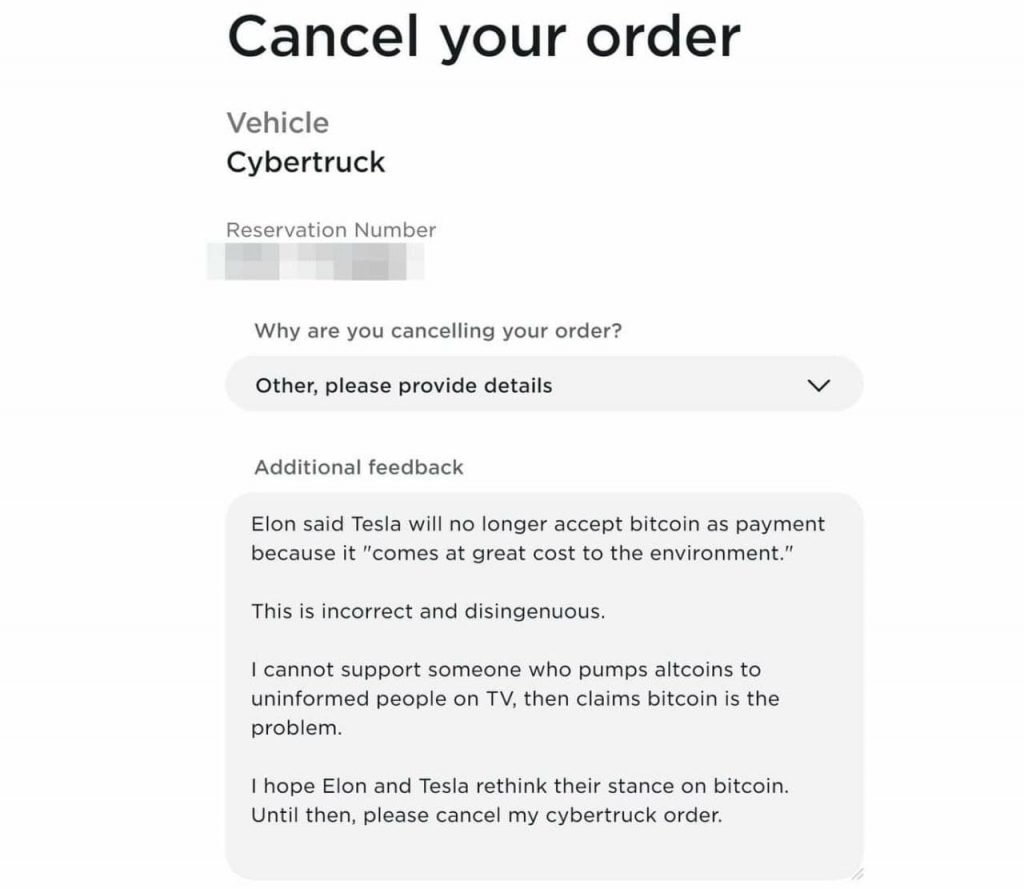 One of the users indicated that Tesla's decision on bitcoin was misinformed while blasting Musk for double standards. He accused the Tesla CEO of promoting altcoins in public but claiming bitcoin was ideal.
With Musk's previous bullish position on bitcoin, some users allegedly resorted to ordering and canceling the Cybertruck orders for 'fun' to express their displeasure following Tesla's decision.
Musk announced that the EV manufacturer would no longer accept bitcoin payments over concerns about the increasing use of fossil fuels for mining and transactions in an unexpected move. He, however, hailed cryptocurrencies as a good idea. According to Musk:
"Cryptocurrency is a good idea on many levels, and we believe it has a promising future, but this cannot come at great cost to the environment. The company was looking at other cryptocurrencies, he said, that consume less energy,"
Musk noted that the company would not sell any bitcoin and will resume using the cryptocurrency for transactions as soon as mining transitions use more sustainable energy.
To justify Tesla's decision, Musk stated that bitcoin power consumption has skyrocketed in recent months, hitting 148TwH as of May 10. Tesla's initial decision to accept bitcoin was a boost for the cryptocurrency.
Cybertruck is Tesla's futuristic project, and Musk announced they had 250,000 pre-orders within a week of the unveiling.
Tesla's role in bitcoin rally
Interestingly, Musk and Tesla have been at the center of bitcoin's recent rally. In February, the company invested $1.5 billion in the asset, while Musk has been backing bitcoin through several tweets. 
Notably, he has also been at the center of the dogecoin rally. In a sketch on when he hosted the "Saturday Night Live"  show, Musk expressed his admiration for dogecoin as well as through several tweets. The price of the meme-coin has since plunged.
Bitcoin's value fell more than 5% after Musk's announcement. By press time, the asset was trading at $48,900, dropping 12% in the last 24 hours, according to data provided by CoinMarketCap.
Bitcoin's power consumption has been a major topic of debate. However, proponents of the asset believe moving into the future; the debate will seize due to the emergence of renewable energy sources.