Back to the list
Why the Second U.S. Stimulus Round Could Stimulate a Bitcoin Rally
bitcoinist.com
26 June 2020 22:00, UTC
Reading time: ~3 m
---
This week, United States President Donald Trump told media that Americans can expect a "generous" second stimulus check issued. Like the first round of checks, some of this money flowing into crypto could cause a short term Bitcoin rally.
And with the stimulus potentially coming while Bitcoin is consolidating below resistance, it could lead to a sizable breakout. 
First Found of Stimulus Money Flows Into Crypto Over Groceries, Bills, and Essentials
The start of 2020 was rough for the United States. It kicked off with renewed trade tension with China, and a short-lived conflict with Iran.
Months later, the United States and the rest of the world found itself preoccupied with a pandemic. The outbreak caused an unprecedented mass quarantine to contain its spread, which resulted in the economy coming to a halt.
Jobless claims reached astronomical highs overnight, and the stock market plummeted under the weight of uncertainty and fear.
Bitcoin and the rest of the crypto market were dragged down with the S&P 500, the Dow, and other major US stock indices.
RELATED READING | THE FED'S UNLIMITED AMMO HIGHLIGHTS IMPORTANCE OF BITCOIN'S DIGITAL SCARCITY
It was clear that the economy was in trouble, and it still is. But in an effort to keep markets from plummeting further, the Federal Reserve stepped in with stimulus money.
Checks were issued to individual taxpayers at a rate of $1,200 per person. Other relief efforts were offered to small businesses and corporations. Further pandemic assistance was made available for those that lost their jobs.
Some of that free-floating cash made its way back into Bitcoin and crypto, helping fuel the early stages of the recovery that's still going strong today.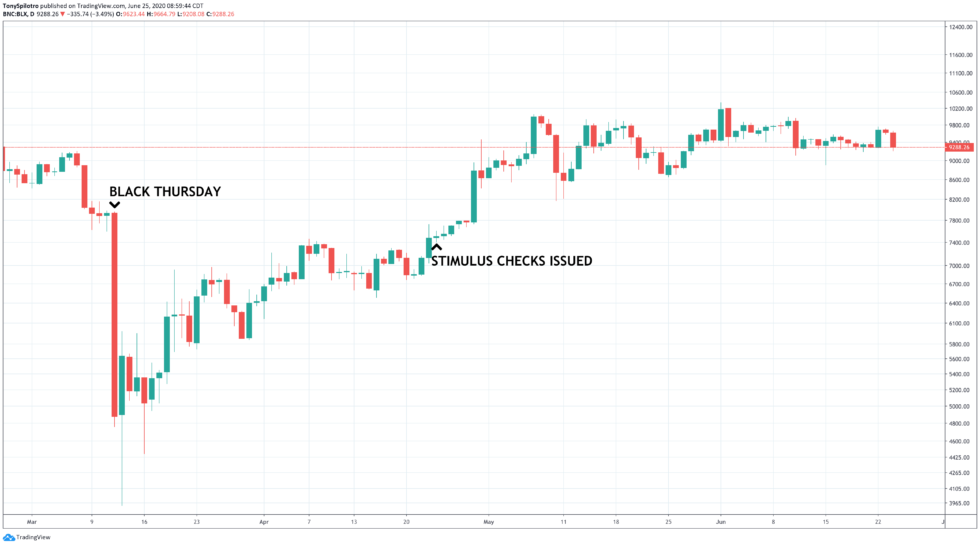 BraveNewCoin Bitcoin Liquid Index | Source: TradingView
Second Round Of Stimulus Checks May Boost Bitcoin, But Not Until Fall
Coinbase CEO Brian Armstrong saw a dramatic increase in BTC purchases on the platform in the amount of $1,200 following the issuance of stimulus checks.
The data suggests that those that weren't immediately impacted by the pandemic, put it into Bitcoin. The money may have flowed into the crypto market rather than covering bills, or essentials like groceries.
Another round of stimulus checks could have a similar impact.
Congress is discussing adding parameters to the next issuance of stimulus to prevent it from going into excess and keep it flowing to those that need it.
RELATED READING | DEUTSCHE BANK WARNS OF DISASTER WORSE THAN PANDEMIC THAT COULD COMPLETELY KILL BITCOIN
With Bitcoin brushing up against resistance, a boost from stimulus money could help the asset break out from its downtrend.
Unfortunately, legislators say that the stimulus package won't be settled until the month of July is over. This could push actual stimulus money from reaching American individuals until late August or early September.
Politicians will be working around their two-week, July 4th holiday. Meanwhile, Independence Day celebrations across most of the country have been condemned under social distancing measures.
More time may be required before the stimulus checks arrive and impact Bitcoin. But when they do arrive, if they have the same impact as before, it could help kickstart Bitcoin's next uptrend.
Featured image from Shutterstock.
---
Source
---
Back to the list