Back to the list
Coinbase insiders sold over $40 million in COIN during December selloff, SEC data shows
www.theblock.co
07 January 2022 19:59, UTC
Reading time: ~2 m
---
Quick Take
Alongside an overall dip in crypto markets, the price of Coinbase's publicly traded stock had a rough December. 
SEC reporting reveals that many of the U.S. crypto exchange's leaders sold their Coinbase stock during that period.
Coinbase, the first crypto exchange to issue stock publicly in the U.S., has had a rocky couple of months. Government data reveals that company insiders and early investors have been part of a significant selloff. 
Per beneficial ownership data gathered by the Securities and Exchange Commission and easier to browse on Dataroma, major players sold $40,631,394 worth of COIN over the course of December. The SEC requires these disclosures of company officers and directors, as well as any shareholders who possess 10% or more of the company's outstanding stock.
In the three months to date, total sales from insiders amounted to $331,744,516. Those insiders reported zero purchases during either timeframe. 
Co-founder and board director Fred Ehrsam, now also the co-founder of crypto VC firm Paradigm, sold COIN worth $31,369,991 over the course of December. In the same timeframe, chief product officer Surojit Chatterjee sold $9,007,797 worth of Coinbase stock, while chief accounting officer Jennifer Jones sold $253,606.
According to NASDAQ, Coinbase's all-time high was within days of its April listing, hitting roughly $388. More recently, it peaked at just under $370 a share on November 9, alongside Bitcoin's all-time high.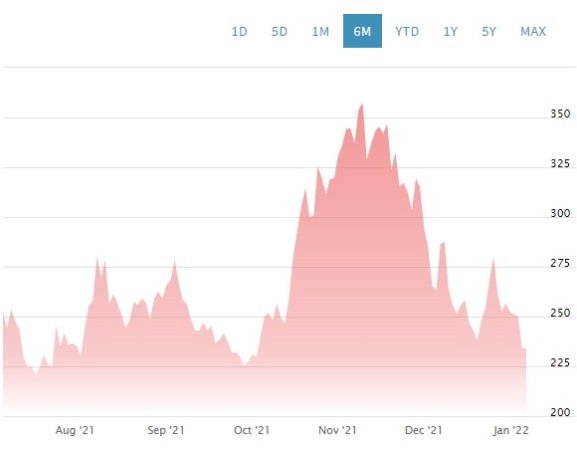 Coinbase's stock price. Source: NASDAQ
The SEC data shows that Coinbase saw a major insider selloff in early November, featuring many players on the 8th and the 15th. The 4th, however, saw Ehrsam make a single sale worth $63,001,342.
December saw COIN drop from $315 to $252. Today, January 7, COIN is bouncing around the low $220s, with a market cap of $50.095 billion. Relative to that total market cap and daily average volume of over 3 million shares, the sales by insiders are relatively small. 
A representative for Coinbase had not responded to The Block's request for comment as of press time.
As Coinbase's November 9 peak reflected Bitcoin's all-time high, its more recent performance appears to reflect broader declines in both crypto and traditional equities markets. 
© 2021 The Block Crypto, Inc. All Rights Reserved. This article is provided for informational purposes only. It is not offered or intended to be used as legal, tax, investment, financial, or other advice.
---
Source
---
Back to the list
Similar news