Back to the list
300 ATMs Destroyed in Hong Kong As Local Bitcoin Trading Volume Surging To New Highs
cryptopotato.com
07 October 2019 11:22, UTC
Reading time: ~2 m
---
The situation in Hong Kong continues to escalate. The protests began months ago when China wanted to implement a new bill, which will allow the extradition of Hong Kong citizens to the mainland. Even though this proposition was put on hold, the protesters are not backing down from their stance against some of the current laws and regulations. The protests outgrew their peaceful nature, and violence is spreading along with numerous arrests and violent attacks.
Yesterday it was reported that 10% of all 3,300 ATMs Hong Kong were destroyed over the weekend after severe vandalism actions from the protesters. Another 5% of the operational ATMs were supposedly out of cash, contributing to the fierce public reaction. Chinese banks are reportedly being attacked, as well.
Even though the general idea of the strikes was to oppose the extradition to mainland China, another part of that bill was overlooked. A money-related perspective was included in the proposed law, stating that all assets of the suspect can be frozen if the bill is executed. This led to an immediate reaction from some of the Tycoons in Hong Kong.
Hundreds of millions of dollars were reportedly moved out of the country. Interestingly enough, as this was brought to the public in the middle of June, it triggered a reaction surging Bitcoin transactions as well. The volume almost doubled in the following few weeks, reaching more than 7,000,000 per week.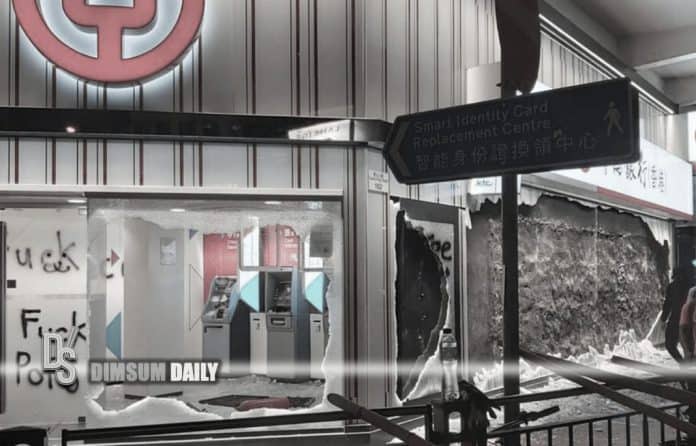 Hong Kong's Standpoint
The direction of the protests in Hong Kong is unclear. While it started as a peaceful demonstration against a proposed bill, it continues now with new restrictions. The government introduced a new anti-mask law, which led to unusual mask-wearing protests. As it quickly turned violent again, a few people were arrested and lots more injured. Officials from the government had a strong opinion regarding the gravity of these recent actions, stating that the country is "being pushed to the verge of a hazardous situation."
As CryptoPotato previously reported, these protests have incorporated a new phase. Technology is being introduced to the mixture for both – the protesters and the authority. With message applications like Telegram being monitored and administrators of group chats arrested, the online presence is clearly felt. Bitcoin's involvement is also surging as it seems like the alternative to other payment methods. As the public's trust in the government is deficient and the ATMs appear to be short of cash, Bitcoin's transaction volume is rising.
---
You might also like:
---
---
Source
---
Back to the list