Wall Street analysts were unsurprised by the big legal action by the Securities and Exchange Commission against Coinbase that was announced Tuesday.
"The SEC's suit against Coinbase was well telegraphed and should not have been surprising," noted Mark Palmer, equity research analyst at Berenberg Capital Markets.
John Todero, a crypto researcher at Needham & Company, also expected the news. "After the Wells Notice and Kraken shutting down their US staking business earlier this [year], this was a high probability," Todaro said in a message to The Block.
Despite anticipating legal action against Coinbase, analysts were becoming increasingly bullish on the stock throughout this year. COIN has an average price target on the Street of $69.17 — an increase from $61.72 in January, according to data compiled by The Block Research. Furthermore, 37% of research analysts have a "buy" rating for the stock as of June 5. That's up from 33% in January.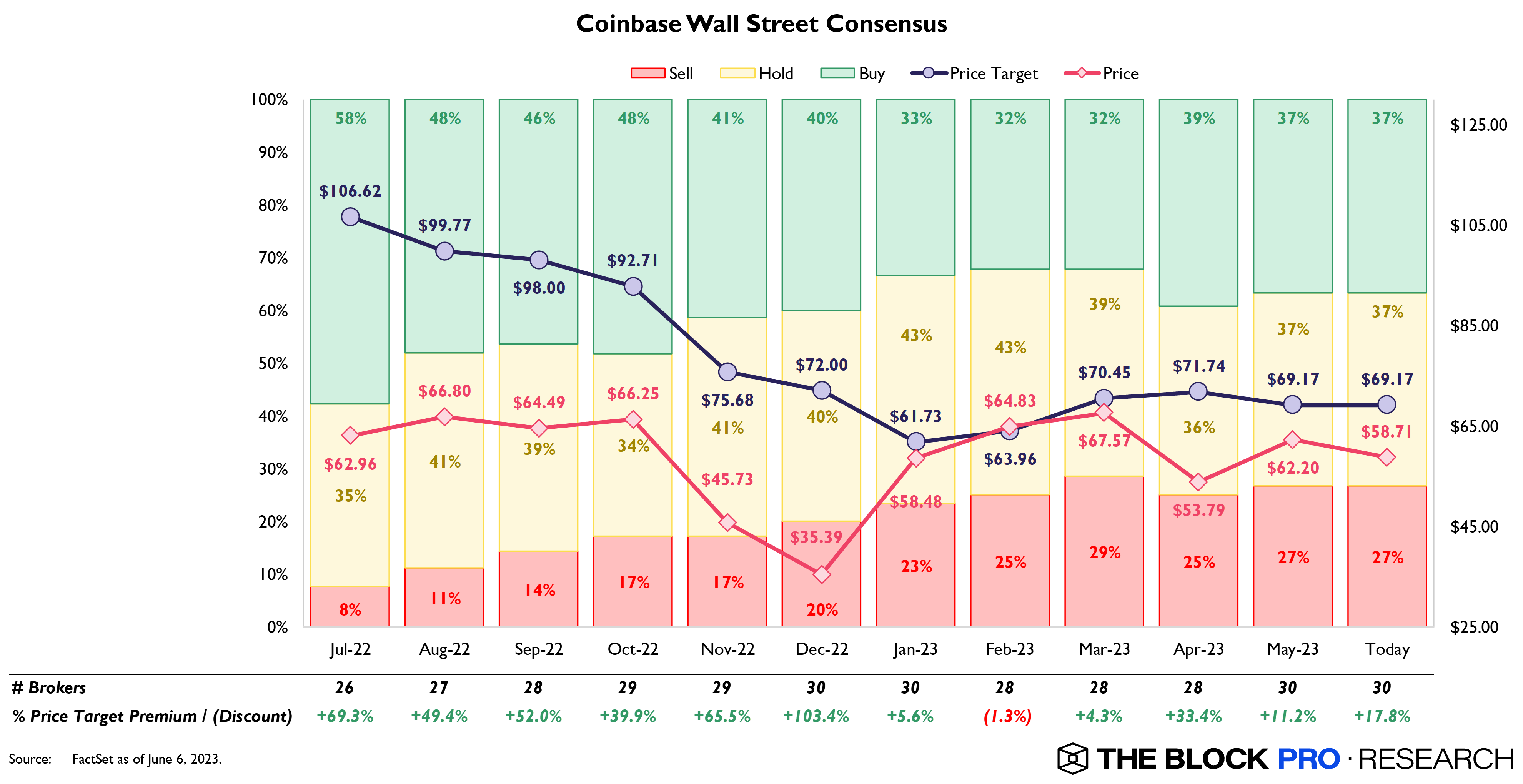 As for what happens next for the stock, Palmer told The Block the firm's rating for the stock, which is currently a hold, is under review. He added that upside will be tied to Coinbase's push outside the U.S.
"We believe the lawsuit will cause investors to focus on the company's ability to execute a pivot to overseas markets, which will not be easy," Palmer said.
Needham's Todaro said that the market should be on the look out for potential delistings by COIN or "ending certain business lines." Moves he described as "more unexpected."
COIN has outperformed the S&P 500 since the beginning of the year, as noted by The Block Research. The exchange has picked up 65% this year compared to the benchmark index's gain of 11%.