Back to the list
Nvidia's One-Day Gain Nearly Equals Ethereum's Market Cap
tokenist.com
26 May 2023 17:20, UTC
Reading time: ~4 m
---
As of Friday, Nvidia Corporation (NVDA) has a $948 billion market capitalization. This is just 16% away from topping the entire crypto market with Bitcoin, Ethereum, thousands of altcoins, and all the stablecoins. Nvidia's sharp rise is a rarely-seen market phenomenon.
At the start of the year, NVDA stock held at $143.15 per share, increasing by 170% to $386.54. Given this AI momentum, it is no surprise that NVDA gained nearly as much value as the Ethereum (ETH) market cap since Wednesday, at $217 billion vs. Ethereum's $220 billion.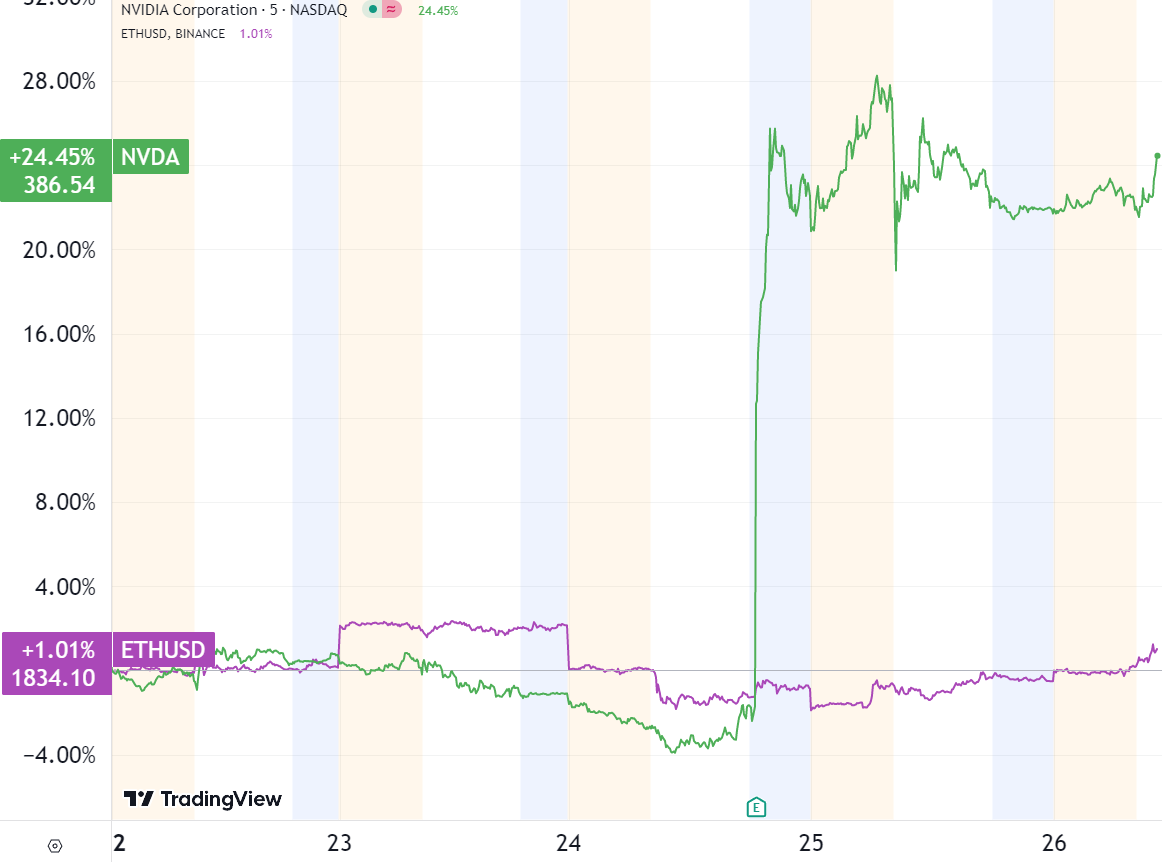 The AI/computing infrastructure (NVDA) vs. the purported DeFi infrastructure (ETH). Image credit: Trading View
In turn, Nvidia looks to be entrenching itself among the Big Five – Apple, Microsoft, Alphabet (Google), and Amazon – supplanting Meta Platforms (Facebook) at fifth rank.
The question is, what happened on Wednesday?
A Confluence of Results and Estimates
On Wednesday, Nvidia released its Q1 2023 earnings. Although the $7.19 billion revenue was a 13% downturn from a year ago, it was up 19% from the prior quarter. This alone beat the market estimate of $6.52 billion, according to Refinitiv polling.
Likewise, Nvidia beat FactSet's estimated $3.89 billion in data center chip sales, having hit $4.28 billion instead. Even more importantly, Nvidia's forecast-beating model projects $11 billion revenue (+/- 2%) by Q2 2024. This is way above Wall Street consensus by over 50%.
Net income per share rose to 82 cents per share, a 28% increase from the same period year prior, at 64 cents per share. With these results, Jensen Huang, Nvidia CEO, bases his outperforming forecast model on an even greater demand surge.
"Our entire data center family of products — H100, Grace CPU, Grace Hopper Superchip, NVLink, Quantum 400 InfiniBand and BlueField-3 DPU — is in production. We are significantly increasing our supply to meet surging demand for them,"
Although Nvidia launched as a video gaming company in 1993, supplying GPUs, it is now more in the data center supply camp. As noted, Q1 accounts for $4.28 billion in data center chip revenue, while gaming for the same period ran $2.24 billion.
That Nvidia is spreading its computing wings outside of gaming is also evident from a 114% year-over-year uptick in the automotive design arena, now at $296 million in revenue. For instance, the largest Chinese new energy vehicle (NEV) manufacturer, BYD Auto, picked Nvidia for its DRIVE Orin computing platform for a new generation of robot axis, trucks, shuttles, and NEVs.
Nvidia as AI Infrastructure Supplier
Combining hardware chips with computing software seems to be Nvidia's strong point for the foreseeable future. Not only is Nvidia now among the Big Five, but the company supplies other tech giants with vital AI infrastructure as AI apps surge across all knowledge, coding, and art spaces.
This is evident from Google Cloud's use of Nvidia's L4 Tensor Core GPUs for generative AI apps. Another chip line, H100 Tensore Core GPU, is also used by Amazon Web Services (AWS), Google Cloud, Microsoft Azure, and Oracle Cloud. In other words, current AI apps are almost exclusively powered by Nvidia chips.
If such a trend continues, Nvidia is positioning itself as the Big Tech AI facilitator, following the path of Microsoft's Windows dominance. However, other challengers are in play. Nvidia's historic rival, Advanced Micro Devices (AMD), experienced a similar weekly surge at +21%.
Nonetheless, Nvidia's pre-AI success is owed to GPU chip dominance, which is now coming into AI focus over CPUs.
"Instead of retrieving data, you're going to retrieve some data, but you've got to generate most of the data using AI. So instead of millions of CPUs, you'll have a lot fewer CPUs, but they will be connected to millions of GPUs,"

Jensen Huang, CNBC interview
This gives Nvidia an upper hand over AMD and Intel, which has yet to make a compelling performance case for its Arc line of GPUs, such as the A770 and A750. With that said, although Nvidia is dominating the high-end GPU sector, mobile-focused chips designed for AI upscaling are yet to launch from Apple and Qualcomm.
This is the most likely market fragmentation on the horizon. In the meantime, Nvidia's proprietary software, combined with high-performing chips, makes it a stock-winning combo.
Do you think Nvidia will cross the $1 trillion milestone next month? Let us know in the comments below.
---
Source
---
Back to the list