Back to the list
Crypto Daily Trading Volume Hit $33.85B, Highest in 10 Months – Is the Market Turning Bullish?
www.investinblockchain.com
21 February 2019 21:25, UTC
Reading time: ~2 m
---
Bitcoin (BTC) and the overall cryptocurrency market have recently experienced significant gains not seen in almost a year. Bitcoin's market cap alone increased by nearly 10% over the past 7 days, adding close to $7 billion to the #1 cryptocurrency's market cap.
Other cryptocurrencies across the board have also seen substantial gains, as the combined total market cap of all cryptocurrencies has increased by 11%, adding nearly $16 billion to the total cryptocurrency market cap.
Many investors, weary of a long crypto winter, are starting to hope for a change in the tide. Could this finally be the start of a new bull market? It's too early to tell, but this healthy trading activity is certainly a step in the right direction.
Daily Crypto Trading Volume Hits Highest Level in 10 Months
As cryptocurrency prices went up, so did the daily trading volume. According to market metrics presented on CoinMarketCap, daily crypto trading volume reached a 300-day high of $33.85 billion on February 19, signaling the highest level of volume seen in 10 months.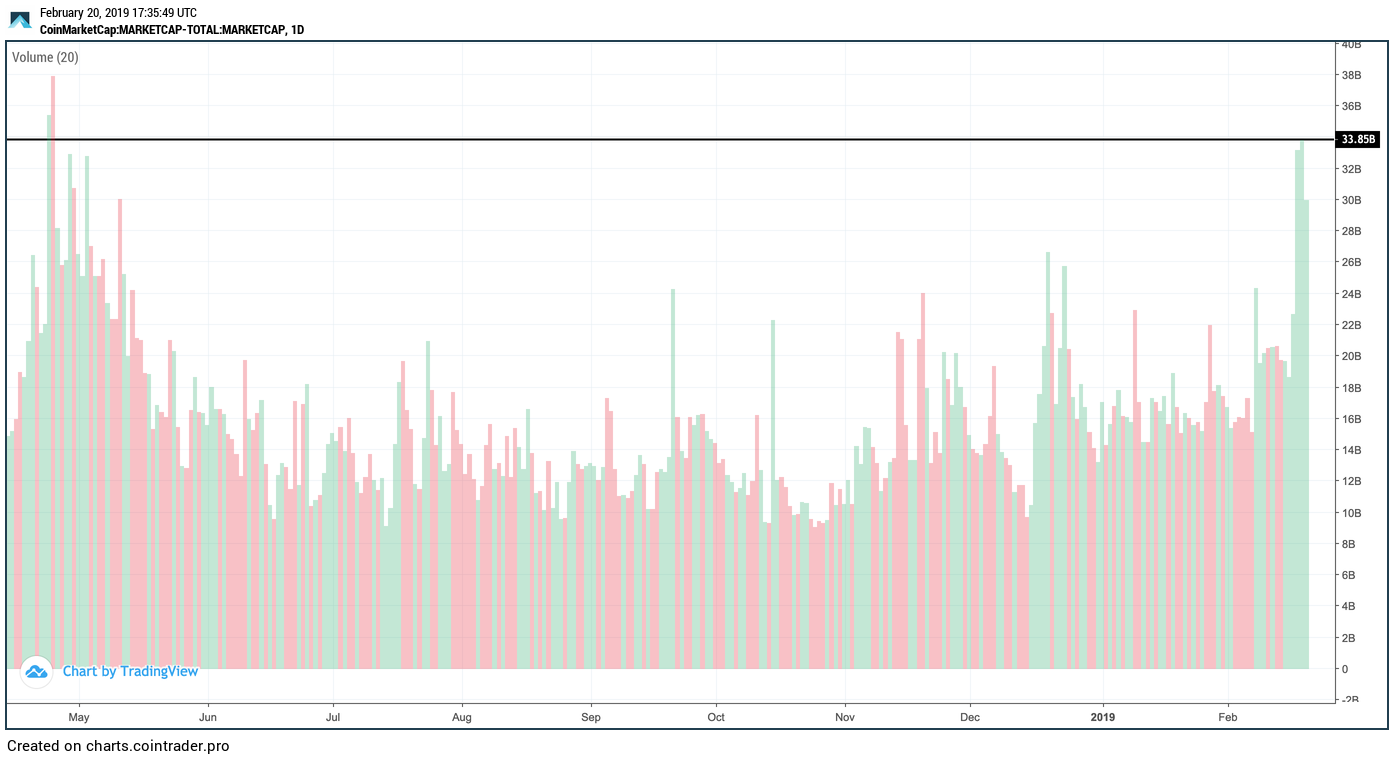 CoinMarketCap tracks 2,081 cryptocurrencies, aggregating their daily trading volume and tracking how exactly these cryptocurrencies are being bought and sold across exchanges worldwide.
Therefore, upon analyzing the daily trading volume further, one can conclude that the high trading volume seen on February 19 largely came from the 10 largest cryptocurrencies by market cap. The aggregate trading volume from the top 10 market cap cryptocurrencies was nearly $30 billion, or 88%.
The 2 cryptocurrencies with the highest trading volume were Bitcoin (BTC) and Tether (USDT), each with over $9 billion, accounting for a combined total of over 50% of the 24-hour trade volume on February 19.
These 2 cryptos experienced the largest trade volume because they are closely tied to one another, as many traders and investors either purchase Bitcoin (BTC) with Tether (USDT) or sell Bitcoin (BTC) for Tether (USDT).
With that said, cryptocurrency trading volume is still just a fraction of what it was during the peak of the most recent 2017 bull run. To date, the most trading volume ever recorded in a single day was on January 4, 2018, where over $68 billion in cryptocurrency was traded.
Since crypto trading volume has finally increased, is this a signal that the next cryptocurrency bull run is around the corner? Let us know what you think in the comment section below.
---
Source
---
Back to the list