Back to the list
Ethereum Name Service Registrations Spike 216% in One Week
decrypt.co
06 July 2022 00:36, UTC
Reading time: ~2 m
---
The Ethereum Name Service (ENS) saw registrations spike over the weekend, with 64,000 .eth names created on Sunday and Monday alone.
In the past week, 108,000 ENS domains were registered. This 216% increase, revealed in data published by lead ENS developer Nick Johnson, brought a notable spike in revenue. On Sunday, the ENS made $684,000—a half a million dollar increase compared to the previous day.
The ENS manages the issuance and renewal of .eth domain names, which are built on Ethereum, sold as NFTs, and can be linked to one's cryptocurrency wallet.
1/ Ethereum Name Service (ENS) is a decentralized domain name protocol on Ethereum.

Daily ENS registrations have spiked recently, reaching over 30k new addresses on July 4th.

This spike could be due to the ENS address 000.eth being bought for a record-breaking 300 ETH. pic.twitter.com/CQUnfBP8Do

— Delphi Digital (@Delphi_Digital) July 5, 2022
If the recent spike in sales is any indication, the ENS domain name craze hasn't fizzled out just yet—000.eth sold for 300 ETH ($344,000) on Sunday. And non-roman character names (such as Arabic or Chinese characters) have also seen some interest, with ٠٠٠.eth selling for 100 ETH ($114,500) on Monday.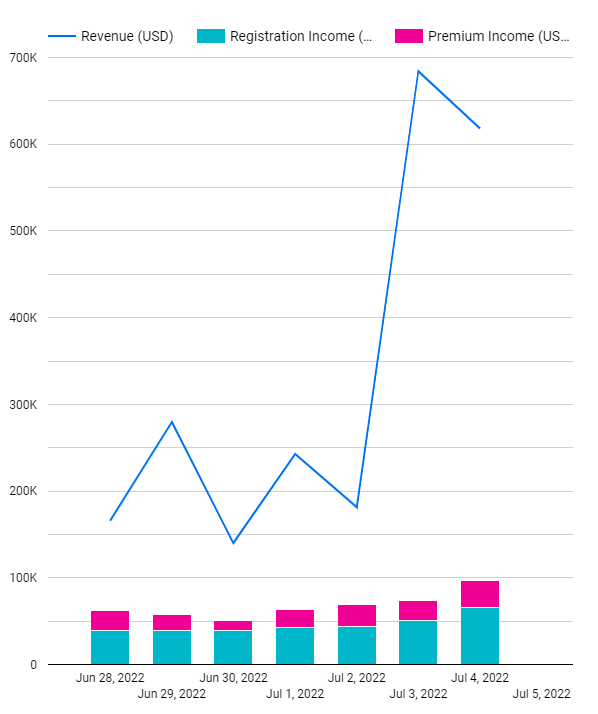 Image: nick.eth/ENS
Secondary sales of ENS domain names on OpenSea have also seen a massive spike, soaring over 300% in the past week. The ENS is the top-ranked collection on OpenSea in the past week, seeing over 6,900 ETH (roughly $7.9 million) in volume traded.
But this isn't the first time ENS sales have skyrocketed overnight. In April, three- and four-digit ENS domain names (such as 123.eth or 1234.eth) started trending when Twitter users realized that such domains had a fixed supply and made holders members of the "10k Club." As a result, the ENS saw about $3 million in revenue in less than a week.
---
Source
---
Back to the list