Back to the list
Will We Pay Less For 1 ETH!? Technical Analysis of ETH/USD for June 22, 2022 | InstaF...
www.fxmag.com
22 June 2022 08:11, UTC
Reading time: ~3 m
---
Relevance up to 07:00 2022-06-23 UTC+2 Company does not offer investment advice and the analysis performed does not guarantee results. The market analysis posted here is meant to increase your awareness, but not to give instructions to make a trade.


Crypto Industry News:
Paolo Ardoino, CTO of Tether, announced that the company will undergo a series of audits involving several large specialized companies.
In a tweet, Tether announced that it intends to conduct a series of talks with top consulting companies in the coming days. Immediately there was speculation that the recent market crash and the collapse of Terra's stablecoin may have put the company in a difficult position and that it is trying to rectify its mistakes.
On the other hand, in just one week, stablecoin faced record payouts of its currency. As much as 12% of USDT evaporated from circulation. This is one of the largest withdrawals in history. Perhaps even second to the $ 16 billion payout by Washington Mutual that led to its bankruptcy in 2008.
On May 12, Tether lost its link to the dollar for several hours. Then its rate fell to $ 0.95, triggering panic in the markets.
Doubts have arisen over Tether's cash reserves for some time. Apparently, the next scheduled audits are to focus on this issue.
Ardoino, who has been trying to assure the solidity of the company's reserves for some time, said Tether had reduced commercial paper holdings from $ 40 billion to $ 15 billion in the past eight months. In addition, there has been a greater shift in reserves towards securities with maturities ranging from zero to three months.
Technical Market Outlook:
The ETH/USD pair has broken below the short-term trend line support after the second Pin Bar candlestick was done at the level of $1,191. This recent high is still not enough to terminate the down trend just yet. The next target for bulls is seen at the level of $1,233, which is the technical resistance. The intraday technical supports are seen on the levels of $1,048, $1,008 and $1,100. The larger time frame chart trend remains down and as long as the key short-term technical resistance is not clearly violated, the outlook remains bearish.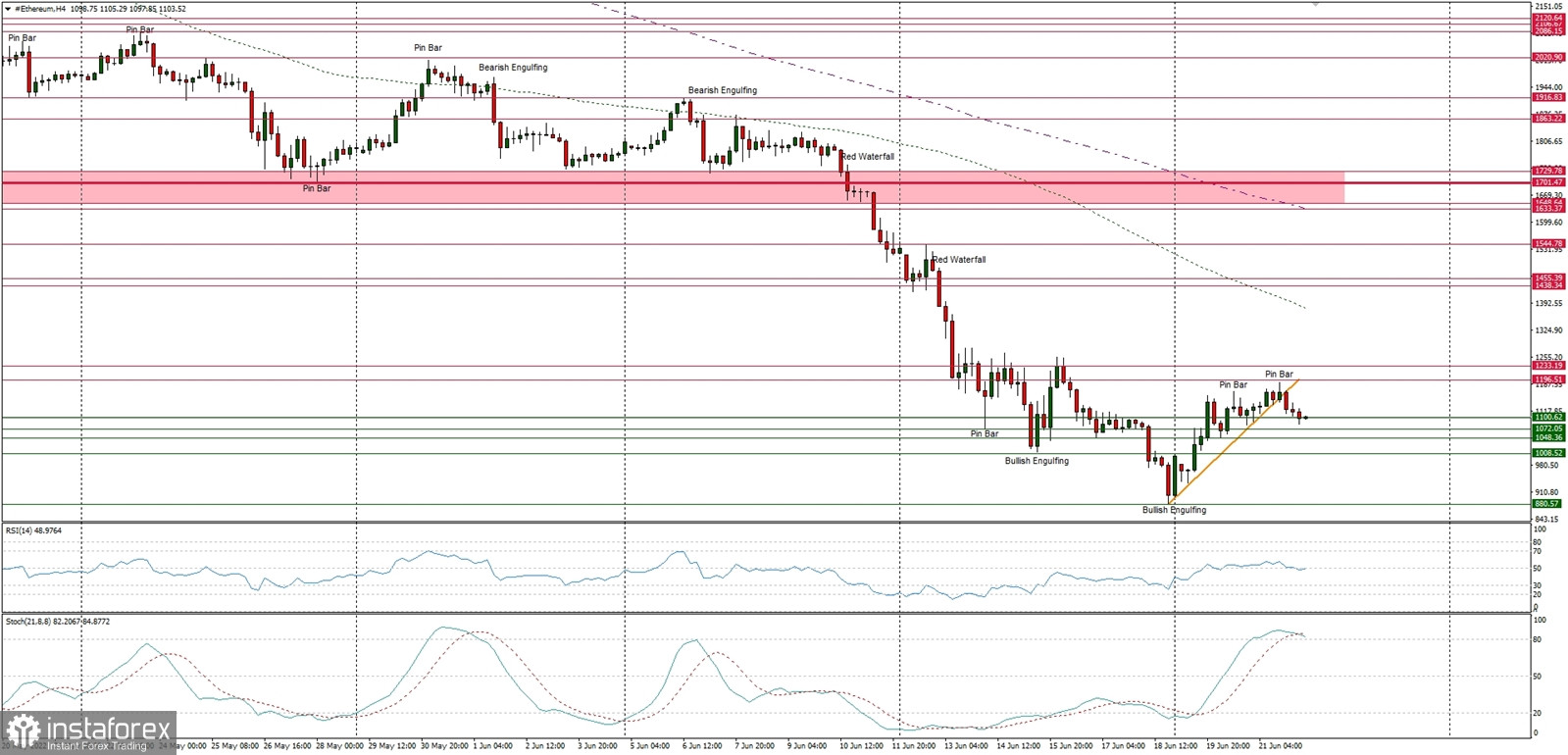 Weekly Pivot Points:
WR3 - $2,249
WR2 - $1,737
WR1 - $1,420
Weekly Pivot - $1,161
WS1 - $818
WS2 - $551
WS3 - $206
Trading Outlook:
The down trend on the H4, Daily and Weekly time frames had broken below the key long term technical support seen at the level of $1,420 and bears continue to make new lower lows with no problem whatsoever. So far every bounce and attempt to rally is being used to sell Ethereum for a better price by the market participants, so the bearish pressure is still high. The next target for bears is located at the level of $1,000. Please notice, the down trend is being continued for the 11th consecutive week now.
Read more: https://www.instaforex.eu/forex_analysis/281209
---
Source
---
Back to the list