Back to the list
Ethereum Has More Than Triple Address Growth Daily Compared to TRON
www.cryptovibes.com
14 January 2019 08:00, UTC
Reading time: ~3 m
---
While mainstream media shout about BitTorrent token and a bright future for TRON, we took some numbers to calculate instead.
It is no secret, that TRON's founder Justin Sun, compares TRX to ETH all the time. He also publicly declares that TRON is a better blockchain-based asset compared to the Ethereum. He also states that he would rescue the Ethereum's developers from collapsing platform.
#TRON will build a fund to rescue #ETH and #EOS developers from the collapse of their platform as long as those developers migrate their dapps to #TRON. #TRX $TRX

— Justin Sun (@justinsuntron) December 7, 2018
Tron Foundation's executive Tom Mao also thinks and even urges developers to migrate their DApps from Ethereum to Tron and argued that there are many incentives for developers to migrate from Ethereum to Tron.
Moreover, Justin Sun is being very proud of the growing number of TRON dDapps transactions, but the thing is – 99% of these are made to gamble. Moreover, TRON's growth of unique addresses in the last 14 days is 4 times less compared to Ethereum's.
Let the Numbers Talk
The data show that 274 543 new addresses were added within TRON blockchain in the last 14 days, with an average daily increase of 20 000 new addresses. Calculations were done manually, but you can use the link 'PROOF' to see the exact numbers.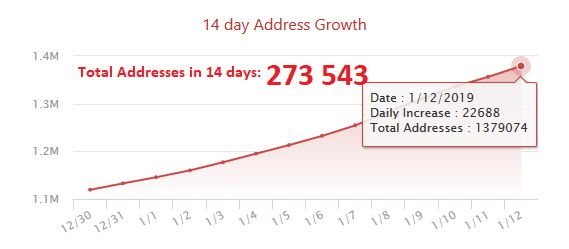 Proof
The different results appear on Ethereum's blockchain. The number of 1 120 090 new ETH addresses were added in the last 14 days. It is over 4 times more compared to TRON. On a daily basis Ethereum adds around 60 000 new addresses but in the last few days, the daily address growth on Ethereum blockchain exceeds over 80 000 every day.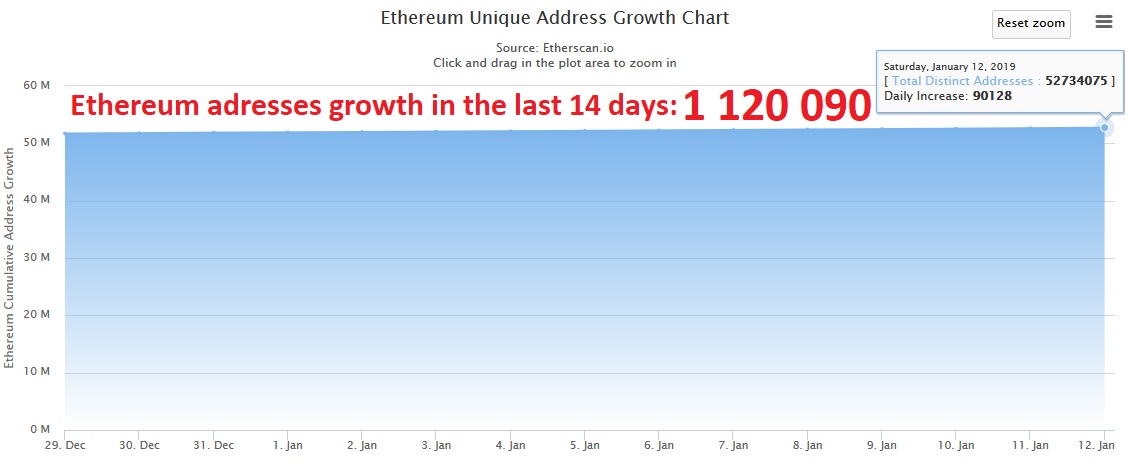 Proof
TRON vs. Ethereum
Despite the fact that Ethereum has more than 8 times the bigger market cap of $13 107 392 619 USD, according to coinmarketcap.com, while TRON's market cap is $1 517 931 748 USD. the main thing what will drive 'TRON vs. Ethereum' comparison game to an end is the upcoming Ethereum 2.0 and Constantinople upgrades because TRON might have nothing better to offer. What's Your stake with the matter? Let us know.

---
Please note: Cryptovibes.com is not a financial advisor. Do your own research before investing in any financial asset. We are not responsible for your investing results. At the time of writing author is not invested in any of the mentioned assets.

Follow us on 

Facebook

 , 

Twitter

 and 

Telegram
---
Source
---
Back to the list