Back to the list
Ethereum [ETH] Technical Analysis: Cryptocurrency rides the bull amidst bear threat
ambcrypto.com
26 December 2018 13:10, UTC
Reading time: ~2 m
---
The cryptocurrency market appears to be wounded, as it continues to bleed. The third largest cryptocurrency on the CoinMarketCap list, Ethereum [ETH] slipped by a little on December 25 but is seen to be growing ever since. The coin registered a growth of 4.58% over the past day.
According to CoinMarketCap, the coin was valued at $134.53 with a market cap of $13.9 billion. The coin reported a 24-hour trade volume of $3 billion, with a growth of 30.70% over the past week. The coin has been reporting a gradual rise of 0.30% over the past hour.
1-hour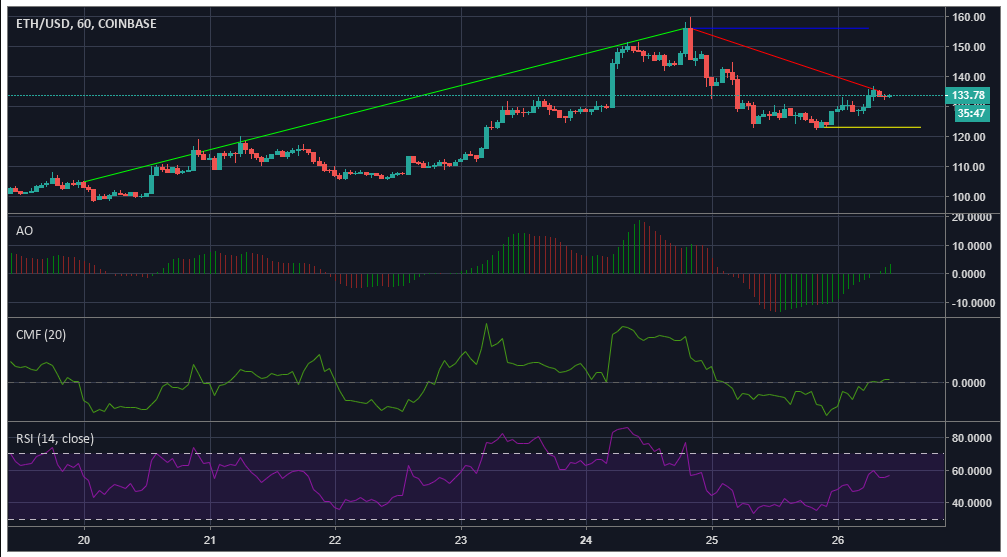 Source: Trading View
According to the 1-hour chart, the graph noted an uptrend from $104.88 to $156.07, however, the coin reported a downtrend after the massive uptrend, from $156 to $135.14. The coin was met with immediate resistance at $156.04, while strong support is offered at $123.09.
Awesome Oscillator indicates a bullish trend gaining momentum.
Chaikin Money Flow also predicts a bullish market as the marker line is above zero. However, the rise is not too high and could see a fall and come back under zero.
Relative Strength Index points that the buying and selling pressures are evening each other out.
1-day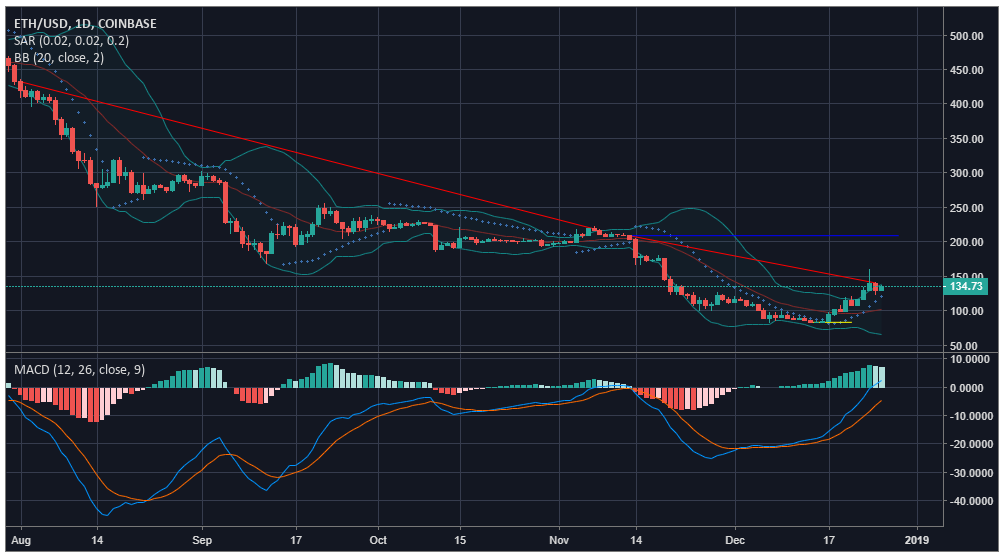 Source: Trading View
As per the one day chart, ETH reported a downtrend from $432.36 to $218.66. The coin further fell to $140.26 and did not register a significant uptrend. ETH met with immediate resistance at $208.77, and support at $83.
Parabolic SAR is forecasting towards a bullish market, as the markers align under the candles.
Bollinger Bands appear to be diverging, thus increasing the volatility in the market. The chart points towards a bearish market as the moving average line is under the candlesticks.
MACD, on the other hand, forecasts a bullish market, with MACD line above the signal line.
Conclusion
The indicators Awesome Oscillator, Chaikin Money Flow, Parabolic SAR, and MACD predicts a bullish trend, however, Bollinger Bands points towards a bearish trend.
---
Source
---
Back to the list