Back to the list
Ethereum [ETH]'s Vitalik Buterin donates in cryptocurrency for development of three projects
ambcrypto.com
20 December 2018 12:30, UTC
Reading time: ~3 m
---
Vitalik Buterin, the co-founder of Ethereum [ETH], the third-largest cryptocurrency by market cap, is back in the spotlight for donating Ethereum for three projects in the ecosystem. Nonetheless, this step by Buterin was criticized by one of the core developers of the foundation.
The first project to receive a donation from the co-founder of Ethereum was Prsymatic Labs, one of the teams working towards scaling Ethereum. Buterin donated over 1,000 ETH to the project after co-founder Preston Van Loon stated that they were unable to completely focus on scaling towards Ethereum as the team members were still working full-time at other jobs. He said:
"Our biggest distraction @prylabs is that we are still working full time for other jobs. Even with recent grants, it's hardly enough to take the whole team full time with significant pay cuts and it's certainly not even for us to scale the team to where we need it."
To this, Vitalik said:

Vitalik's reply to Preston | Source: Twitter
Following this donation, the Twitter thread which was initiated for speaking about the progress of Ethereum or lack thereof, soon turned into a donation thread as Buterin continued to giveaway cryptocurrencies to two more projects. The projects are noted to be Sigma Prime and ChainSafe, wherein the co-founder donated 1,000 ETH to each of them.
Paul Hauner, the co-founder of Sigma Prime stated on Twitter:
"Hey, we're building #lighthouse and have been knocked back for a couple of grants recently. We can certainly turn 1k ETH into more developers!"

Vitalik's reply to Paul Hauner | Source: Twitter

Vitalik's donation thread to ChainSafe | Source: Twitter
The last project, ChainSafe, drew the attention of Peter Szilagyi, a core developer of Ethereum Foundation, who went on to say:

Peter Szilagyi's statement on the last donation | Source: Twitter
Furthermore, Peter stated that he considers the step taken by Buterin "insanely reckless" towards the entire Ethereum ecosystem even though the donation were his own and not the Foundation's. According to him, this is because the donations undermine the entire idea of the Foundation's grants system. He added:
"[…] and it is also undermining the idea that working hard get get you ahead. What this just proved is you need to make something @VitalikButerin likes and he'll bring the lambos."
The co-founder was quick to respond to the statement by pointing out that ChainSafe is one of the leading projects working towards the development of the ecosystem, according to a list made by Coindesk. Additionally, Peter also spoke about the other concerns related to this particular donation, a majority of the developers have "zero knowledge about computer science fundamentals, and end up designing things that look good, except they don't work or don't scale".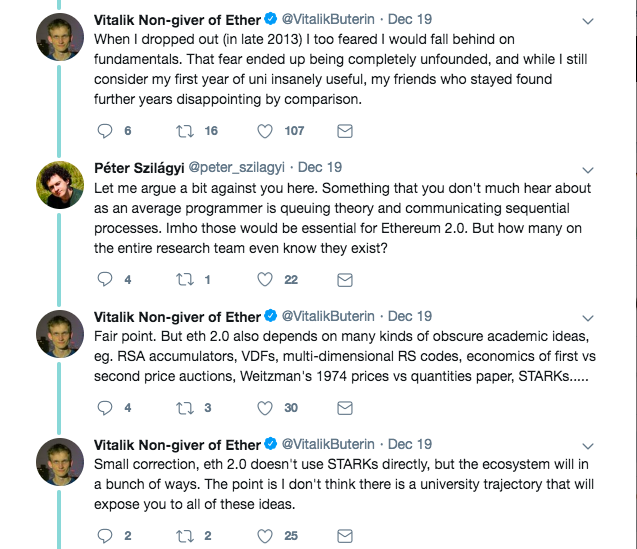 Vitalik's reply to Peter's statement | Source: Twitter
---
Source
---
Back to the list