Back to the list
ETH Futures Open Interest Across all Exchanges Hits All-Time High | BTCMANAGER
btcmanager.com
06 May 2021 12:00, UTC
Reading time: ~3 m
---






ETH has been adding incredible returns for crypto investors over the past few months. As per data from CoinMarketCap, the second-largest cryptocurrency soared to a new lifetime high of over $3,450 on May 3.
This record-breaking rally has resulted in open interest on Ethereum Futures hitting a new high of $3.16 billion on May 5, as investors continuously keep a keen eye on the top altcoin. 
ETH Futures Trading
These inspiring stats were recently published on Twitter by Cryptoqant, a leading analytics firm that provides traders with comprehensive data analysis on the crypto market and on-chain indicators. Note that the data below only includes ETH/USD and ETH/USDT perpetual futures contracts.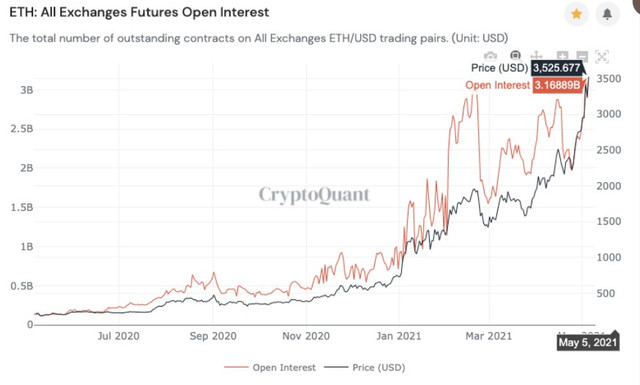 The explosive growth in the open market indicates that activity on the Ethereum blockchain is increasing. ETH futures have now surpassed the previous peak of approximately $3bn observed on March 13 of this year.
The February 8 launch of ETH futures on the Chicago Mercantile Exchange (CME) was undoubtedly an important breakthrough for Ether, as evidenced by the record $3.16 billion futures open interest mark.
ETH 2.0 is a GameChanger
The value of open positions has gone up in tandem with an increase in the number of ETH staked on the 2.0 deposit contract. Per the latest data from Cryptoquant, the number of new depositors to the ETH 2.0 contract hit an all-time high on May 4. 
The total number of ETH sent to the deposit contract recently soared to record highs of over $10 billion as investors continue to support Ethereum's most ambitious upgrade yet. More investments remain locked in the ETH 2.0 deposit contract as institutional interest in the public ETH blockchain continues to mount. 
ETH short liquidations across all derivative exchanges also recently hit new highs of about $55M in exit leveraged long positions. The short squeeze, which saw a record-high number of short-sell orders in the futures market liquidated in a short period, pushed Ether to its current price record. 
The multiple on-chain metrics discussed above indicate that the Ethereum project is getting increased attention from the crypto community as the transition to a proof-of-stake framework nears takeoff.
Furthermore, ETH coins aged between one and six months are increasing, according to a report on-chain metrics provider Glassnode. This metric proves that more investors are choosing the "hodl" strategy in this early bull market for Ethereum. 
Ethereum's Presence in the Crypto Space is Increasing
The intense institutional attention that ETH is currently getting has contributed massively to the altcoin's outstanding performance since the turn of the year.
CME's move to support ETH trading as a derivatives product has contributed to the success by allowing accredited investors to take leveraged directional bets on the leading altcoin.
According to Sergey Nazarov, co-founder of Chainlink, there are many reasons for investors to remain bullish on Ethereum due to its pioneering role in the smart contract market.
"Thousands of developers are building applications that recreate traditional financial products in decentralized ways on top of Ethereum, and as more and more users pour in to interact with these apps, they require ETH to conduct any transaction," Nazarov asserted. 
Related posts:
Bitcoin and Ether Market Update: February 22, 2019
Bitcoin, Ether, and XRP Weekly Market Update: April 11, 2019
Decentralized Data Storage Platform Storj Migrates to Ethereum Network From Bitcoin
South Africans Now Have a Cost-efficient Way of Accessing Ethereum
---
Source
---
Back to the list