Back to the list
Ether Retraces to Trade Under $3,400 But Several Catalysts Are Still Present to Sent it Higher
bitcoinexchangeguide.com
05 May 2021 13:42, UTC
Reading time: ~3 m
---
After hitting a new all-time high at $3,530 on Tuesday, Ether has retraced to now trade between $3,200 and $3,500. But the market expects this to be just a resting point before it runs even higher. "The market is realizing how fundamentally undervalued Ether is given all the development activity on the network," said Vijay Ayyar, head of Asia Pacific at crypto exchange Luno.
"While one may think Ether has risen a lot, when you compare it to Bitcoin, there is a long way to go."
Last month Bitcoin (BTC) reached about 3.2x of its peak price during the previous cycle in December 2017, while ETH has only reached about 2.4x of its previous all-time high set in January 2018. [coin_stats_table symbol="BTC"] Ayyar sees Ether surging to $5k to $10k by early next year. As we reported, many traders are eyeing the uptrend to $10k, some even as high as $40k. "Ether will have much volatility, similar to Bitcoin, but can increase in value as more institutional investors become aware of it," said Pat LaVecchia, CEO of crypto broker Oasis Pro Markets LLC, according to whom, Ether at $25,000 is possible over the next few years.
This institutional interest
in Ethereum can be seen in the premium ETH is trading at
Coinbase
. "Coinbase premium has been significantly increased since early 2021. New money is flowing into the crypto market,"
noted
Ki Young Ju, CEO of CryptoQuant. In the futures market as well, Ether volumes are
constantly surging
and getting closer to those of Bitcoin contracts on regulated exchange CME despite having launched in February only. [caption id="" align="alignnone" width="700"]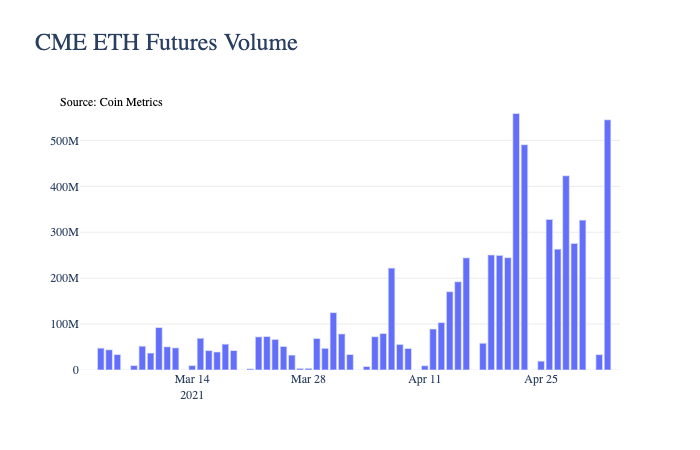 Source:
CoinMetrics
[/caption] Retail has been just as involved with ETH addresses holding relatively small amounts (between 0.01 and 1 ETH), increasing by 3.8 million since the start of the year to over 13.6 million now. [caption id="" align="alignnone" width="1200"]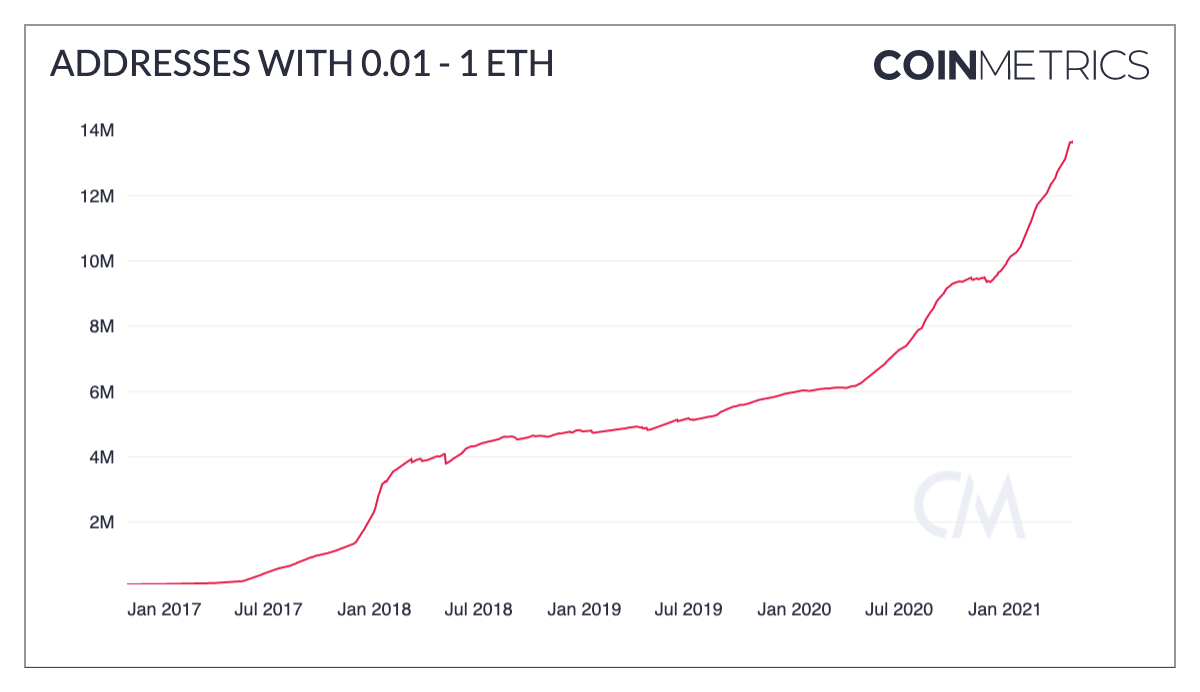 Source: CoinMetrics[/caption] With Ether's 14-day relative strength index rose above 70, the highest since January, the rally does seem stretched. Still, trader SmartContracter
points out
that ETH/BTC is currently only around 0.60 with "literally just thin air until 0.08 minimum." Not to mention there are still some catalysts left to extend this latest rally. Amidst the ongoing accelerated institutional rotation into ETH and mainstream media has started to pick up on the crypto asset, we still have the London upgrade with
EIP 1559 coming in July
. Besides improving ETH gas,
EIP-1559 will burn
a portion of transaction fees, permanently removing it from the supply in circulation and decreasing the daily net issuance of ETH. This would lead to an estimated annual inflation rate (30-day average) of between 1-2%. [caption id="" align="alignnone" width="1200"]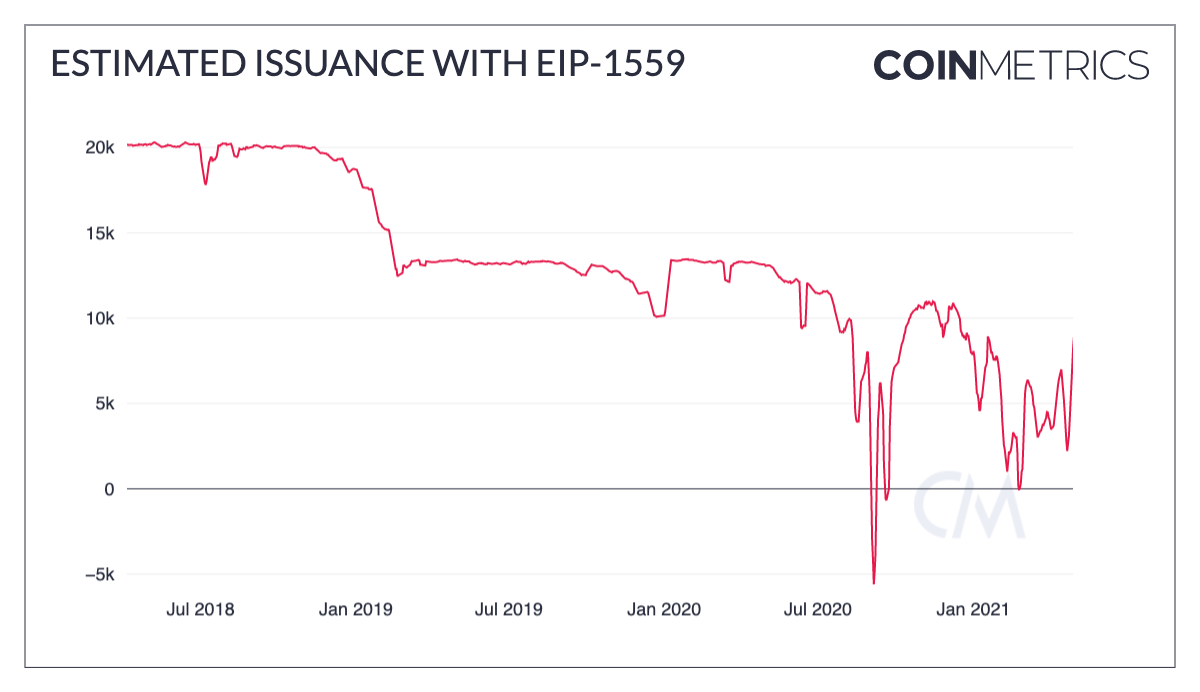 Source: CoinMetrics[/caption] Then the merge to Eth 2.0 is expected to happen next year. Ethereum 2.0 staking will also effectively turn
ETH
into a yield-bearing asset, and already over 4.1M ETH are locked in the Eth 2.0 staking contract with
Coinbase to soon introduce
Ethereum staking products as well. While L2 scaling has already started with Polygon (
MATIC
) particularly
gaining traction
, DeFi has yet to pull up another season after last summer. And this is all why "although institutions may still be wading into ETH, ETH should soon get significantly more attractive to institutional investors," noted Coin Metrics. [deco-beg-single-coin-widget coin="ETH"]
---
Source
---
Back to the list