Back to the list
ETH Above $3,000 Makes Ethereum Co-Founder Vitalik Buterin a Billionaire
coinfomania.com
03 May 2021 12:28, UTC
Reading time: ~2 m
---
According to on-chain data on Etherscan showing his wallet address, Vitalik Buterin, co-founder of Ethereum, the world's most popular smart contract network, has joined the bandwagon of crypto billionaires.
The 27-year old Russian-Canadian programmer said in 2018 that the wallet was his main wallet. The wallet hit the $1 billion mark after the value of ETH climbed above $3,000 recently, thus increasing the value of the co-founder's asset.
At the time of writing, the address holds around 333,520 ETH now worth over $1.029 billion with over $61 million worth of other altcoins including AKITA, UNI, 1INCH, etc.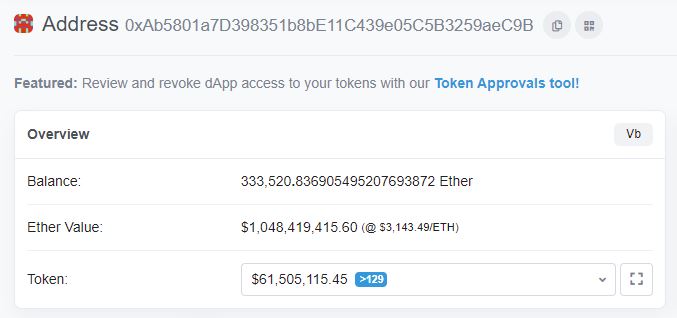 Ethereum is a decentralized, open-source blockchain with smart contract functionality. Its native cryptocurrency ether (ETH) is the second largest by market capitalization after bitcoin. 
The project was proposed by Buterin in 2013 but the network went live on 30 July 2015, with an initial supply of 72 million coins. Launched as a decentralized network and software development platform, Ethereum allows other projects to create their own tokens and execute various smart contracts with ease.
Institutions Investing in ETH
Even years after the launch of the Ethereum project, it remains relevant with the release of significant features and offerings that have led to its massive adoption. As the largest altcoin by market cap, ETH has become a favorite choice for many institutional investors. 
For instance, Rothschild Investment Corporation, an asset management company, recently increased its shares in the Ethereum Trust by purchasing 265,302 shares of the Grayscale Ethereum Trust, valued at $4.75 million. 
More recently, Coinfomania reported that Canadian fintech company Mogo invested $405,880 in Ethereum by purchasing 146 ETH at an aggregated price of $2,780 per unit.
ETH started 2021 with a price around $700, but its value has more than quadruple, making Buterin a billionaire. At the time of writing, ether was trading at $3,140, after reaching an ATH above $3,200 earlier today.
Affiliate:  Get a Ledger Nano X for $119 So That Hackers Won't Steal Your Crypto!
Follow us on Twitter, Facebook, and Telegram to receive timely updates. Subscribe to our weekly Newsletter.
---
Source
---
Back to the list