Back to the list
Ethereum Price Analysis: ETH Token Hits A Life-Time High Of $3200, Worth More Than Disney
www.thecoinrepublic.com
03 May 2021 13:49, UTC
Reading time: ~3 m
---
Ethereum (ETH) token price sustains above the crucial level of $3000 first time since its inception
The market cap of ETH values $367.79 billion greater than Disney, which stands at $337.68 billion 
The market dominance of ETH in the crypto-verse has been jumped upto 16%, Whereas Bitcoin is at a low of 47.7%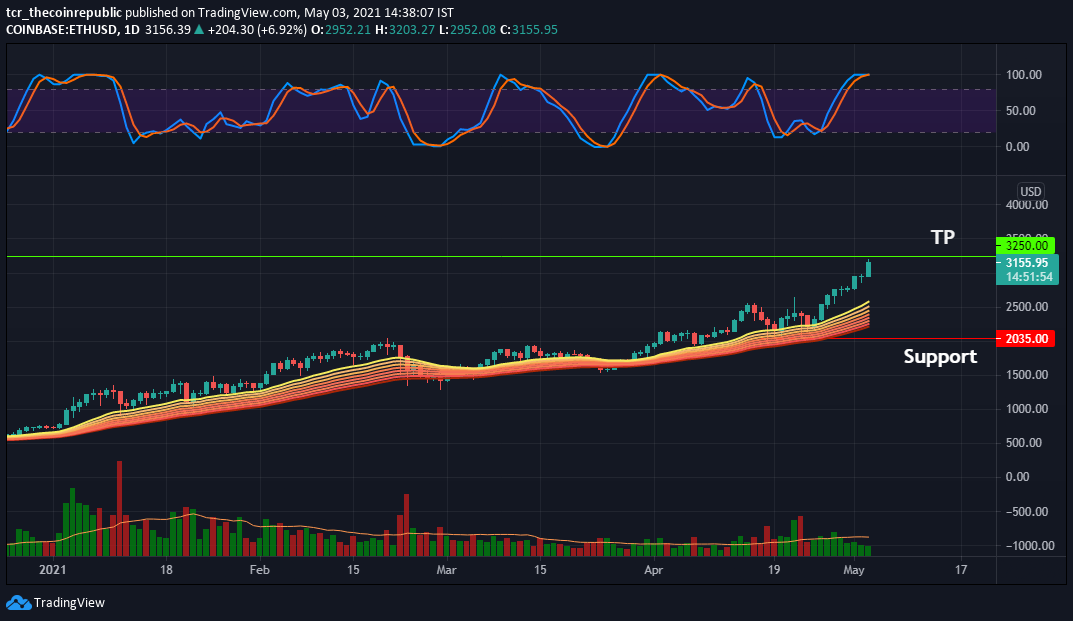 The daily technical chart of ETH token price projects a bullish pattern. As per pivot points, ETH's basic support level is at $2035. While on the other side if it climbs up, the critical target price level to watch is $3250. While diving into the intraday chart, it finishes a bullish engulfing candle addressing bulls are in charge.
While looking at the Stochastic RSI (OVERBOUGHT) – Provides us with a value of 100 on both the blue and orange line, Projecting a heavily overbought situation in the asset. Moreover, the investors may perceive a cooldown in the index, which may lead the price to correct a bit in future trading sessions. 
The Moving Average Exponential Ribbon consists of 8-EMA, ranging from EMA 20-55, acts as solid support in the asset price action. Investors may observe whenever the price touches the ribbon, it bounces back to the higher levels, so until the price remains above the ribbon, Ethereum's bullish trend is ensured.
The volume of (173.84K) is beneath the Volume MA (306.02K) of 20-days. Buying pressure is maintained in Ethereum to drive its price to higher levels.
Ethereum (ETH) Token Social Dominance Spikes Up by 171.3%, Exploding Its Price Upto 26.88% In A Week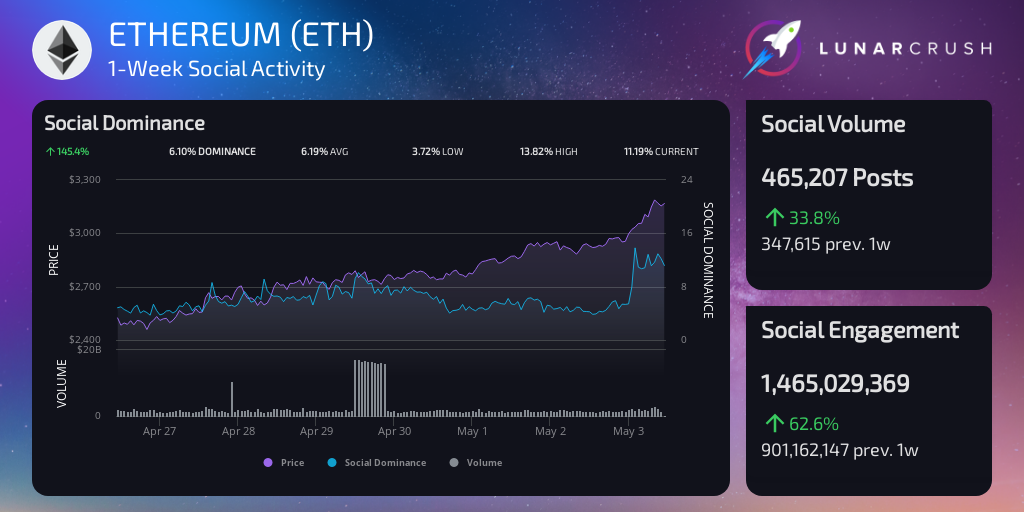 The social dominance of Ethereum went from 3.72% low to 13.82% high, which made a massive impact of 171.3% in a week. This also resulted in the ETH token price making an all-time high of $3200 on April 3, 2021. On the other hand, posts on social media and social engagement also increased by 33.8% and 62.6%, respectively.
Is This A Beginning In Ethereum Token Price Action, Can Expect To See $4800 In Future Trading Sessions
ETH token price traded at $3155 with an increase of 8.75% over the recent 24-hour and 26.88% up in the week. Besides, ETH bounced from the support of $2035. Conversely, the market capitalization remains at $367.79 billion. Technically, traders can see a bullish trend, and the price is way overhead the EMA Ribbon. The stochastic RSI index features an ascending slant and values in an overbought zone. Additionally, the price movement can be towards the target price of $3250 in future trading sessions. 
Resistance: $3250
Support: $2035
---
Source
---
Back to the list