Back to the list
Ethereum (ETH) price remains in a bull market. Should I invest?
invezz.com
29 September 2020 20:20, UTC
Reading time: ~3 m
---
The main trend of this cryptocurrency remains neutral-bullish and Ethereum (ETH) is eying to $400 as the uptrend continues. The price of Ethereum is still far away from the ETH price predictions but if the price jumps again above $400 that could be a very good opportunity for the short term traders.
Fundamental analysis: Ethereum's network saw a record number of daily transactions
Like Bitcoin, Ethereum had a record-breaking number of options contracts (460,000) expired last Friday. The price of Ethereum has weakened from $480 below $320 in less than four weeks and the current price stands around $362.
Are you looking for fast-news, hot-tips and market analysis? Sign-up for the Invezz newsletter, today.
Despite this, there is no reason to panic and as long the price of Ethereum is above $300 this cryptocurrency is not in the "sell" zone. Beyond a tradeable cryptocurrency, Ethereum is a decentralized platform that runs smart contracts.
This cryptocurrency is also used by application developers to pay services and transaction fees on the Ethereum network. According to data from the major Ethereum browser, the highest amount of daily transactions in Ethereum history was recorded this September.
The rise of Decentralized Finance (DeFi) is gaining momentum and investors in this cryptocurrency are able to gain income from their assets through DeFi tools. The much-awaited Ethereum 2.0 upgrade is in its final stages ahead of the anticipated launch but final touches are still ongoing. ETH 2.0 is expected to provide Ethereum with the scalability that it needs to support DeFi.
Ethereum can be a very good investment option according to estimates and some predictions say that this cryptocurrency could be above $1 000 in the next several years. The positive news is that residents in the Swiss canton of Zug will be able to pay up to CHF100K (about $109K) of their taxes in Ethereum.
Ethereum network is constantly adding new clients and the development of applications interacting with this network has never been stronger.
Technical Analysis: Bulls are focused on breaking strong resistance level at $400
According to the rules of technical analysis, the main trend of this cryptocurrency is neutral-bullish.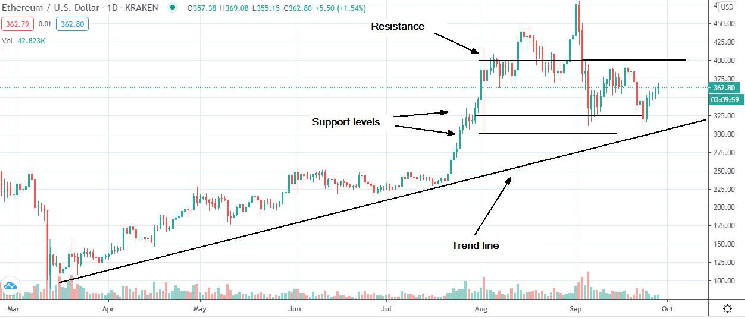 On this chart, I marked important resistance and support levels. The important support levels are $325 and $300, $400 represents the resistance level.
As long the price is above this trend line this cryptocurrency is in the "buy" zone and there is no indication of the trend reversal. If the price falls on the trend line and if we get a "bullish" confirmation candle it would be a very good entry point for short-term traders who are trading with "stop-loss" and "take profit" orders.
The trend line also represents a very strong support level, if the price breaks this trend line it would be a strong "sell" signal and we have an open way to $300. If the price jumps above $400 it would be a signal to buy Ethereum and we have the open way to $430.
Summary
If you are looking for virtual currencies with a good return, Ethereum can be a profitable investment option according to estimates. A very good team stands behind this project, the fundamentals of this cryptocurrency are steadily improving and the price has found strong support above $300.
---
Source
---
Back to the list