Back to the list
Ethereum (ETH) Price to Target $700 in June After Major Pullback
u.today
06 March 2020 04:50, UTC
Reading time: ~2 m
---
Traders remain bullish on the second biggest currency, Ethereum, expecting the price to boost this summer. However, some believe it may happen only after a major price pull-back.
Also, it looks as though major crypto holders have recently been accumulating ETH as if they are also expecting a price surge in the near term.
'Price could start clearing upwards to $700'
Today, in a discussion below his tweet, trader @BTC_JackSparrow recalled an earlier tweet. In it, the expert made a prediction that around June/July Ethereum might surge to the $700 level or even higher.
However, the trader believes it will first perform a major rollback, withdrawing to $166-$186.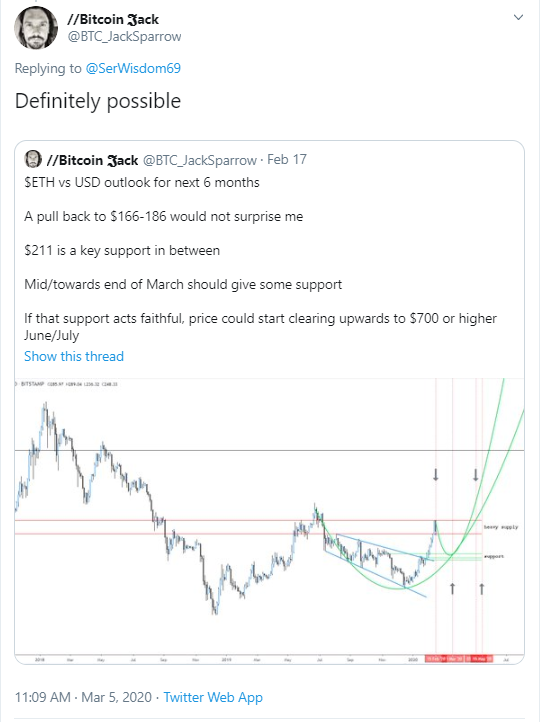 His root tweet specifies the entry point he believes to be perfect for ETH.
$166 is a dream entry for $ETH

— //Bitcoin 𝕵ack (@BTC_JackSparrow) March 5, 2020
'ETH to bring the highest ROI'
Trader @IamCryptoWolf seems to be a long-term Ethereum bull. He says he expects ETH to produce the highest ROI in the next bull run.
At the peak of the next bull market $ETH will give me the highest ROI.

— CryptoWolf (@IamCryptoWolf) March 5, 2020
'Largest $ETH holders accumulating recently'
The CEO of Three Arrows Capital, Su Zhu, has taken to Twitter to share some important data from the Santiment agency.
Largest $ETH holders accumulating recently https://t.co/pemzGz9hpj

— Su Zhu (@zhusu) March 4, 2020
The latter reports that the biggest 100 Ethereum whales have again begun accumulating large amounts of ETH. They have been doing so for about the past two weeks, despite the ETH consolidation.
The report says that these holders believe ETH to be undervalued.
"The top 100 holders of #Ethereum are once again beginning to accumulate higher percentages of the total token supply, in spite of the ongoing consolidation that has been occurring for the past couple of weeks. Generally, when this kind of accumulation starts to mount, it's a signal that those who have the most stake in $ETH (and other respective tokens) are beginning to have a collective sentiment of the token being undervalued and believe it's a great mid to long-term hold play. Sometimes these price rises take a bit of time after this accumulation."
---
Source
---
Back to the list