Back to the list
Ethereum Could Be Better Store of Value Than Bitcoin, According to New Report – Here's Why
dailyhodl.com
03 December 2021 17:55, UTC
Reading time: ~2 m
---
A new academic study finds that Ethereum (ETH) has one key feature that could eventually make it a superior store of value compared to Bitcoin (BTC).
A recent report published on the Social Science Research Network finds that ETH's built-in deflationary mechanics set it apart from BTC.
"Bitcoin, with a finite eventual supply of tokens, is increasingly gaining acceptance as an alternative long-term digital store of value with similar anti-inflationary characteristics to gold.
However, recent innovations on the Ethereum blockchain have shown that it is possible for cryptocurrencies to become deflationary – specifically through the destruction of transaction fees."
Ethereum first started permanently burning transaction fees earlier this year as a means of countering inflation by introducing the London hard fork.
The upgrade has burned $3 billion worth of Ethereum since the end of October.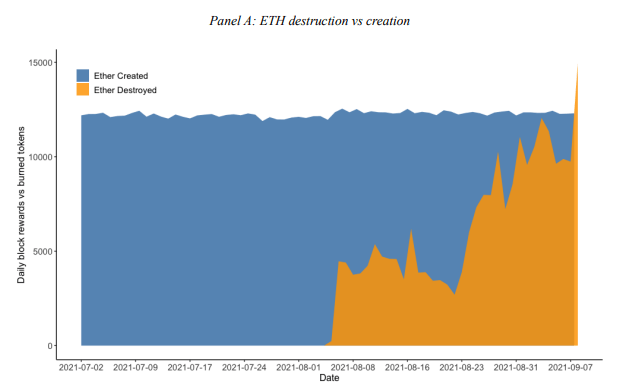 Source: Social Science Research Network
According to the study, the upgrade not only lowers the overall amount of ETH supply but also slows down how fast the token can be issued, leading to the second-largest crypto by market cap possibly becoming the world's first deflationary currency.
"We show that following the recent change in its transactions protocol, the digital currency Ethereum displays a significantly lower net issuance rate of tokens than Bitcoin, achieved by destroying the fees associated with each transaction.
In many cases the amount of Ethereum burned outpaces the network's creation of new tokens, resulting in Ethereum potentially becoming the world's first deflationary currency.
We argue that this provides better inflationary hedging properties than Bitcoin, and Ether may therefore offer a superior long-term value storage than Bitcoin."
Ethereum is currently exchanging hands at $4,337, a 9% decrease from its seven-day high of $4,771.
---
Source
---
Back to the list