Back to the list
Total Value Locked in Ethereum Layer-2 Platforms Hits New Record High Above $6,167,000,000
dailyhodl.com
23 November 2021 16:45, UTC
Reading time: ~2 m
---
The total value locked (TVL) in Ethereum layer-2 platforms is in the midst of a parabolic rise as the metric continues to print fresh all-time highs.
TVL reached a record high of more than $6.16 billion at one point over the weekend, according to layer-2 (L2) insights firm L2BEAT. Layer-2 platforms are scaling solutions that run on top of the Ethereum network to increase transactional throughput.
&nbsp
Total value locked in Ethereum layer-2 platforms is up more than 10% in the past week.
The primary driver of that growth has been Boba Network (BOBA), an Ethereum layer-2 scaling solution that's seen a staggering 1,134% increase in TVL from around $75 million on November 13th to over $926 million today. The Optimistic Rollup scaling solution launched its mainnet in late September and now accounts for 15% of the L2 market share.
Only two projects have a larger market share in the space: the decentralized exchange dYdX (DYDX) with $995 million in TVL (more than 16% of the market), and the scaling solution Arbitrum, which has $2.59 billion in TVL, representing more than 42% of the market.
Arbitrum, also an Optimistic Rollup project, just integrated with Binance last week.
The TVL in layer-2 solutions has been on a steep rise since it bottomed out in late September. The market has grown more than 144% in less than two months from $2.5 billion on September 30th to its current value of $6.12 billion.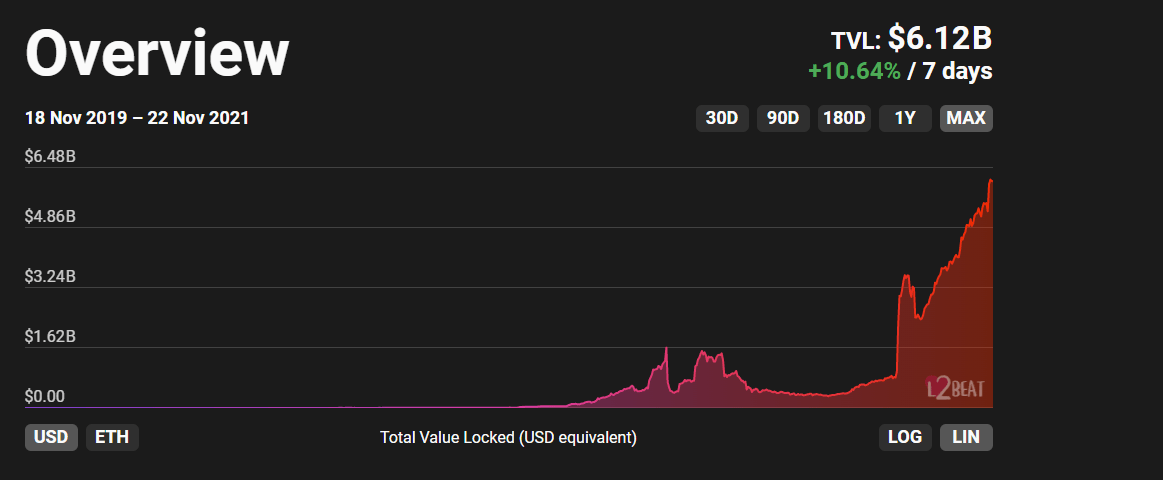 ---
Source
---
Back to the list