Back to the list
ETH/USD analysis: market steady at $4,914
www.cryptopolitan.com
22 November 2021 13:00, UTC
Reading time: ~2 m
---
ETH/USD prices are predicted to go up.
The strongest resistance rests at $4,914
The strongest support rests at $4,100
ETH/USD analysis shows that the prices were a an all-time high on 20 November 2021 with a slight decline, before experiencing a flash crash on 21 November 2021, before going into a steady flow and is currently increasing.
ETH/USD analysis 4-hour: market volatility decreasing
After ETH/USD analysis 4-hour price chart, we have deduced that the graph follows a decline in volatility, meaning that the market is not prone to prices experiencing variable differences and thus remains as constant as it can. The upper limit of the Bollinger's band stands at $4,454 being the resistance, and the lower limit of the Bollinger's band rests at $4,100, being the support.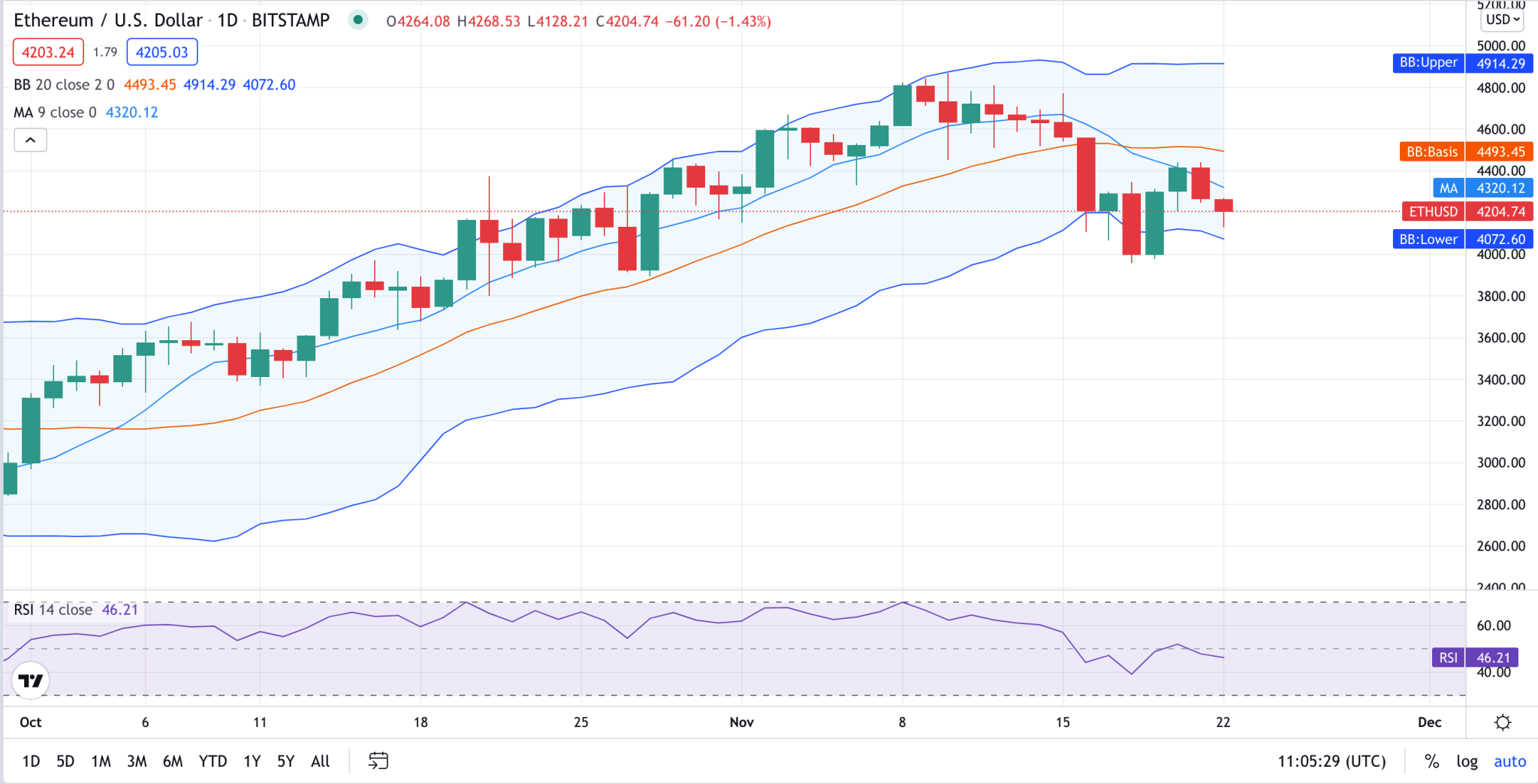 The moving average of the chart is passing over the curve showing a bullish movement. The Relative Strength Index (RSI) stands at 46, so we deduce that the assets are clearly in the middle showing no signal for change. the bulls and bears once again have an almost equal grip on the market. The currency is not oversold either is undervalued, although seeing as the volatility is increasing that may change soon and the prices might go in either direction.
ETH/USD analysis conclusion
After careful analysis of the charts, the conclusion is that the runner-up in the crypto race is actually doing pretty good and the prices might even skyrocket but you can never know for sure in this market. The charts indicate that the runner-ups might jump in the $5,000 threshold if the steady resistance is in their favor. Although that might not be the case if the bears pull smth and bring the costs down. The bulls will then have to come up with schemes to claim the market grip.
If you analyze the overall chart the price has been in a surplus for some time now, so overall the bulls are clearly dominating the market by leagues. The bears will have to up their game if they want to claim the runner-up throne.
Disclaimer. The information provided is not trading advice. Cryptopolitan.com holds no liability for any investments made based on the information provided on this page. We strongly recommend independent research and/or consultation with a qualified professional before making any investment decisions. 
---
Source
---
Back to the list