The Ethereum (ETH) price increased to $1,750 on Monday as investors reacted positively to the Futures ETF launch. Key on-chain metrics provide insights into how high the Ethereum price could reach amid the ongoing rally.
Ethereum (ETH) Futures ETF went live on Monday, sending the altcoin investors into a buying spree. Amid the prevailing bullish sentiment, on-chain data readings highlighted a vital obstacle that could slow the rally.
In the Spot Markets, Bullish Traders are Firmly in the Driving Seat
Ethereum Futures ETF approval has attracted significant capital inflows to the ETH derivatives markets, as Beincrypto reported last week. However, the bulls have also seized control of the spot markets.
Aggregate data from the Order Books of 21 recognized exchanges, including Binance and Coinbase, depicts that the bulls have placed active orders to purchase 513,780 ETH. This significantly outweighs the 451,500 ETH sell orders available around the current prices.

Ethereum (ETH) Aggregate Exchange On-chain Market Depth | Source: IntoTheBlock
The Exchange On-chain Market Depth chart shows the current volume of active ETH spot orders placed across recognized cryptocurrency exchanges.
As seen above, the market demand for Ethereum has now outpaced supply by more than 60,000 ETH. This suggests that bullish retail market participants have capitalized on the bullish sentiment to seize control of the Ethereum spot market.
With market demand now outweighing supply, sellers may be forced to raise prices as they compete to fill their orders.
Some Ethereum Holders Could Close Their Positions Early
As the bullish sentiment spreads across to the broader altcoin markets, ETH price could suffer a minor slowdown. This is because some risk-tolerant investors may seek to exit their ETH positions to earn more aggressive profits from lesser-cap altcoin assets.
In confirmation of this thesis, Ethereum holders have started moving their coins into Exchange-hosted wallets, presumably to find a favorable exit opportunity.
In evidence of this, Cryptoquant data shows that the total ETH deposited in exchange wallets stood at 14.57 million coins on September 24. But that number has since ballooned to hit 14.70 on October 2.
This implies that Ethereum holders have moved 100,000 ETH into exchange-hosted wallets within a week.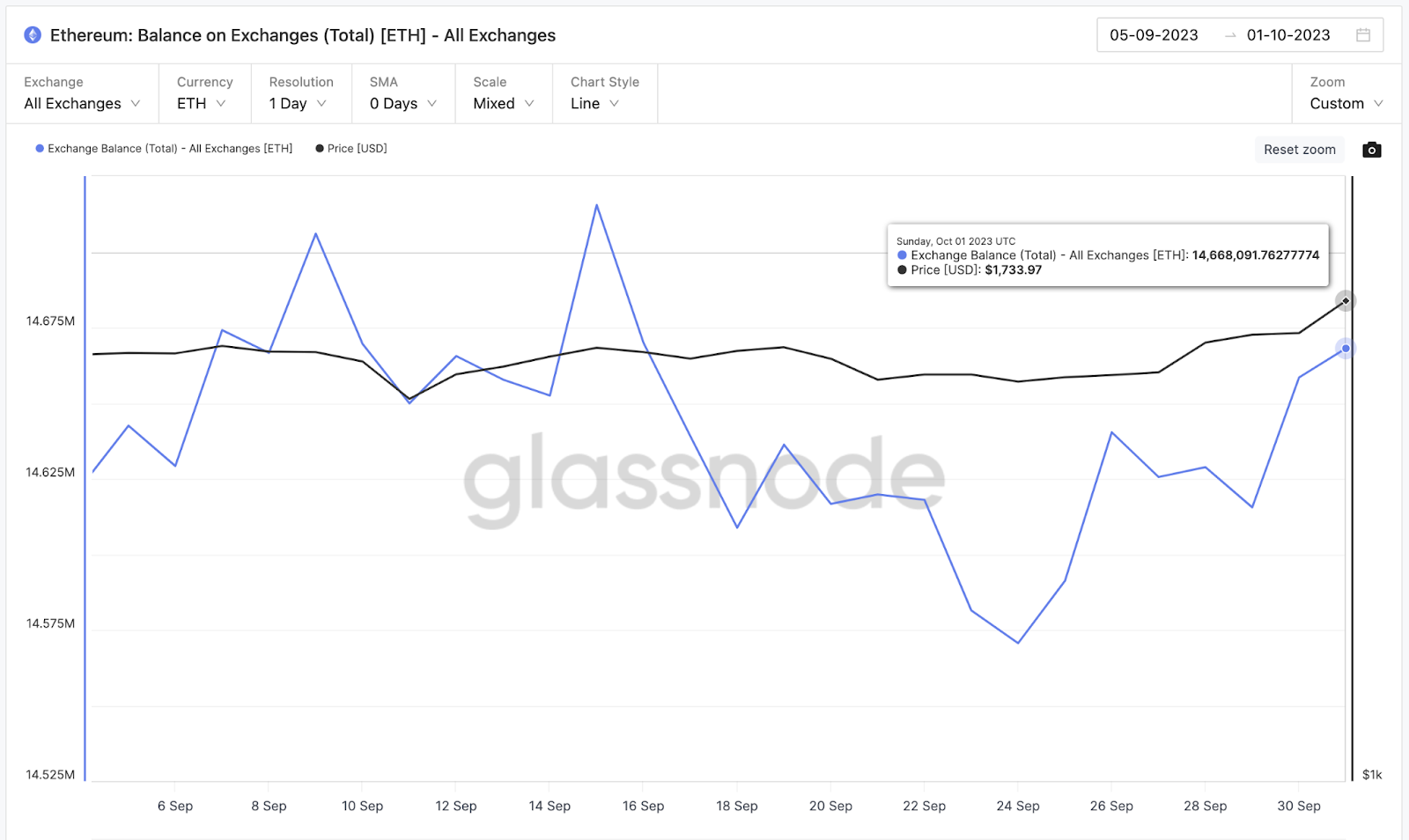 Ethereum (ETH) Exchange Reserves | Source: Glassnode
Exchange Reserves track the total deposits that investors currently hold in recognized crypto exchange wallets. Typically, when investors keep shifting coins into exchanges, they may want to exit their positions.
Valued at $1,720, the fresh exchange inflows of the 100,000 ETH imply that the short-term market has been further diluted by $172 million.
If the holders look to exit to seek high-profit opportunities in riskier, lesser-cap altcoins, this could potentially slow down the ETH price rally in the coming days.
But if the bullish market sentiment remains dominant, the bulls will likely absorb that selling pressure and push on with the rally.
ETH Price Prediction: After Brief Consolidation, $2,000 Could Be Within Reach
The critical data points analyzed indicate that the Ethereum price will likely continue toward $2,000 after a brief consolidation below the $1,800 area.

The Global In/Out of Money Around Price (GIOM) data, which depicts the entry price distribution of current ETH holders, also validates this bullish prediction.
It shows that if Ethereum price can scale the initial resistance at $1,800, the bulls could potentially push the price rally above $2,000
As shown below, the 3.3 million addresses bought 3.37 million Ethereum coins at an average price of $1,802. They could mount a significant sell-wall for the bulls if they sell early.
But if the spot traders keep buying, the Ethereum price can reach the $2,000 territory.

Ethereum (ETH) Price Prediction GIOM data | Source: IntoTheBlock
Yet, the bears could wrestle control if the Ethereum price backtracks below $1,500. However, as shown below, 7.26 million addresses had bought 14.92 million ETH coins at the minimum price of $1,535. If they make spirited efforts to cover their positions ETH price could avoid a bearish downswing.
But if the ETH loses that vital support level, the price could eventually drop below $1,500.