After the successful deployment of the Shapella upgrade that enabled staking withdrawals, the Ethereum (ETH) development team is preparing for the launch of the Dencun upgrade, expected in late 2023, which promises to bring lots of new updates and could even lead to an ETH price hike.
Specifically, 'Dencun' is a joint term for two major Ethereum upgrades – Cancun, which is the upgrade to Ethereum's execution layer (EL), and Deneb, which refers to the consensus layer (CL) upgrade, as described in an article published by Ethereum-focused cryptocurrency market news site EtherWorld on June 24.
As it happens, the Cancun upgrade introduces several Ethereum Improvement Proposals (EIPs) focused on improving storage, scalability, and optimizing gas efficiency, such as through the regulation of block rewards and delaying the gradual increase in Ethereum mining difficulty for a smooth transition to Ethereum 2.0.
At the same time, Deneb focuses on expanding the size and efficiency of the Ethereum blockchain, with one notable EIP that aims to upgrade its proof-of-stake (PoS) consensus algorithm toward increasing its power and improving user experience.
Ethereum price analysis
While the Ethereum crypto community eagerly awaits this major overhaul, the price of the second-largest cryptocurrency by market cap is currently $1,888.99, recording an increase of 1.13% in the last 24 hours, 0.49% across the previous seven days, and 1.19% in its monthly chart, as per data on June 30.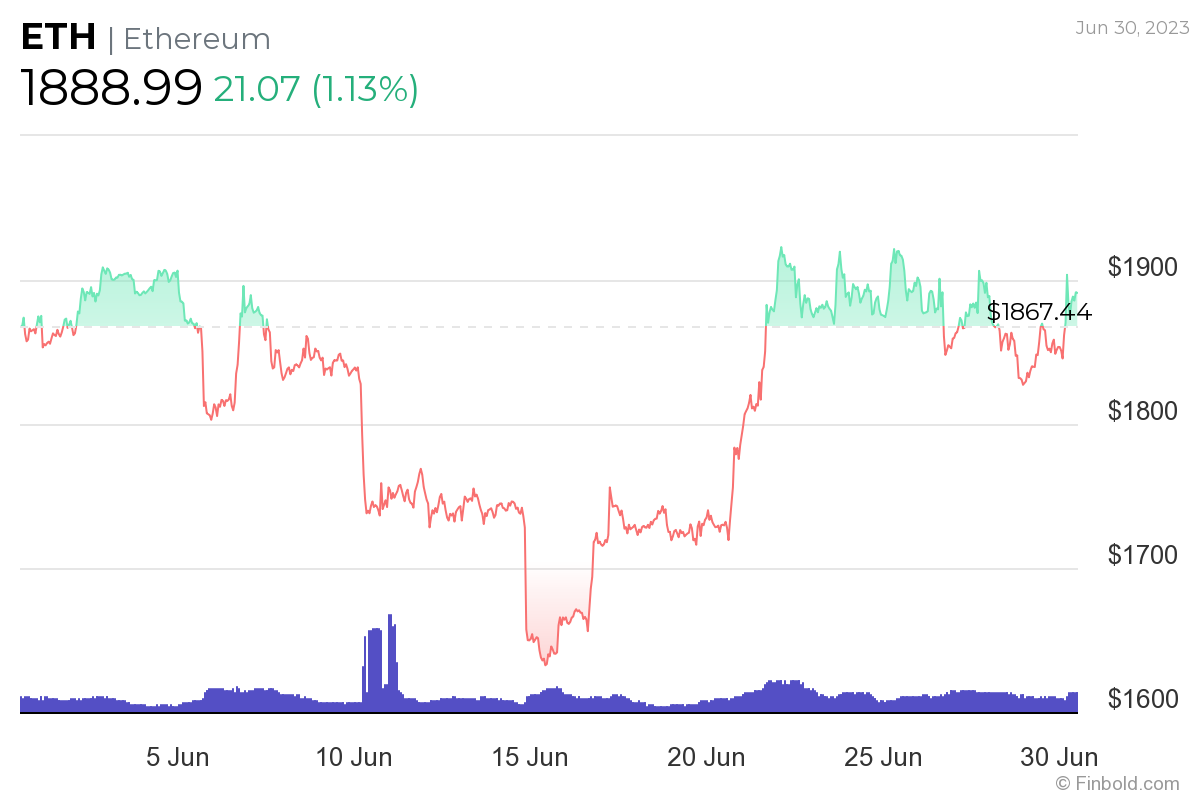 Taking into account all the advances and innovations that Dencun aims to unlock, the price of Ethereum could react to this major upgrade as it nears, as well as after the development team fully deploys it, particularly as the token continues to gain investors' confidence as a go-to asset for passive income.
Indeed, taking into account the best-case scenario data from the historical Ethereum Rainbow price chart patterns, the price of ETH, as the end of the year nears, could actually skyrocket toward $5,000 and even end up in the zone of around $7,000. However, if a more bearish chart pattern reoccurs, then ETH could well remain in the $1,880 area.
Disclaimer: The content on this site should not be considered investment advice. Investing is speculative. When investing, your capital is at risk.