Ethereum staking withdrawals from Coinbase have increased since the Securities and Exchange Commission slapped it with a lawsuit.
Coinbase customers and investors appear to be getting cold feet over Ethereum staking on the exchange.
Withdrawal requests have increased since the SEC filed a lawsuit against the company. The regulator alleges that staking services, among other things, violate securities laws.
Coinbase Staking Redemptions Surge
According to Dune Analytics, 35,810 cbETH has been redeemed since the SEC enforcement action on June 6. cbETH is the Coinbase Ethereum staking token.
The redemptions are valued at around $65.7 million and far outpace outflows from other staking providers such as Lido.
Furthermore, June 6 saw the second largest single-day Coinbase redemption amount in history, with 27,280 cbETH redeemed.
"Coinbase is currently the second-largest label entity for ETH liquidity staking," said industry analyst Colin Wu.
At a Bloomberg Invest Conference on June 7, Coinbase CEO Brian Armstrong said, "We're not going to wind down our staking service."
"Again, as these court cases play out, it's really business as usual," he added.
Coinbase staking accounts for about 3% of overall net revenue and has a higher-than-average commission, with the firm taking a whopping 25% on staked ETH. Lido by comparison takes just 10% commission.
According to Nansen, Ethereum staking deposits are still outpacing withdrawals. However, more than 70% of the ETH waiting for withdrawal is from Coinbase.
Additionally, Coinbase accounts for 19.6% of all ETH principal withdrawals to date, but that figure is likely to increase now. It reports that there is currently 95,478 ETH in the withdrawal queue.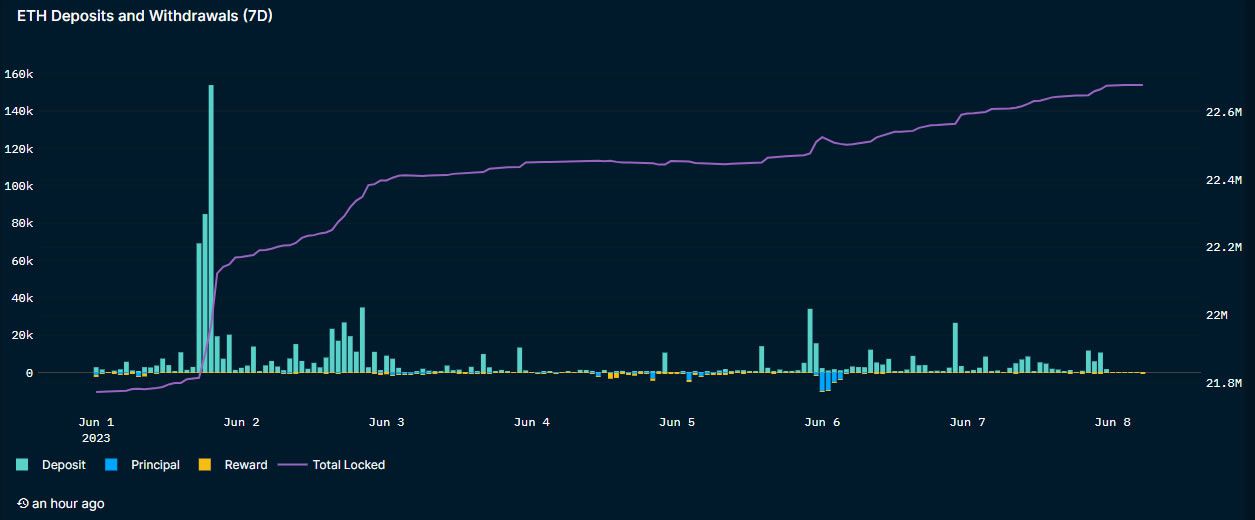 ETH Deposits and Withdrawals. Source: Nansen
Furthermore, the dashboard reports a total of 22.6 million ETH staked, valued at around $41.6 billion. However, this figure differs from the Ultrasound.Money figures, which claim a total of 19.4 million ETH staked.
Coinbase stock (COIN) prices have tanked 10% since the SEC sued the firm earlier this week.
ETH Price Outlook
The latest regulatory crackdown in the United States has not heavily impacted Ethereum prices. ETH was trading down 2% on the day at $1,840 at the time of writing.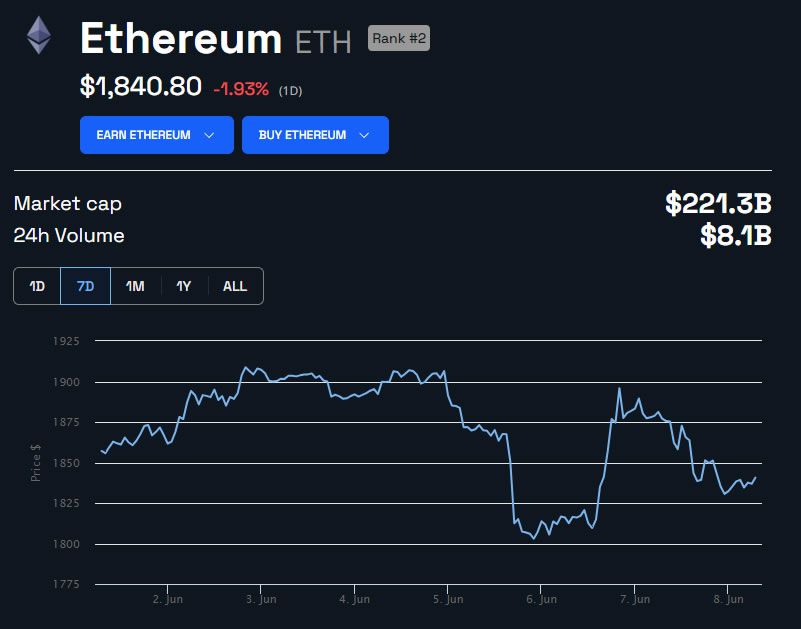 ETH/USD 1 Week. Source: BeInCrypto
It took a big dip on June 6, but support at the $1,800 level was held, and the asset remained within its two-and-a-half-month range-bound channel.