Back to the list
Ethereum Transaction Cost FUD Spiraling Up: Is ETH In Danger? 
cryptopotato.com
27 August 2019 11:10, UTC
Reading time: ~3 m
---
Concerns are starting to spiral up around the second-largest cryptocurrency, Ether, and its blockchain as the cost of processing transactions may be getting way too expensive for some users. Vitalik Buterin, the co-founder of Ethereum himself, has shared these concerns. What could this mean for Ether, the second-largest cryptocurrency with a market cap upwards of $20 billion?
Is The Ethereum Blockchain In Danger?
According to Vitalik Buterin, the co-founder of Ethereum, there's pressure in keeping organizations from joining their blockchain because the network's utilization has already risen to the 90% level. 
If you're a bigger organization, the calculus is that if we join, it will not only be more full but we will be competing with everyone for transaction space. It's already expensive and it will be even five times more expensive because of us. There is pressure keeping people from joining, but improvements in scalability can do a lot in improving that. – He said. 
Even though the hype revolving around ICO's who clogged up the Ethereum network last year is well past due, reports have it that a new tenant is taking over its blockchain – the most popular stable coin Tether (USDT). 
Tether's current market cap is upwards of $4 billion and it's currently the 6th largest cryptocurrency. According to Tether's transparency page, approximately $1.5 billion USDT is circulating on Ethereum's network, which is a little bit less than 40% of Tether's entire circulating supply. As the stable coin takes up more and more capacity, this leaves a lot less room for other developers to join the network, hence the concerns of Buterin. 
Apparently, some developers are already in the wait, as noted by Jeff Dorman, CEO at an LA-based asset management fund that invests in cryptocurrencies. 
So the biggest implication today is simply that developers may be incentivized to wait until this transition happens before fully committing to build on Ethereum. […] Tether isn't helping. – Dorman said. 
It's worth noting that Ethereum is currently making efforts to transition to a Proof-of-Stake consensus algorithm which is essentially different than the Proof-of-Work one that the network is using presently. Furthermore, they are also working on implementing scalability improvements known, namely "Sharding" and "Plasma" but until that happens, it's questionable how the team will handle their imminent capacity and scalability issues. 
What Does This Mean for ETH's Price?
While it remains challenging to determine how the current issues are affecting ETH's price, one thing is clear – the past couple of months have been rather tough. In the last 60 days, ETH lost around 40 percent of its value as it currently trades at around $186.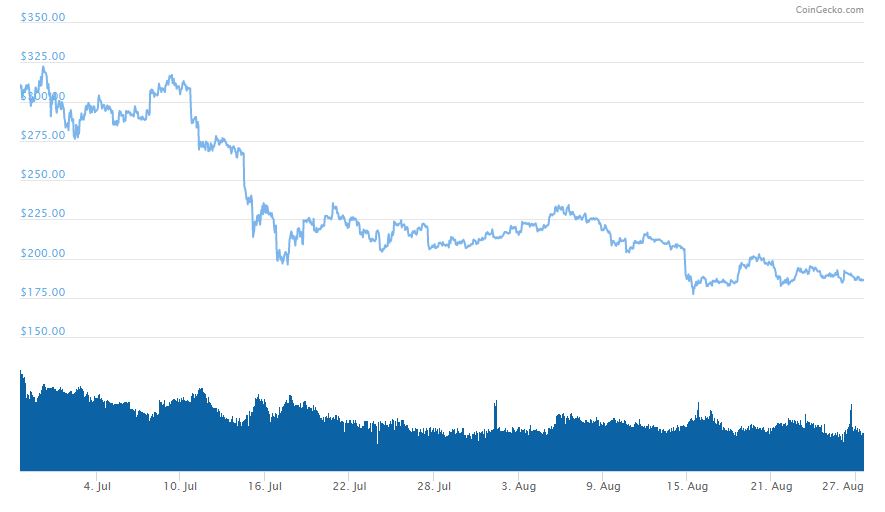 Year-to-date, though, the cryptocurrency is still looking good as it's up about 40% since January 1st. It's worth noting, though, that the utilization of the network back in January was around 20% lower as it was standing at approximately 70%. 
It's also worth noting that this FUD is piling up right before one of the major conferences which is about to take place in September, namely – Ethereal.
---
Source
---
Back to the list