Ethereum has tumbled more than 10% since trading began on Friday, entering the $1,387 range down more than 71% from its all-time high in November 2021.
As the second-largest crypto by market cap behind Bitcoin, Ethereum, which boasts a market cap of $168 billion, has a robust ecosystem led by its enigmatic founder Vitalik Buterin who continues to build and deploy smart contracts and blockchain infrastructure to power everything from NFTs, to cloud computing credits to zero-knowledge rollups.
Ethereum is by no means isolated from the market downturn effecting the price Bitcoin, which slid in the last 24H -10% to $19,900.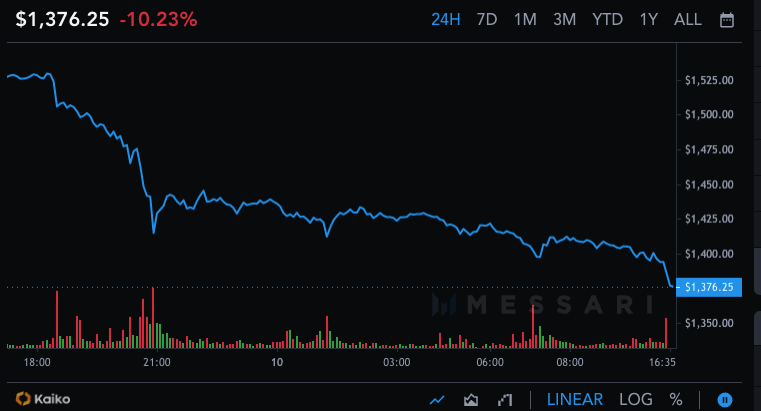 On Thursday, the total value of all digital currencies fell below $1 trillion.
Silvergate reaps havoc on global crypto market cap
As of March 10, the total market value of all cryptocurrencies stood at $940.7 billion, a far cry from the $3 trillion it stood at in November 2021.
Aside from Ethereum, Bitcoin's recent downward movement has provided some encouragement to investors that this is not an Ethereum-specific problem. With Silvergate Capital's announcement to wind down operations and liquidate its crypto-friendly bank causing a decline in the market, last week's joint warning by the Fed, FDIC, and OCC to banks regarding the liquidity risks associated with banking crypto companies in only compounding industry-wide anxiety even further.
Is Ethereum a security?
The filing of a recent lawsuit by the New York Attorney General could potentially cause significant complications for crypto exchanges that list Ethereum.
The argument for considering Ether (ETH) as a security gained traction after Ethereum shifted to a "proof-of-stake" system in 2022 to operate its network. Previously, the network relied on the "proof-of-work" system used by Bitcoin, which involved mining to secure the blockchain. This process involved computers competing to solve cryptographic puzzles and earn newly-issued crypto while recording transactions on the chain.
Under the new proof-of-stake system, mining is replaced by staking. Ether holders can lock up their crypto with the network, earning interest and contributing to transaction security. This change has led to increased scrutiny by regulators and contributed to the debate over whether Ether should be classified as a security.
"By shifting to proof-of-stake, ETH no longer relies upon competition between computers, but instead now relies on a pooling method that incentivizes users to own and stake ETH," the suit said. "The shift to proof-of-stake significantly impacted the core functionality and incentives for owning ETH, because ETH holders now can profit merely by participating in staking."
VItalik liquidates shit-coins
The downward pressure on Ethereum comes at a particularly sensitive time for the broader crypto market, which is undergoing a narrative repositioning away from scam projects to smaller scale, concrete use cases, utilities and value.
Read more: Vitalik Buterin chastises BITE, other shitcoins for having no 'redeeming cultural or moral value'