Back to the list
Someone Just Mistakenly Paid $23.5M in Fees for an Ethereum Transaction
coinfomania.com
27 September 2021 18:11, UTC
Reading time: ~2 m
---
Blockchain networks are often applauded for the irreversibility of transactions. Sometimes, though, this feature can cause users distress, as evidenced in a recent transaction spotted on the Ethereum network. An unknown user sending 100,000 Tether (USDT) to an address ended up paying 7,676.6 ETH (approximately. $23.5 million) in transaction fees.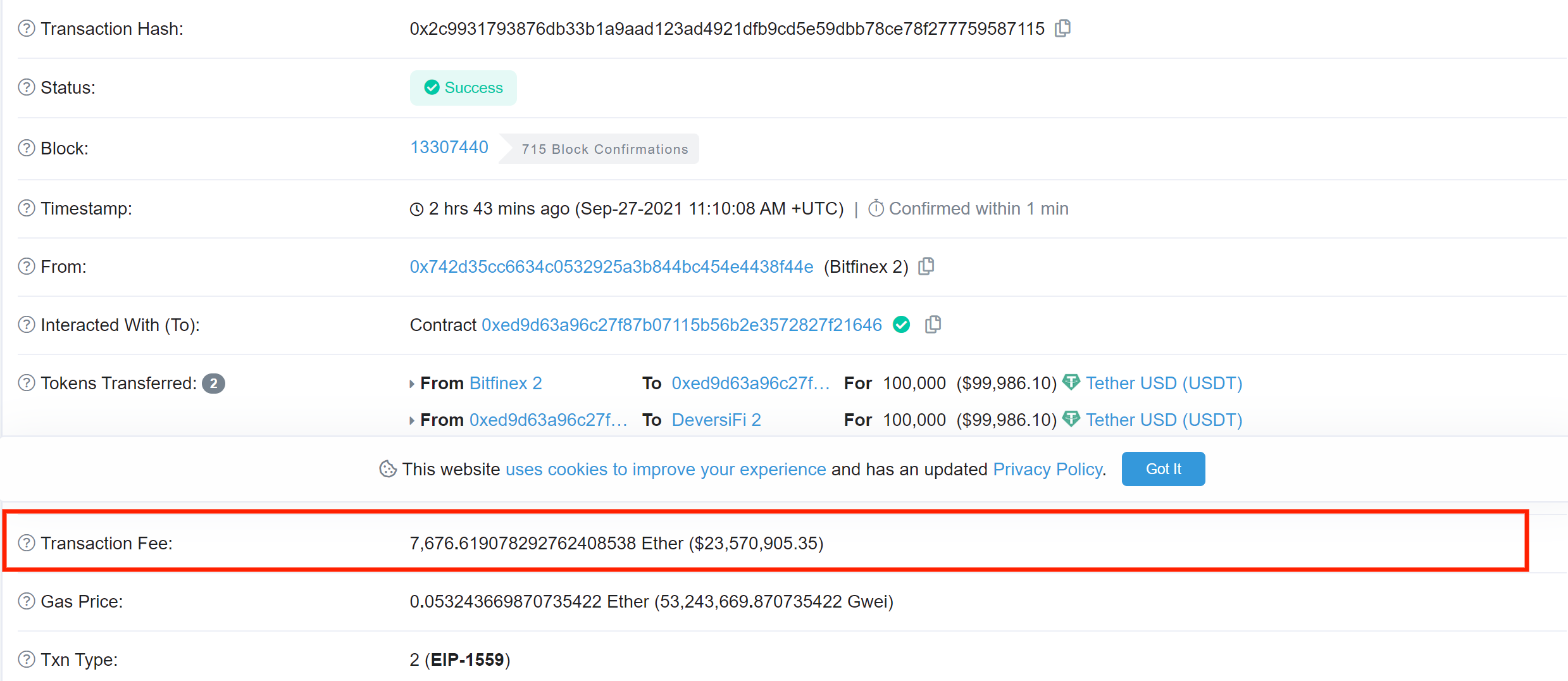 (Source: Etherscan)
As shown in the graphics below, the transaction originated from a wallet belonging to popular cryptocurrency exchange Bitfinex. This indicates that the transaction was either sent by an employee of the exchange, or a user withdrawing funds from the platform.
The funds were transferred from Bitfinex to Deversifi, a non-custodial exchange platform birthed by Bitfinex . A Deversifi spokesperson reportedly told TheBlock:
At 11:10 UTC on the 27th September a deposit transaction was made using a hardware wallet from the main DeversiFi user interface with an erroneously high gas fee. DeversiFi is currently investigating the cause to determine how this occurred and will keep you updated. No customer funds on DeversiFi are at risk and this is an internal issue for DeversiFi to resolve. Operations are unaffected."
Although such transactions are normally irreversible, the sender can recover their money if the Ethereum miner that processed the transaction decides to refund the excess fee amount. The transaction in question was added to Ethereum block 13307440 which was processed by an unknown mining pool. At the time of writing, a majority of the excess fees are still being held in the miner's wallet address.
In similar developments last year,  a whale address spent a combined $5.2 million in two transactions, while, a user from the exchange platform Gate.io mistakenly transferred 400,000 USDT to the Sushiswap smart contract address.
---
Source
---
Back to the list
Similar news