Back to the list
JPMorgan says Ether Is Overvalued at Current Prices and DeFi's Institutional Adoption Is Above 60%
bitcoinexchangeguide.com
20 September 2021 11:16, UTC
Reading time: ~2 m
---
Banking agent JPMorgan noted in its latest crypto report that decentralized finance (DeFi) adoption by institutional investors increased in the second quarter of 2021. This growing adoption is shown by more than 60% of all DeFi transactions being worth over $10 million compared to less than 50% for all cryptocurrency transactions. And these institutions from major economies are driving the DeFi activity with emerging markets adopting crypto assets. JPMorgan's data seems to be derived from Chainalysis' report on its "Global DeFi Adoption Index" released last month, which defines that above $10 million as large institutional transactions. Chainalysis noted in its report,
"Large transactions make up a much bigger share of DeFi activity, suggesting that DeFi is disproportionately popular for bigger investors compared to cryptocurrency as a whole."
Additionally, the US, China, Vietnam, the UK, and several other Western European countries rank high on this DeFi Adoption Index.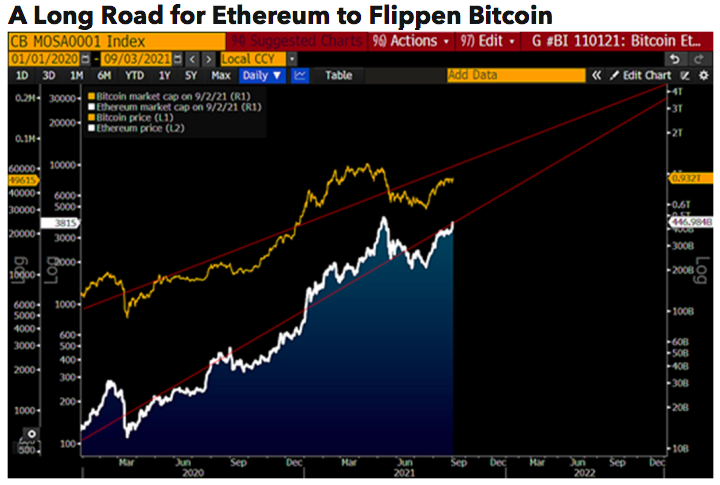 The fast-growing DeFi sector currently has $165.87 billion of total value locked (TVL) in it, down from almost $190 billion at its peak on Sept. 6. Besides DeFi, JPMorgan analyst Nikolaos Panigirtzoglou believes Ether, on which the majority of the DeFi sector is built, is overvalued at its current price. According to him, Ether's fair value is around $1,500 based on measures of network activity. As of writing, Ether is trading around $3,000, down nearly 10% in the past 24 hours and 31.5% from its all-time high of $4,380 four months back. Panigirtzoglou told Insider that the second-largest network is becoming less attractive at current prices as it faces growing competition from Solana (SOL) and Cardano (ADA).
"We look at the hash rate and the number of unique addresses to try to understand the value for Ethereum. We're struggling to go above $1,500." "There is a question mark here. The current price is expressing an exponential increase in usage and traffic that might not materialise."
And Ether's key selling point — building decentralized apps and smart contracts upon it — "can easily be replicated by other networks," he added.
"It's not unique." "You're already seeing competition from Binance, competition from Solana. And there are going to be more in the future."
[coin_ticker symbol="ETH"]
---
Source
---
Back to the list