Back to the list
ETH Slows Down Ahead of FOMC Meeting, What's Next? (Ethereum Price Analysis)
cryptopotato.com
02 November 2022 15:37, UTC
Reading time: ~2 m
---
Ethereum experienced a considerable increase in the final days of October, resulting in a green monthly candle. To continue this growth, the cryptocurrency must retain $1,500 as support.
Technical Analysis
By Grizzly
The Daily Chart
After 40 days, the price of ETH officially surpassed $1,500 towards the end of October. Since then, the cryptocurrency has slowed down after hitting the resistance zone of $1650-$1700 (in red).
With the test of this resistance and the approaching FOMC meeting, it appears that some traders have opted to close their long positions. As a result, the bullish momentum has weakened slightly.
If Ethereum can establish $1,500 as support and does not close below this crucial mark, it could retest $1,700, which overlaps the 200-day moving average.
Alternatively, if the Federal Reserve does not signify any willingness to slow rate hikes later in the year, selling pressure on high-risk assets is likely to increase. In this case, the return of the upward trend would be out of the question.
Key Support Levels: $1500 & $1370
Key Resistance Levels: $1700 & $2000
Daily Moving Averages:
MA20: $1420
MA50: $1374
MA100: $1526
MA200: $1676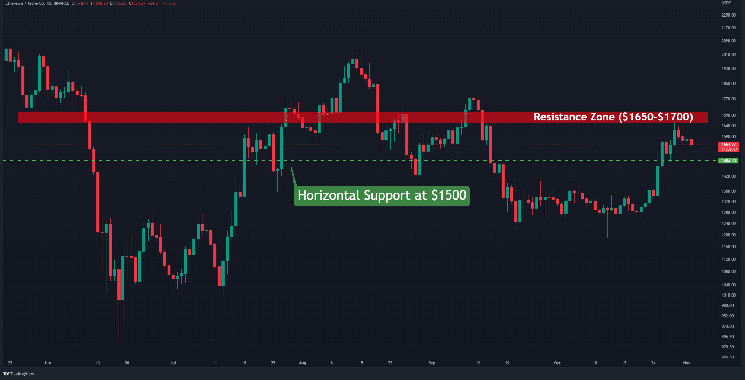 The ETH/BTC Chart:
Against Bitcoin, the descending line (in white) continually prevented the price from falling in the previous month, which allowed the cryptocurrency to recover.
The horizontal level (in yellow) was broken around 0.073 BTC as a result of this move. 0.073 BTC looks likely to be tested as support right now. If the pair can stay above this level, a move to retest the resistance at 0.085 BTC (in red) would also become more probable.
Key Support Levels: 0.073 & 0.07 BTC
Key Resistance Levels: 0.08 & 0.085 BTC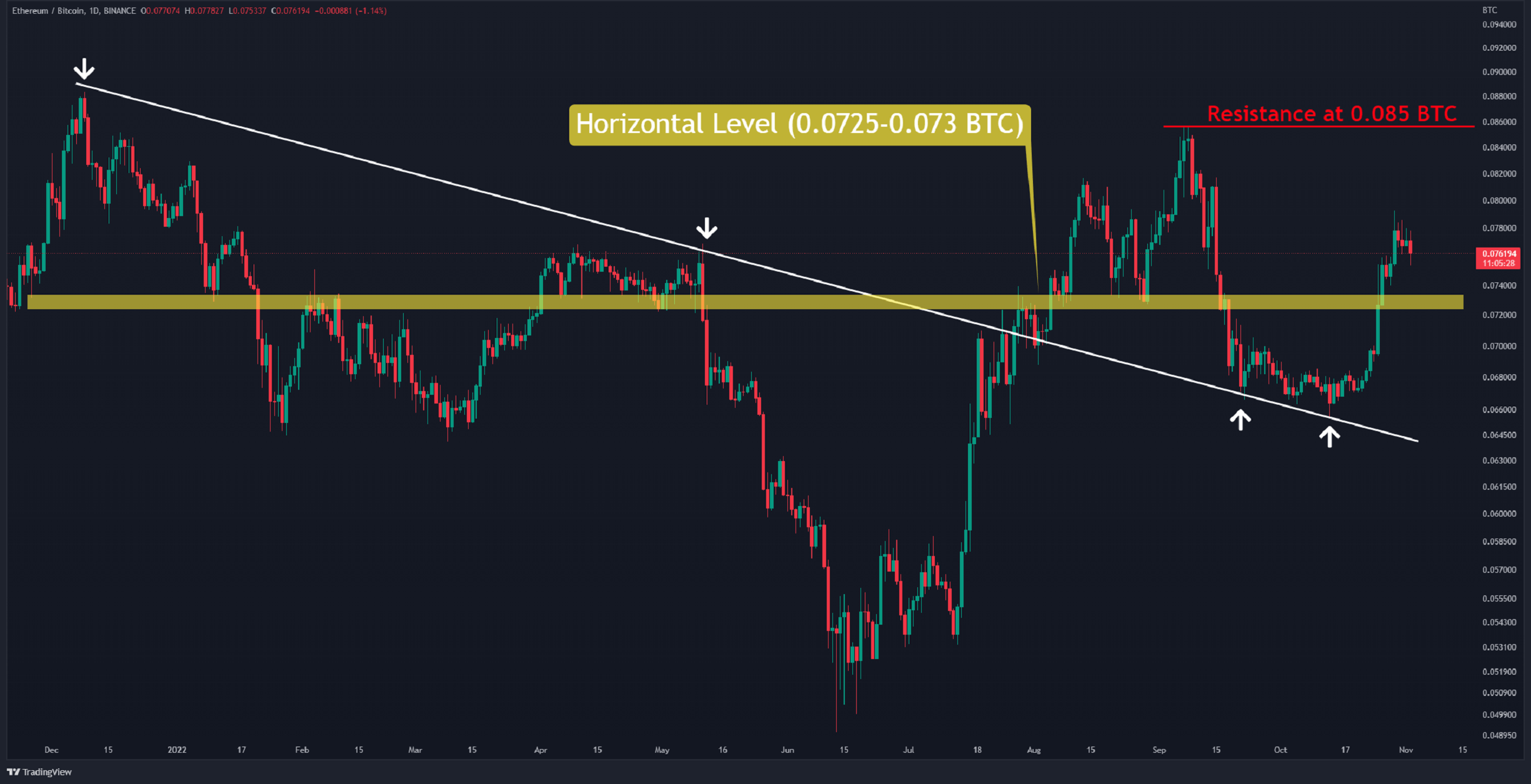 Sentiment Analysis
Taker Buy Sell Ratio (SMA 14)
Definition: The ratio of buy volume divided by the sell volume of takers in perpetual swap trades.
Values over 1 indicate bullish sentiment is dominant.
Values under 1 indicate bearish sentiment is dominant.
The derivative market is dominated by bullish sentiment. The large increase in this index, which implies that many buy orders were filled by takers, caused the price to soar. However, this sentiment appears to be weakening.
The FOMC meeting tonight is currently the focus of everyone's attention, as it could have some impact on upcoming trends in the market.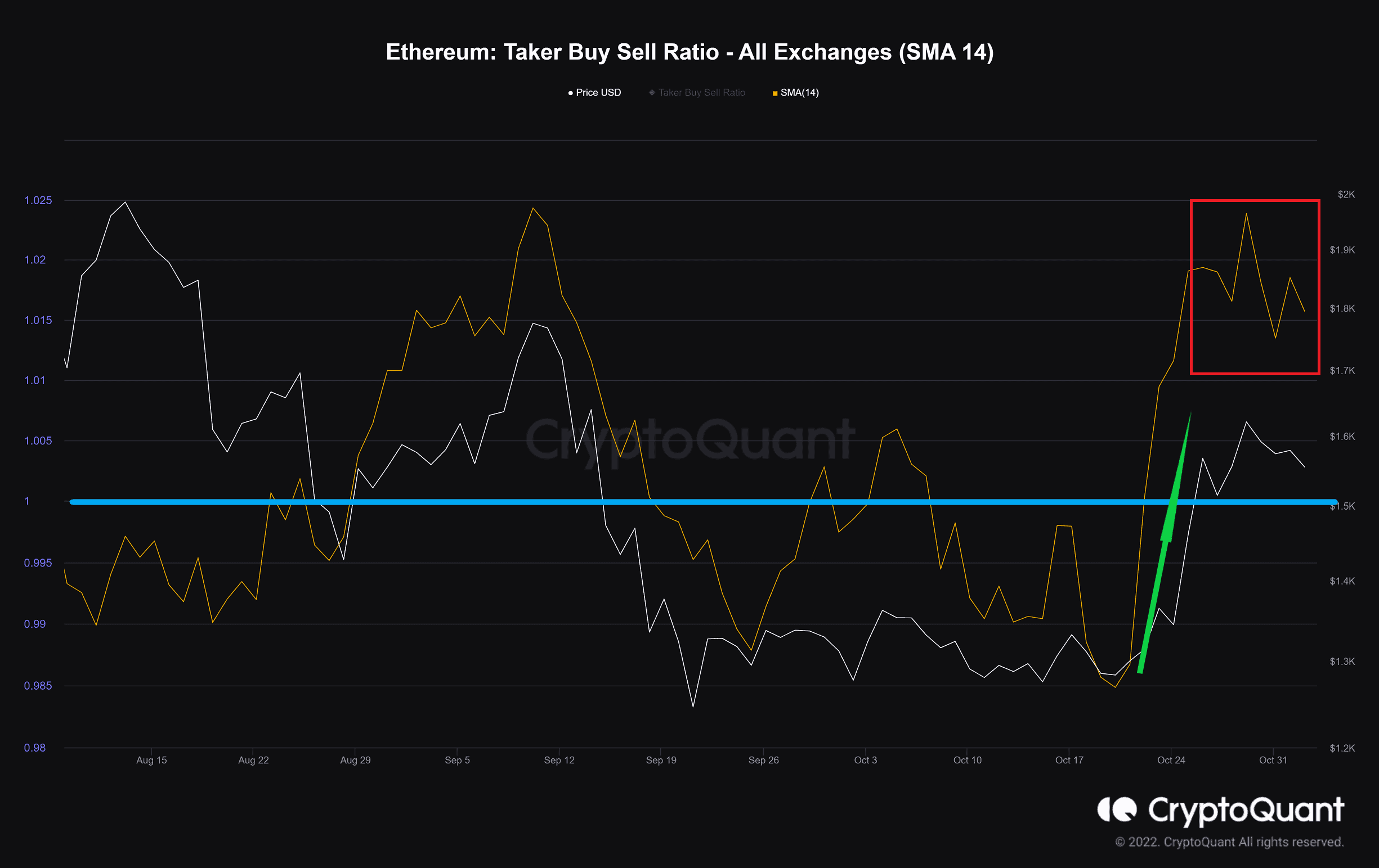 ---
---
Source
---
Back to the list