Ethereum (ETH) has migrated to a proof-of-stake network after the blockchain reached a terminal total difficulty of 58,750,000,000T at 06:43 UTC.
Ethereum co-founder Vitalik Buterin tweeted that the Merge was a "big moment for the Ethereum ecosystem," praising everyone who helped make it happen.
And we finalized!

Happy merge all. This is a big moment for the Ethereum ecosystem. Everyone who helped make the merge happen should feel very proud today.

— vitalik.eth (@VitalikButerin) September 15, 2022
Gnosis co-founder Martin Köppelmann revealed that blocks have shown "amazing stability" after the merge as only one was missed. Buterin also corroborated this view, saying the percentage of full blocks has dropped to 10%.
One important corollary of this is better EIP 1559 performance (because fewer blocks bump up against the 2x limit). So far, the percentage of full blocks has dropped from ~20% to ~10%.https://t.co/qmCkqzYn2z https://t.co/8ZzlPunGEZ

— vitalik.eth (@VitalikButerin) September 15, 2022
The Merge has been one of the highly anticipated developments in the crypto space for the last two years, with the community facing different challenges.
According to Ethereum Foundation, the Merge could be likened to replacing the engine of a spaceship midflight.
The migration would cut ETH's power consumption by up to 99%. Buterin, citing Justin Drake, said:
"The merge will reduce worldwide electricity consumption by 0.2%."
The Merge would also drastically reduce Ethereum's issuance by as much as 90%, according to data from ultrasound.money.
Glassnode data, as analyzed by CryptoSlate, also showed that ETH's mean hashrate was falling in real time.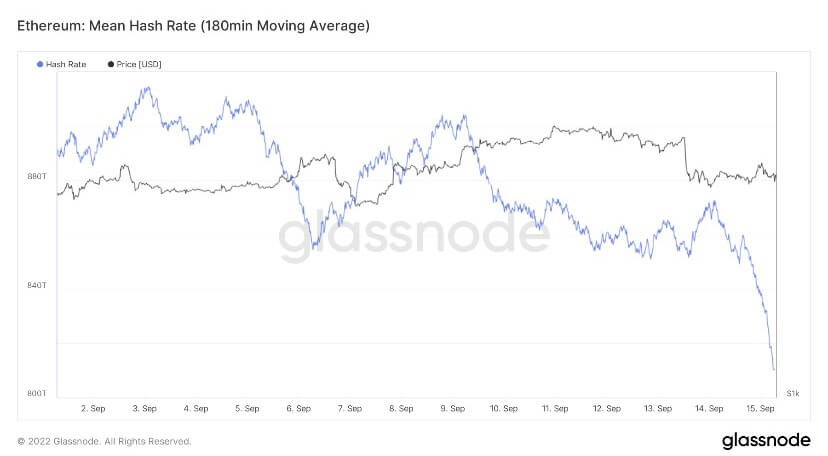 On the other hand, data from 2miners showed that the mining hashrate of proof-of-work tokens like Ethereum Classic (ETC), Ravencoin (RVN), and others have surged in the last 24 hours to new highs.
ETH balance on exchanges also significantly spiked immediately after the Merge, according to Glassnode data.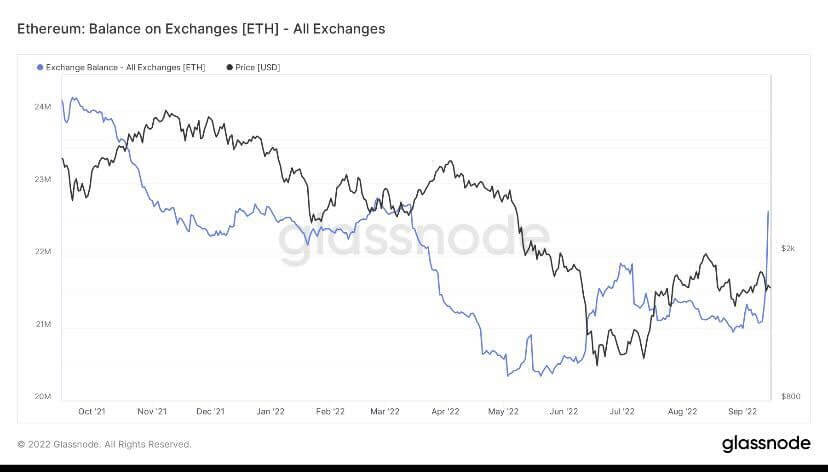 As of press time, there have been over 500,000 tweets about the merge.
Meanwhile, Ethereum's price has also reacted positively to the news, rising 3.5% during the last hour after the Merge was confirmed.
"