The Ethereum blockchain officially migrated to the proof-of-stake (PoS) consensus mechanism as the anticipated "Merge" finally occurred around block height 15537391 on September 15. The protocol's co-founder Vitalik Buterin has described The Merge as "a big moment for the Ethereum ecosystem."
ETH Merges on September 15 as Predicted
After months of waiting and tension, The Merge — the Ethereum blockchain's much-anticipated migration to a proof-of-stake (PoS) consensus mechanism — has happened. As some players in the space, including one of the protocol's co-founders Vitalik Buterin had hoped, The Merge occurred on September 15 around block height 15537391 at around 2:42:42 a.m. ET.
In his reaction following The Merge, Buterin tweeted:
And we finalized! Happy merge all. This is a big moment for the Ethereum ecosystem. Everyone who helped make the merge happen should feel very proud today.
In terms of the network's hashrate, data shows that it dropped from over 807 TH/s (terahash per second) 24 hours earlier to just under 750 TH/s minutes after the event. Compared with the week before the migration, the hash rate appeared not to have plummeted by as much as 50% as predicted.
While Ethereum ceased to be a proof-of-work (PoW) blockchain immediately after The Merge, not all miners went along with the decision to migrate. As previously reported by Bitcoin.com News, miners opposed to The Merge are expected to continue mining other assets such as ETHW, as well as already established PoW alternatives.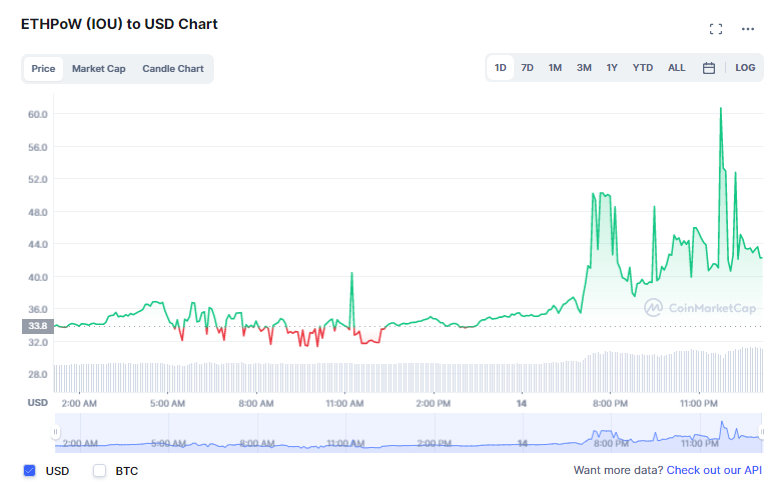 According to Coinmarketcap data, at around the time of the merge, the USD price of the ETHW IOU briefly surged to just over $60. However, at the time of writing, the price had dropped to $43.
What are your thoughts on the Ethereum blockchain's migration to a PoS consensus mechanism? Let us know what you think in the comments section below.