Back to the list
The long-awaited Ethereum's Constantinople Hard Fork has been launched
www.chepicap.com
01 March 2019 00:10, UTC
Reading time: ~2 m
---
The Ethereum's Constantinople Hard Fork has been successfully launched! After a long and bumpy road the long-awaited hard fork took place at approximately 19:49 UTC when Ethereum reached block #7,280,000.
Success, the Constantinople 'network upgrade' has been completed!#basset_crypto #fork #soft_fork #hard_fork

— Abdelbasset Benali (@benaliA94) February 28, 2019
The two critical upgrades, Constantinople and St. Petersburg, were simultaneously activated. One upgrade is significantly more important than the other, but both are equally integral to the future of the Ethereum network.
The long-awaited Ethereum Constantinople/St. Petersburg upgrade is expected to bring major changes to the Ethereum Improvement Proposals, which will affect several things, such as core protocol specifications, client APIs, and contract standards.
However, the most significant change that this upgrade brings is the reduction of the block reward from 3 ETH per block to only 2 ETH, which is a continuation from the vision that started with a previous fork, called Byzantium, which reduced the reward from 5 ETH to 3 ETH.
Read more: Ethereum Constantinople hard fork countdown set for 28 February
For now, the Ethereum trading community hasn't been overly excited about the successful upgrade. Leading up to this upgrade, ETH has been relatively stable, while facing strong resistance in the $140 zone, according to data from coinmarketcap.com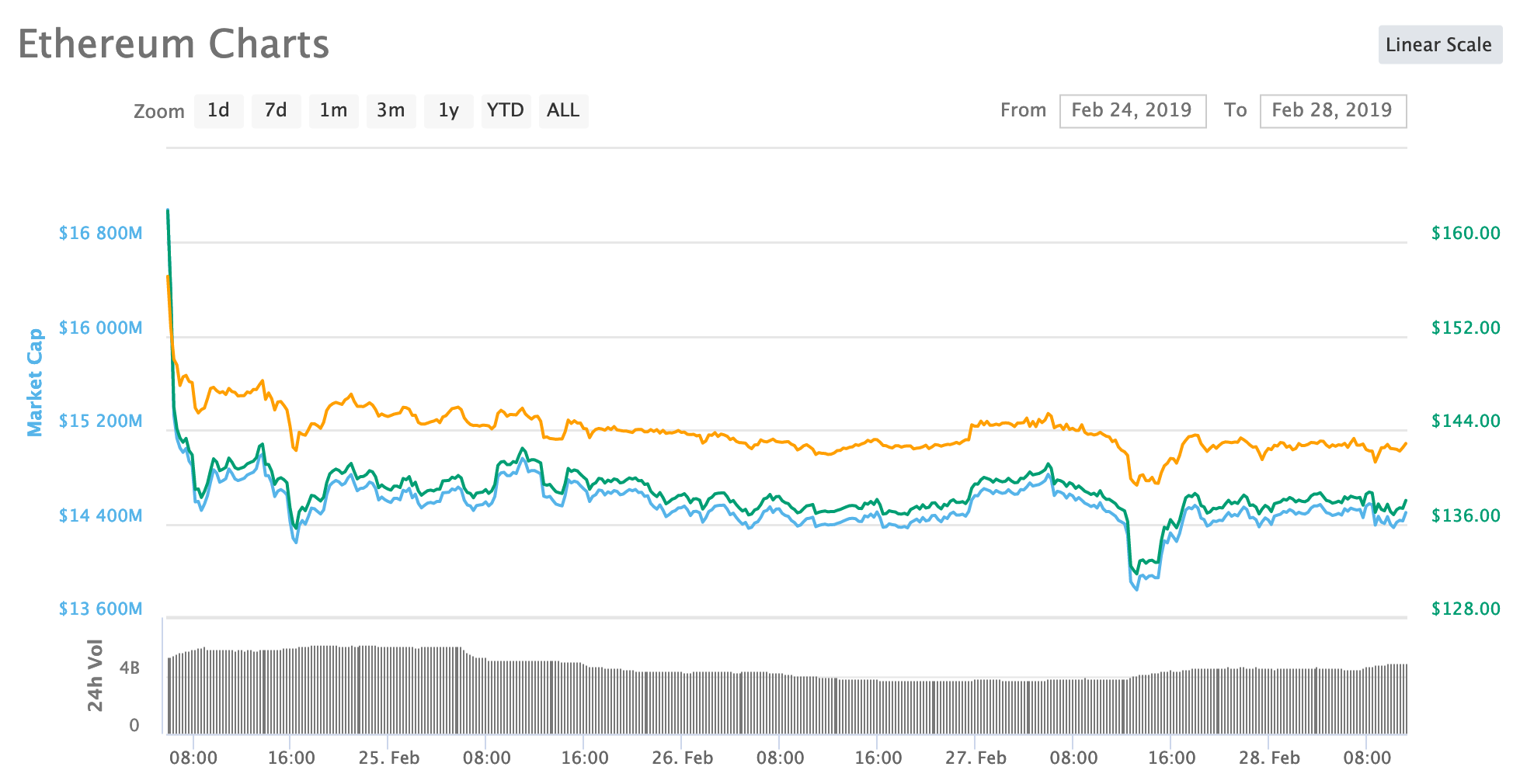 As Chepicap previously reported and according to Chepicap's own technical analysis expert, David Borman, the reduction of the block reward will result in a bear stretch for Ethereum in the short term, due to the fact that miners will be selling off ETH in order to cover the increased cost of mining.
Stay tuned. Chepicap will keep you updated!
Read more: What to expect from today's Ethereum hardfork
---
Source
---
Back to the list
Similar news