Given the concerns over Web3, including recurrent hacks and usability issues with decentralized finance (DeFi), blockchain developers across the board have been hard at work on crypto wallet solutions.
Radix, a smart contract platform for asset-oriented DeFi, has unveiled concept images for its Web3 wallet.
In particular, the wallet provides a unique vision for an enhanced user experience while dealing with cryptocurrency apps, according to a press release shared with Finbold on January 9.
Notably, the Radix Wallet concept is the result of over a year of research and development of a set of five new technologies into the core of the Radix Network, to enable for the first time a mass-use crypto wallet.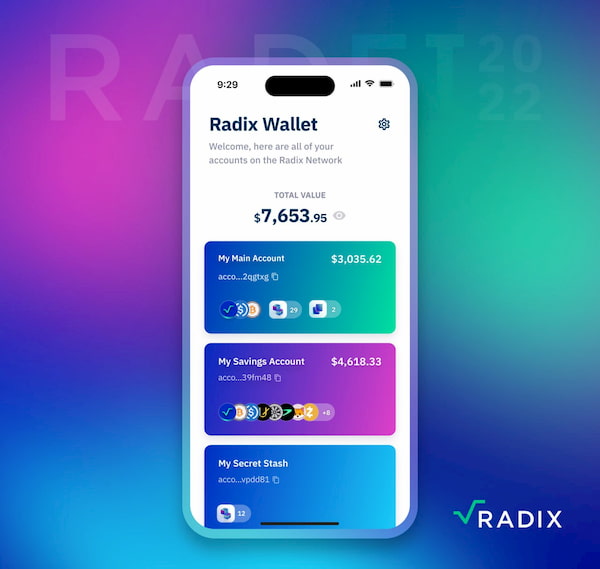 RDX Works Chief Product Officer, Matthew Hine, stated:
"Radix Wallet provides a user experience that gets out of the way and lets users engagea effortlessly. It's the kind of user experience that will make Web3, DeFi, and even the Metaverse actually relevant to people, and you can't build it on any network except Radix."
Radix's Babylon Mainnet update to launch in early 2023
When Radix's Babylon Mainnet goes live in early 2023, the Radix Network will incorporate five new technologies developed for use by a new Radix Wallet that the network states has the potential to change the way in which people interact with their assets and decentralized applications (dApps).
Users on Radix will be able to connect to dApps using "Personas," which bring the customization of Web2 to Web3 and do away with password-based logins, and easily transition between mobile and desktop experiences thanks to "Radix Connect." What's more, the Radix Network's "Native Assets" and "Transaction Manifests" will be widely used by the Radix Wallet to make digital ownership easy and reliable.
Current state of DeFi
It's worth mentioning that the current state of DeFi has a reputation for being very difficult to use and risky. In this line, Radix has concerns about the digital wallets and dApps of today, labeling them as 'unsafe.' A significant portion of this problem the platform considers is a result of a mediocre user experience that is not consistent with the promise of user freedom and empowerment made by DeFi.
Nevertheless, the Radix Wallet and the Radix Network's five innovative technologies are said to tackle the most significant usability issues in DeFi with their next-generation cryptocurrency wallet for Web3 users.