Back to the list
Curve DAO (CRV) Price Climbs Over 55% in a Week
thenewscrypto.com
16 September 2021 20:47, UTC
Reading time: ~2 m
---
Curve DAO (CRV) had climbed over 55% in a week.
Curve DAO Token (CRV) has been listed on BTSE.
CRV starts collaborating with Polygon to reduce the high transaction fees
An Ethereum-based token Curve DAO (CRV) had climbed over 55% in a week. Curve DAO (CRV) is the utility token of the Curve.fi, a DeFi protocol that is utilized for exchanging stablecoins and other ERC-20 tokens.
In detail, Curve is a decentralized exchange (DEX) for stablecoins that utilizes an automated market maker (AMM) to manage liquidity. AMMs provide a different model of trading in which assets can be exchanged without any permissions and in an automated manner. Curve DAO token CRV is used to incentivize liquidity providers, similarly, holders can also take benefit from CRV by participating in network governance.
Current Market Status
According to CoinMarketCap, the trading Price of CRV is $3.20 with a trading volume of $739,808,814 in the last 24 hours. At the press time, CRV has surged over 55% in the last 7 days and gained 10% in the last 24 hours. More so, the current circulating supply of CRV coins is 426,748,438.41 CRV and it is positioned at 82nd place.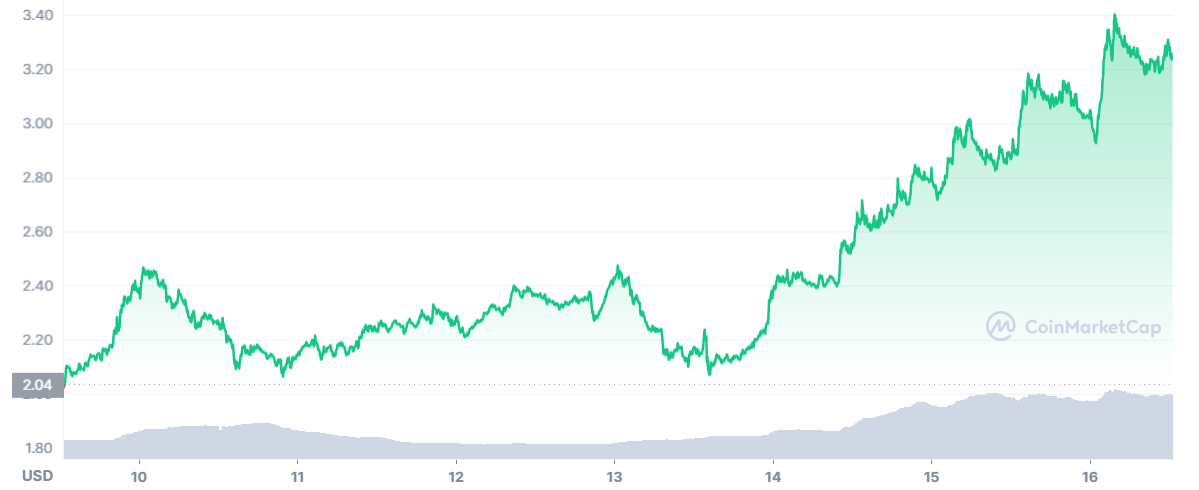 The above chart shows the bullish pattern for the last 7 days. The price of CRV has climbed from $ 2.04 to $3.20 within seven days. CRV can also be traded in the crypto exchanges such as Binance, Mandala Exchange, Huobi Global, OKEx, and FTX.
Curve DAO (CRV) Collaborations
A month ago, Curve DAO Token CRV has been listed on BTSE. It is a crypto exchange that was registered in UAE. BTSE exchange is also known as derivatives exchange, which means it was focused on derivatives trading. Eventually, recently, Curve starts collaborating with Polygon to reduce the high transaction fees. This collaboration enables users to save on costs despite still performing the usual transaction
Furthermore, with upcoming updates and collaboration, we can expect Curve DAO (CRV) more bullish in the forthcoming days.
---
Source
---
Back to the list