Several tokens behind top decentralized finance (DeFi) protocols have posted gains of more than 10% over the past day. Included in the day's top gainers are Curve, Aave, and SushiSwap. 
DeFi is a fast-growing sector of the crypto industry that offers many traditional financial services, like lending and borrowing, but removes centralized intermediaries, like banks or brokers. 
DeFi Llama, a dashboard that shows the total value locked across the entire sector, shows that there is a total of roughly $182 billion at press time. Unlike DeFi Pulse, DeFi Llama doesn't confine itself to recording DeFi activity on Ethereum.

Of this sector, three protocols (and their native governance tokens) stand out. Though Curve, Aave, and SushiSwap all share strong gains, the reasons behind these gains are varied. 
Layer 2 solutions, NFTs fuel token rise
Curve, a decentralized exchange (DEX) that's optimized for like-valued assets such as stablecoins, has launched on Arbitrum, a layer-2 scaling solution for Ethereum. Instead of settling individual trades on Ethereum's mainnet, Curve operations are batched and periodically settled, thus reducing congestion and the cost of transacting. 
To boost usage of Curve's initiative, the developer team has rolled out two liquidity pools, doling out high yields. The first, called "TriCrypto," offers a whopping 272% yield for users who add one of three assets: Tether (USDT), Wrapped Bitcoin (WBTC), or Wrapped Ethereum (WETH).
The second pool is called "2pool" and offers a 6.5% yield for users that deposit either USD Coin or tether. 

There is also a vote today within the Curve decentralized autonomous organization (DAO) to determine whether additional bonus tokens will be given to users who join either pool. If passed, additional CRV tokens, Curve's native governance token, would be given on top of the base yield on Curve.
We've just launched on @arbitrum with a TriCrypto Pool (USDT/ETH/WBTC) and a 2Pool of USDT/USDC.

CRV rewards will be proposed on a DAO vote on Wednesday.https://t.co/wEqLzLFOiW pic.twitter.com/AbAghG8NMx

— Charlie Watkins (@charlie_eth) September 13, 2021
These developments have likely contributed to the 18% rise of CRV over the past 24 hours. 
SushiSwap, a popular decentralized exchange that allows users to trade, lend, and borrow, has also joined Arbitrum. In fact, it's one of the most richly integrated projects in DeFi, with operations on Avalanche, Celo, Polygon, Fantom, Binance Smart Chain, and many others.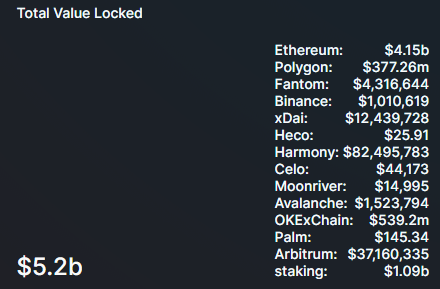 The latest 15% spike in SushiSwap's native token, however, is likely attributed to a recent non-fungible token (NFT) sale on its token-launching platform, Miso. 
Dubbed "Jay Pegs Auto Mart," interested NFT speculators can purchase a DONA reservation token on Miso. These tokens can then be used to redeem "a 2007 Kia Sedona NFT" on September 21, 2021. 
New on MISO 👀

NFT project @jaypegsautomart has developed a first of its kind auction mechanic for 'fair launch' NFT's using a batch auction on our MISO platform. 1 $DONA = 1 'DONA NFThttps://t.co/GMc6hsOlco pic.twitter.com/IRdlag1CYK

— SushiChef (@SushiSwap) September 14, 2021
The sale for the DONA token has already raised 427.14 Ethereum or $1,451,276.49 at today's prices. 
As for Aave, a crypto lending and borrowing protocol, social media and the platform's newsletter have been buzzing with news of a soon-to-be-launched project. It is currently being referred to as "[REDACTED] protocol" by the Aave team. 
She will make more on the [REDACTED] protocol 👀 https://t.co/3vCiSPc5ZS

— Jordan 👻 👘 (@JordanLzG) August 19, 2021
Aave's co-founders and team members have hinted that the project will relate to monetizing users' social media activity. 
In July, Stani Kulechov, the founder and CEO of Aave, told Decrypt about similar plans, adding that "we believe that content creators should own their audiences in a permissionless fashion, where anyone can build new user experiences by using on-chain social graph and data." 
Aside from the mounting hype around this project, FRAX, an algorithmic stablecoin, has also been added to Aave, letting holders borrow and lend the asset. 
These events may have contributed to Aave's native token, AAVE, increasing by more than 15%.