Back to the list
The Top Five DeFi Tokens for August
beincrypto.com
31 July 2021 16:06, UTC
Reading time: ~4 m
---
This article will take a look at five cryptocurrencies in the decentralized finance (DeFi) sector. 
These DeFi tokens have interesting developments lined up for the month of August. These developments could also have a positive effect on their price.
Algorand (ALGO)
Current Price: $0.84
Market Cap: $2.651 Billion
Market Cap Rank: #38
Algorand is a decentralized network that focuses on accelerating the interchange of traditional and decentralized finance sectors. It does this by enabling the creation of different financial products and protocols.
On its launch, Algorand was the first proof-of-stake protocol. Its technology is aimed to provide faster transaction speeds and low costs. The first use of this technology was on the Algorand MainNet.
The native token is ALGO, which has a fixed supply of 10 billion. It will be fully distributed by 2030.
Balancer is an automated portfolio manager and one of the biggest automated market makers (AMM) in the world. It will be available to Algorand some time in August. This will allow exchanges to freely create trading pairs with all Algorand assets.
ALGO has been trading inside a descending wedge since April 17 and is approaching the end of the pattern. The wedge is a bullish pattern.  Furthermore, the MACD has generated bullish divergence.
Therefore, a breakout would be the most likely scenario.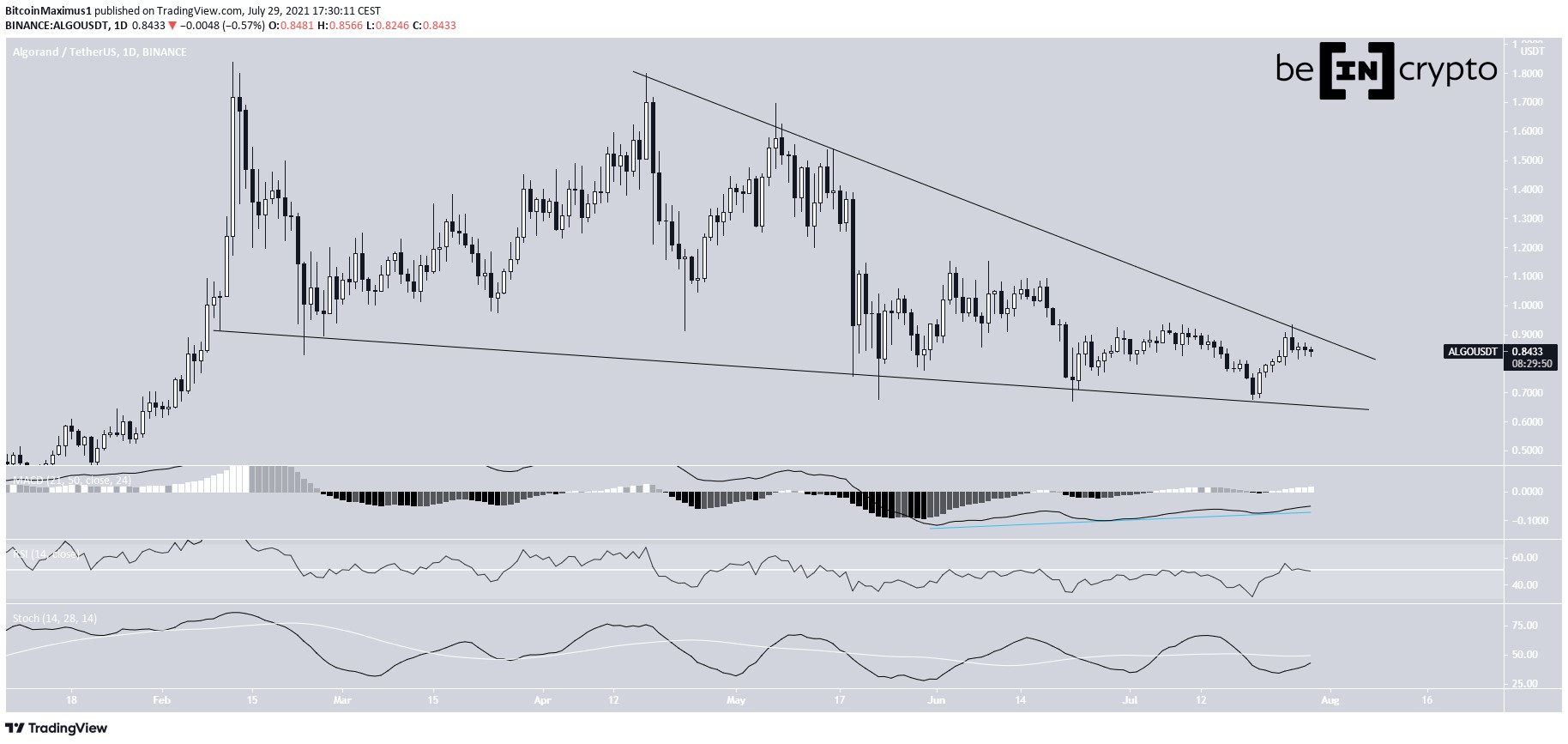 Chainlink (LINK)
Current Price: $19.11
Market Cap: $8.039 Billion
Market Cap Rank: #14
Chainlink enables different blockchains to securely interact with each other. It does this through its decentralized oracle network, which provides dependable inputs and outputs for smart contracts.
The network is driven by an open-source community of smart contract developers, node operators, researchers and more. It is possible for network participants to run their own nodes in the network and/or sell their data and APIs to smart contract developers.
The smart contract summit will take place on Aug. 5 through Aug. 7. It is widely believed to be the biggest event of the year as it regards to smart contracts. In it, the chief scientist of Chainlink labs, Ari Juels will be a keynote speaker.
On July 22, LINK broke out from a descending resistance line that had been in place since May 27. It is currently attempting to break out from the $20 resistance area.
Technical indicators in the daily time-frame are bullish.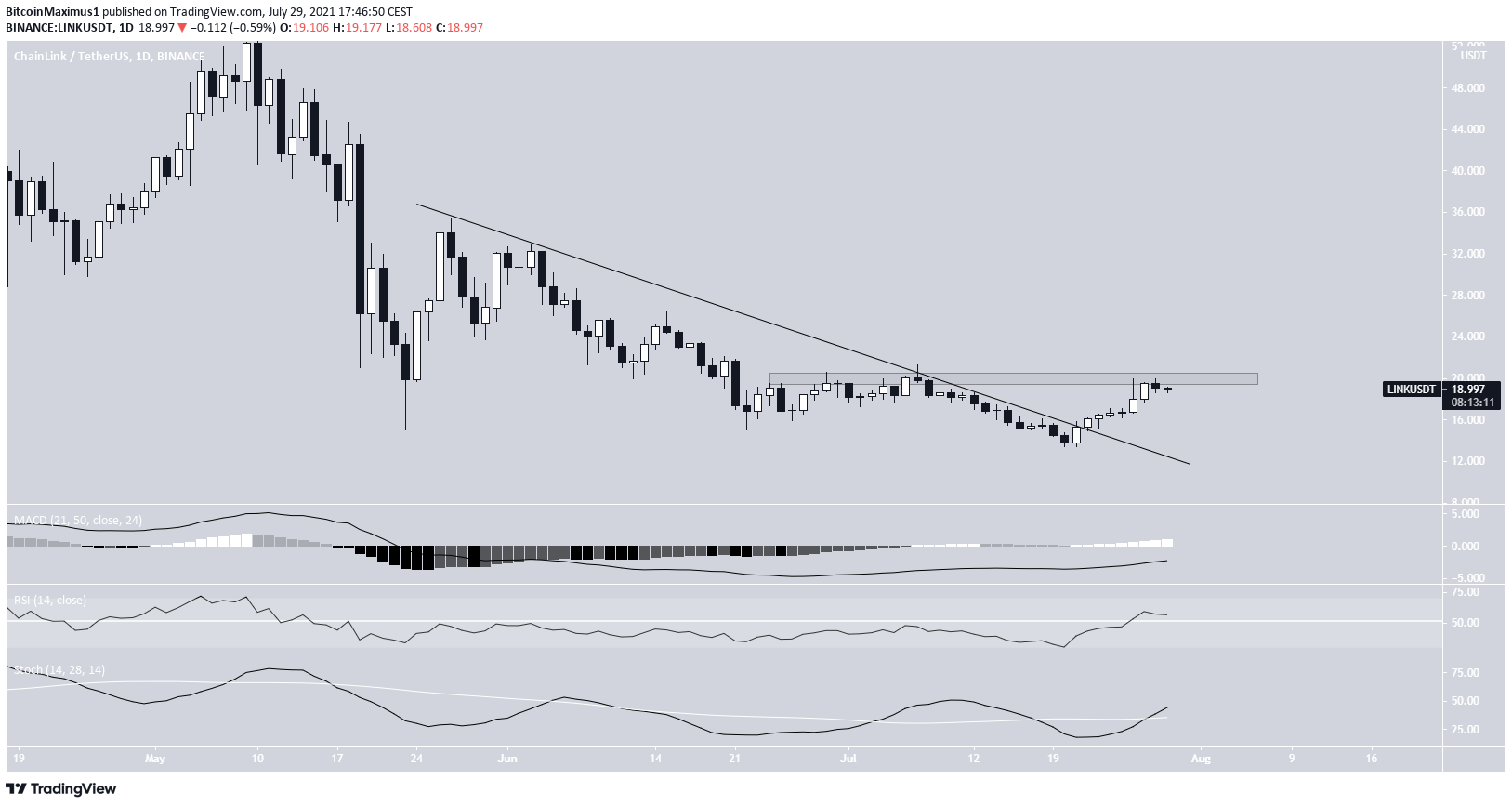 Kava.io (KAVA)
Current Price: $5.34
Market Cap: $375 Million
Market Cap Rank: #114
Kava.io is a DeFi lending platform. It enables its users to deposit cryptocurrencies in order to earn yield. In addition to this, it supports cross-chain assets, one of its unique features in regards to other platforms for lending. Furthermore, its users are liable to run their own staking nodes in order to earn more direct rewards.
The Kava Swap Mainnet will launch on Aug. 12. After this is done, a number of governance proposals will be created. One-by-one, they will turn on features of the Mainnet in order to maximize the security of the rollout.
KAVA has broken out from a descending resistance line and moved above the $4.95 horizontal resistance area. The next resistance is at $6.70. 
Similarly to LINK, technical indicators in the daily time-frame are bullish.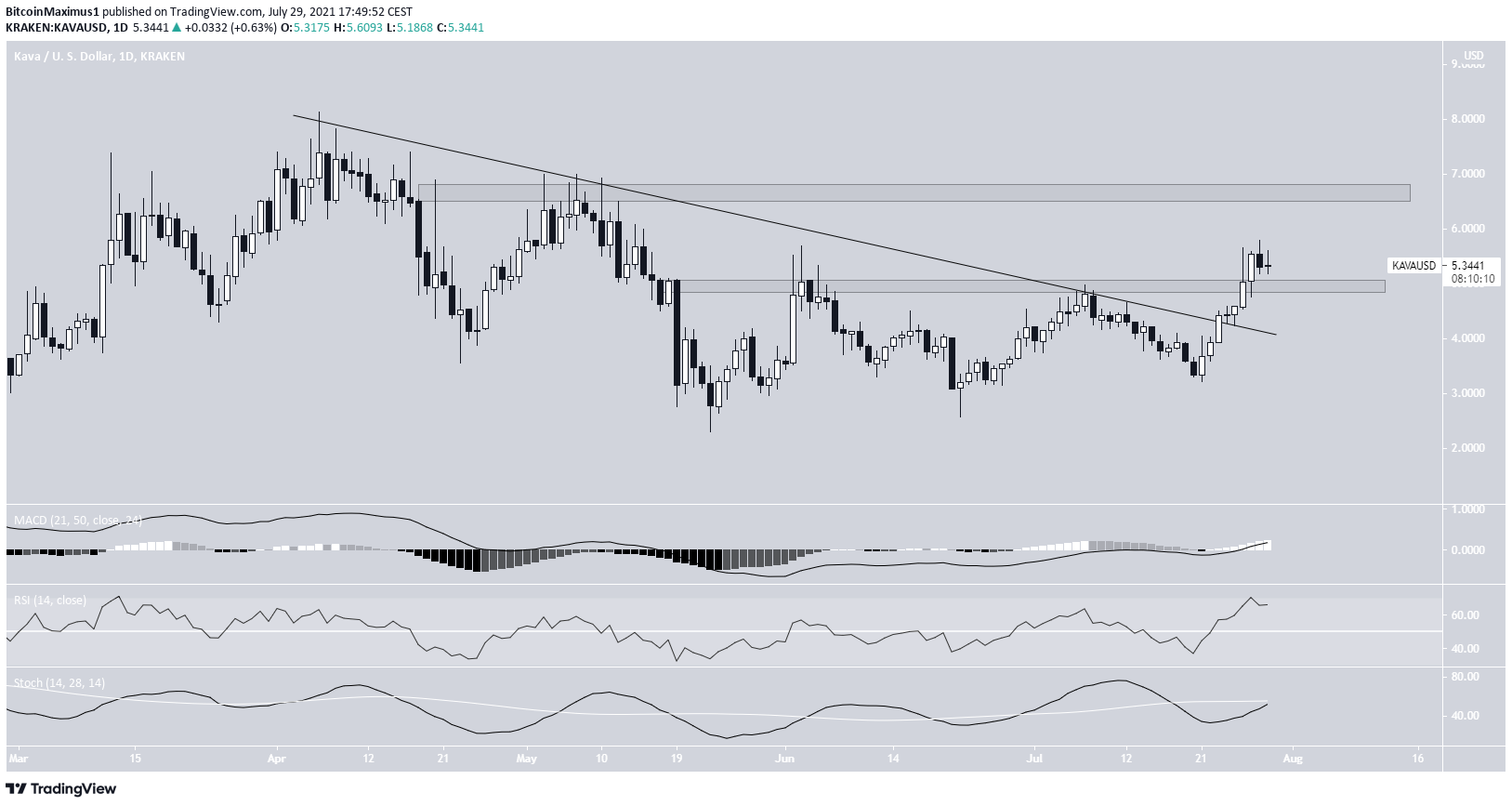 Aave (AAVE)
Current Price: $307.48
Market Cap: $3.971 Billion
Market Cap Rank: #28
Aave is a decentralized protocol that focuses on liquidity. In it, participants have the option of becoming either borrowers of depositors.
The former can use different features to borrow assets, while the latter are able to earn interest by becoming liquidity providers.
The native token for the protocol is AAVE. Besides providing lower fees, it gives its owners a say in changes in the protocol.
On Aug. 5-7, the CEO & Founder of Aave, Stani Kulechov will be one of the main speakers in the smart contract summit.
After creating a triple bottom pattern inside the $1.05 horizontal support area, AAVE broke out from a descending resistance line. It is now approaching the $1.34 resistance area.
TrueFi (TRU)
Current Price: $0.141
Market Cap: $19.877 Million
Market Cap Rank: #638
Similarly to Aave, TrueFi is a decentralized protocol that focuses on creating liquidity pools which provide favorable annual returns.
The native token for the protocol is TRU. It enables its holders to give credit ratings to liquidity providers.
The 2021 roadmap has four phases, and the final one will launch in August. In it:
Support for arbitrary ERC20 tokens will be added.
Lending pools will be able to provide liquidity on loan and line of credit tokens.
Other protocols will be able to participate in loan and line-of-credit fundraising.
TRU reached an all-time low of $0.1134 on July 20. While there are numerous bullish divergences in place, the token has yet to initiate an upward movement.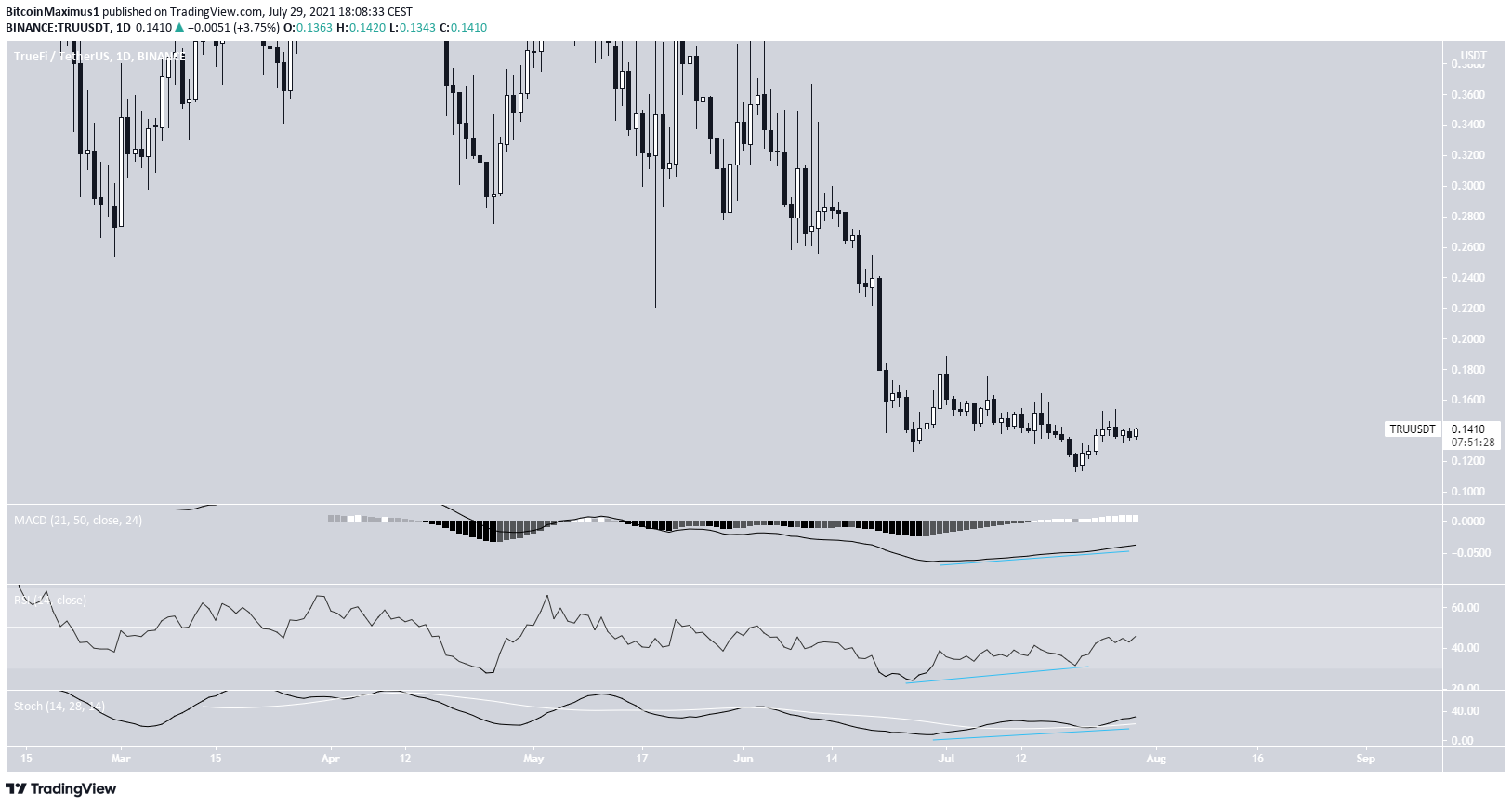 ---
Source
---
Back to the list