Back to the list
'Social recovery' now available on Zilliqa at a fraction of the cost of Ethereum
cryptoslate.com
16 November 2021 20:34, UTC
Reading time: ~2 m
---
Developers Tyron SSI has announced the launch of its social recovery wallet running on the Zilliqa chain.
One of the significant challenges faced by crypto users is the prevention of lost or stolen wallet funds. There is no shortage of stories involving this type of scenario, which are all the more gut-wrenching when it involves millions of dollars.
For example, the case of computer scientist Stefan Thomas, who had lost the password to his IronKey drive holding his Bitcoin wallet containing over 7,000 BTC (approx $420 million at today's price). As a security measure, this device erases the contents after ten failed password attempts.
In response to this problem, Ethereum co-founder Vitalik Buterin posted an article titled, "Why we need wide adoption of social recovery wallets" in January this year. In it, he set out the concept of social recovery wallets, making the point that they offer superior advantages to existing solutions.
What is a social recovery wallet?
The social recovery wallet concept is underpinned by "guardians," which Buterin recommends having a minimum of three guardians. But there is still a single "signing key" that is used to approve transactions.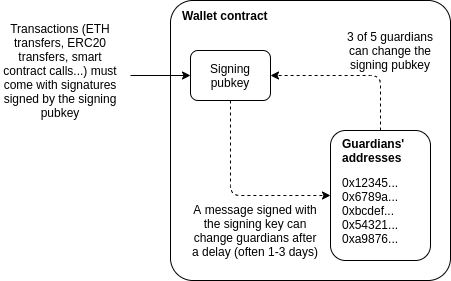 The social recovery wallet works like any other crypto wallet. But, should the owner lose their signing key, they could contact their guardians requesting them to change the signing key to a new one.
"The user can simply reach out to their guardians and ask them to sign a special transaction to change the signing pubkey registered in the wallet contract to a new one. This is easy: they can simply go to a webpage such as security.loopring.io, sign in, see a recovery request and sign it. About as easy for each guardian as making a Uniswap trade."
In elaborating on guardians, Buterin said the three most likely could be another device owned by the wallet holder, family or friends, or institutions with some recovery protocol such as confirmation by email or phone.
Zilliqa now supports the social recovery wallet concept
Social recovery wallets already exist on Ethereum via the Argent Wallet and Loopring Wallet. But, Tyron SSI points out that the creation cost of the social recovery function on Argent is more than $120.
This is prohibitively expensive to encourage the mass adoption of this function. Whereas Tyron SSI's Zilliqa-powered social wallet is a much better option for everyday users, coming in at $0.10 to set up.
"There is no safer wallet out there than your Tyron self-sovereign account. Although @argentHQ  also has social recovery, the creation cost is more than USD 120! You can create your Tyron account for around USD 0.1, more than a thousand times cheaper than Argent's wallet."
---
Source
---
Back to the list