Astar Unveils Ethereum Layer-2 (L2) Solution
Japan-based blockchain platform Astar Network has revealed its strategic partnership with Polygon Labs to introduce a ZK-powered Layer 2 (L2) chain on the Ethereum network. By harnessing the Polygon Cross-Chain Developer Kit (CDK) and the power of zero-knowledge (ZK) technology, Astar Network aims to provide an L2 solution that revolutionizes the capabilities of blockchain technology.
💥 Supernova is here! 💥

We are excited to announce that we will work with @0xPolygonLabs!

Together, we will deliver Astar zkEVM: the Ethereum Layer 2 scaling solution powered by Polygon's CDK.

Here, @WatanabeSota & @sandeepnailwal share this groundbreaking announcement. pic.twitter.com/23hSlvUu1G

— Astar Network (@AstarNetwork) September 13, 2023
Sota Watanabe, the founder of Astar Network, emphasized that the partnership with Polygon Labs would enable enterprises to kickstart their blockchain initiatives.
Astar Network's approach allows developers to leverage its platform to deploy dApps on various blockchain networks. The addition of zkEVM to the Astar ecosystem enhances this multichain functionality.
The project envisions serving as a gateway for enterprise adoption not only in Japan but also on a global scale.
‍
The Power of zkEVM
This integration combines the capabilities of zero-knowledge technology with the Ethereum Virtual Machine (EVM). The result is enhanced scalability without compromising the interoperability of Ethereum-based dApps.
Developers can seamlessly launch existing EVM smart contracts on zkEVM with minimal modifications to the codebase. This transition reduces transaction costs, enhances the user experience, and bolsters the potential for broader blockchain adoption.
In a recent tweet, Astar Network made it explicitly clear that its collaboration with Polygon Labs does not signify a departure from its commitment to Polkadot. This clarification comes in response to earlier reports that suggested otherwise.
For the record, we are not "ditching" Polkadot.

We are working on enhancing connectivity between the Ethereum and Polkadot ecosystem to enable a multichain future. https://t.co/oaGpfpOXS2

— Astar Network (@AstarNetwork) September 19, 2023
Worth noting, on Sept. 12, Sony announced a joint venture with Astar Network to develop a blockchain. Despite recent developments within the Astar network ecosystem, its native token fell by 13.5% in a week. Astar Network (ASTR) is trading at $0.05135 as of writing.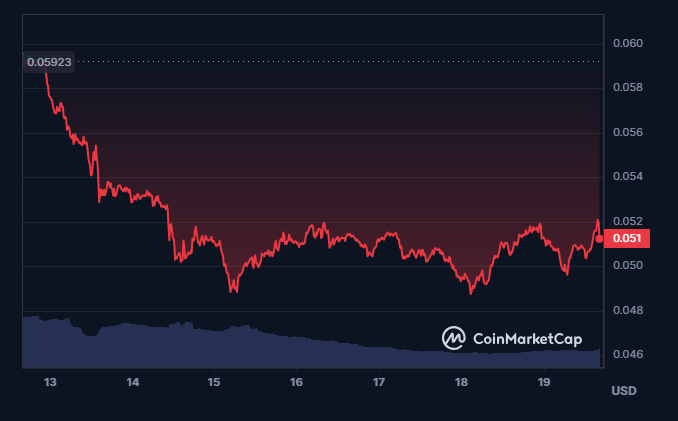 Astar Network (ASTR) weekly price chart (Source: CoinMarketcap)