Universal Pictures is scratching its blockchain itch again with the new Dracula movie "Renfield" that stars Oscar-winning actor Nicolas Cage. Utilizing the Aptos blockchain, the Hollywood studio and partners are launching "an interactive web-based game" and sweepstakes that will allow participants to win both digital and physical collectibles or prizes.

"We know audiences just want to be connected … and no barriers to connecting with their fandom," said Greg Reed, vice president of technology partnerships for Universal Pictures. "Our job is to leverage high-performing, scalable networks, like Aptos, that deliver the most unique, engaging, and safe experiences for fans."

This is not the first time Universal has experimented with blockchain-powered tools aimed at stirring fan engagement. Last year, Universal Studios — which like Universal Pictures is part of NBCUniversal — partnered with the crypto payment platform MoonPay to create a Halloween-themed scavenger hunt that included NFTs.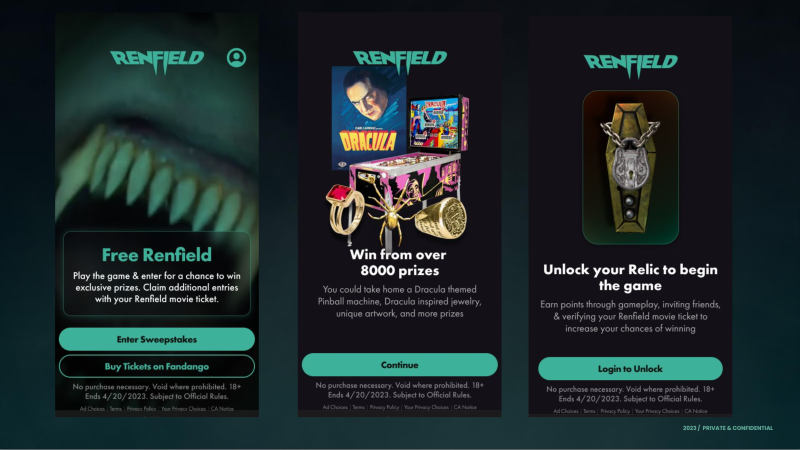 Example of "Renfield" game platform.

This time around with the "Renfield" game, Universal appears to be opting to use terms such as digital "prize" or "collectible" rather than "NFT." With sales cratering amid a downturn and a crypto market roiled by scandal and regulatory scrutiny, many have suggested the three-letter term has started to carry a negative connotation.
Back in 2022, before negative crypto stories starting dominating headlines, Universal Pictures and MoonPay worked together on the launch of HyperMint, an NFT platform able to mint millions of digital assets per day.
This "Renfield" game is built on Aptos and will be "powered" by Move, a programming language that uses a "more carbon-efficient proof-of-stake consensus," Universal and its partners said. Aptos Labs was founded by former Meta employees and has been backed by the powerful venture capital firm A16z.

"Without new blockchain technology like Aptos coming into the market to build on the current infrastructure, we wouldn't be able to push forward with experiences like this that involve fans directly," said Sam Schoonover, founder of Forward, the company that conceived of the "Renfield" game.
"Renfield" is in theaters from April 14.