Back to the list
Bitcoin [BTC] Core developer proposes reduction of Bitcoin chain's block size to 300KB
ambcrypto.com
14 February 2019 13:30, UTC
Reading time: ~2 m
---
Bitcoin, the largest cryptocurrency in the crypto universe, has facilitated yet another development making use of the Lightning Network as Luke Dash Jr, a Bitcoin Core Developer, has put forward the idea of shrinkage of the Bitcoin's chain block size down to 300kb.
The concept to reduce the size of BTC's block chain was introduced by Luke Dash in January 2017. The support for the reduced size block has received more of a consensus than the first time to further accelerate the adoption of Lightning Network.
In January 2017, Dash Jr proposed a Bitcoin Improvement Proposal or termed as a 'BIP' which had the following request to reduce the block size to 300kb. The proposal was submitted before the transaction fee had a spike of about $30-$50 per trade.
However, the BIP was quickly dismissed following the scalability debate of the protocol and Bitcoin users were also upset with the rise of the transaction fee.
Luke Dash recently tweeted: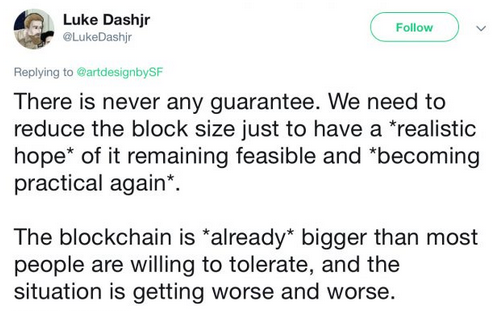 Source: Twitter
The proposal has garnered a lot of attention and Bitrefill's CCO, John Carvalho, has expressed his support for Dash's idea.
John Carvalho stated:
"I agree with Luke Dash Jr that the block size should be smaller. I feel more confident to say it now that we have Lightning Network making strides — I'll run the soft fork," I could imagine a few, to increase fees (doesn't even have to be malicious, could be for survival). To move transactions to Lightning Network (maybe miners realize they can make easier money by increasing fees on L2, under the right conditions) and to reduce costs (new network/web conditions)."
A Twitter account named Mark Lamb responded to John Carvalho: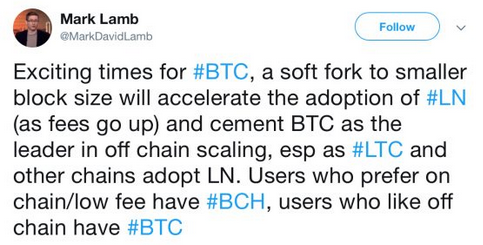 Source: Twitter
However, the reduced blocksize concept has received its fair share of criticism regarding Dash Jr's idea and John Carvalho's explanation about higher fees to push more Lightning Network implementation.
One observer on Twitter posted his opinion and commented,
"Smaller blocks simply means less transactions on the chain, purposefully hard-coding a lower limit — It doesn't make any logical sense."
Cobra Bitcoin, who is the anonymous owner of Bitcoin.org, also pushed forward with the criticism rally and responded with a tweet. Cobra responded to John Carvalho's tweet and stated:

Source: Twitter
---
Source
---
Back to the list